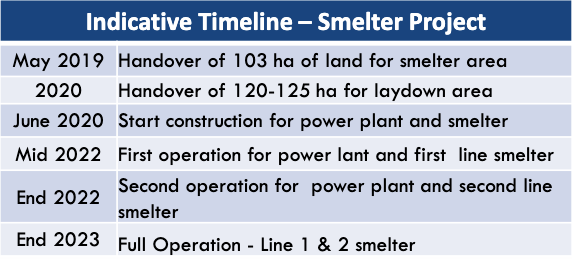 In this briefing:
E-Star Commercial Management Pre-IPO – Still Largely Reliant on Galaxy, Poor Disclosure Doesn't Help
---
A meeting with AKR Corporindo (AKRA IJ) management in Jakarta last week, confirmed that despite last year's issues over subsidised fuel pricing, the company is set up for strong growth going forward driven by a number of factors. These include strong growth in non-subsidized fuel distribution, and a marked pick-up in land sales at its JIIPE Surabaya Industrial estate, as well as longer-term a number of JV projects with BP PLC (BP/ LN) including retail petroleum distribution and aviation fuel distribution to begin with, and it is exploring the possibility of LNG storage and distribution. AKR Corporindo (AKRA IJ) should be a defensive stock in this environment and the recent correction is a buying opportunity.
The company ceased to distribute subsidized diesel in May 2019 due to a change in the pricing formula which made it uneconomic to do so. The change in pricing was to be applied retrospectively, which the company is challenging. The company is making a provision for the charge for this in 2019, on the advice of its auditors. AKR Corporindo (AKRA IJ) will resume subsidized fuel distribution this year as the new Minister reversed the pricing change, making it more economical to cover costs and assure a decent margin. 
AKR Corporindo (AKRA IJ) has been growing sales of non-subsidized fuel, which generates twice the margin as that of subsidized fuel, which is going some way to offset the decline in Subsidized fuel. Despite the potential charge, management has confirmed that FY19 Net profit will not be lower than the recurrent profit in 2018 of IDR712bn, which should be taken positively.
The company is moving forward with Freeport Mcmoran (FCX US) 's new smelter at the company's JIIPE industrial estate (100 ha plot), which will bring with it leasing revenues, revenues from utilities, and demand for land plots from supporting industries. AKR Corporindo (AKRA IJ) secured a deal with the local government to supply power directly to its customers on its estate and will build a 515MW power plant there. The pipeline in demand at JIIPE could see a further boost with a Taiwanese steelmaker conducting a feasibility study for a 200 ha plot in 2020. 
AKR Corporindo (AKRA IJ) is trading at close to a 3-year low and its valuations are also approaching very attractive levels, with the stock trading on 11.5x FY20E PER plus it pays a good dividend, with an FY20E yield of 3.5%. 
E-Star Commercial Management (ESCM HK) is looking to raise US$150m in its upcoming Hong Kong IPO.
ESCM is a commercial operational service provider focused on the Greater Bay Area (mostly in Shenzhen) although it does have a national presence. The company is ranked first and third in terms of the number of shopping centers and GFA in operation in Shenzhen, respectively.
The company has good long-term commercial properties under management (average of about 15 years). About half of the contracted GFA that has yet to commence operation and fully contribute to revenue. It will start between 2020 to 2023 which will drive revenue growth
Health And Happiness (H&H) (1112 HK) subsidiary has agreed to purchase a stake in Else Nutrition, a plant-based alternative IMF made of almond, buckwheat, and tapioca. 
Else Nutrtion complements the existing product line in the company i.e. Biostime (children probiotics and infant milk formula), Swisse (adult nutrition and supplements), Healthy Times (organic food and formula for toddlers), Dodie (baby glass bottles and accessories), Good Gout (organic food for children), and Aurelia Probiotic Skincare.
In this difficult times in China, HH is better than most of its peers in China and Asia. It has 38% higher ROIC, 82% higher in gross margin, 84% higher in net margin yet it is trading at 25% lower than its peers. Yet its share price has underperformed compared to Ausnutria Dairy Corp (1717 HK) whose exposure to adult nutrition is very small. 
You are currently reading Executive Summaries of Smartkarma Insights.
Want to read on? Explore our tailored Smartkarma Solutions.