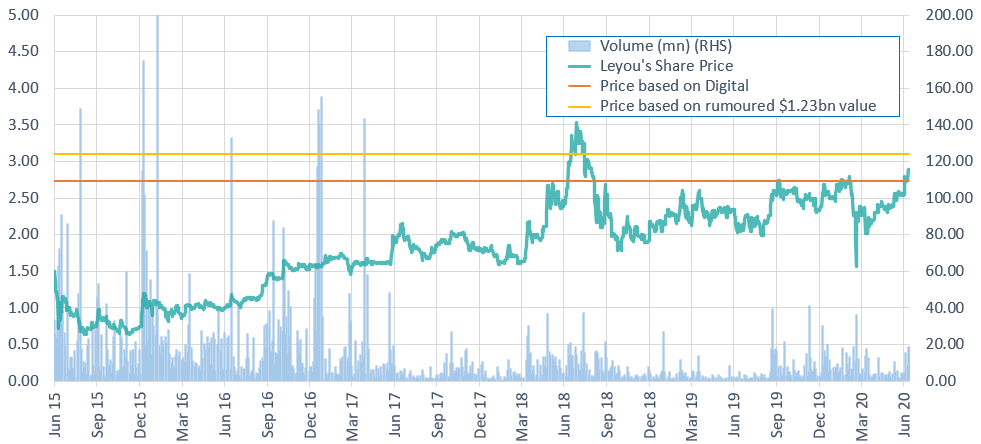 In this briefing:
---
On the 2 July, Bloomberg reported that Sony Corp (6758 JP) was "weighing a bid" for Leyou. Leyou shares closed up 9.8% to $2.80 on that rumour, its highest close since September 2018, but below the indicative/rumoured (but still not formally announced) Offer price of $3.11/share under iDreamsky's proposal. ZCH's tentative Offer price was believed to be higher than iDreamsky's. 
On 9 June 2020, Cathay Pacific Airways (293 HK) called for a trading halt, and four hours later – just before 1pm local time – announced a…
HK$39.0 BILLION RECAPITALISATION PROPOSAL INVOLVING (1) PROPOSED ISSUE OF PREFERENCE SHARES AND WARRANTS; AND (2) PROPOSED RIGHTS ISSUE OF RIGHTS SHARES ON THE BASIS OF SEVEN RIGHTS SHARES FOR EVERY ELEVEN EXISTING SHARES (link here).
This was announcement was discussed admirably on the same day by David Blennerhassett in Cathay Pacific's Government Stop Gap, with more in-depth coverage of the pro-forma balance sheet combined with run-rate cash-burn estimates in Cathay Pacific: A Bonfire For Money. As you can tell from the titles, he was bearish. That was when the shares were 25% higher than here. 
The Circular was announced on 19 June 2020, and the EGM is scheduled for 13 July 2020 at 2pm. If approved on Monday 13 July, the last day of shares trading WITH RIGHTS will be the 14th of July.
Starting the 15th of July, the shares will trade ex-rights, and the nil-paid rights themselves will trade between the 24th and 31st of July, inclusive.
Shareholders will receive 7 rights for every 11 shares held, at a rights subscription price of HK$4.68 (46.9% discount to the close of 8 June, and 35% discount to the then-TERP of $7.20) to raise aggregate proceeds of ~HK$11.7bn (there are, of course, pref shares and warrants for another HK$21.5bn). 
There are two days left before the shares go ex-.
Japanese Restaurant Chain Amalgamator Colowide Co Ltd (7616 JP) purchased stakes in OOTOYA Holdings (2705 JP) last autumn from two founding family members who wanted to sell. They they purchased a small number of shares in the market. That got them to just over 19%. 
Colowide approached Ootoya to see if they could join together as Colowide has by purchasing 50+% stakes in Atom Corp (7412 JP) and Kappa Create (7421 JP) and REINS International (formerly known as Rex Holdings, purchased from Advantage Partners in 2012 and 2015). 
Ootoya has a particular shtick, which is well different than other chains in Japan. This is the founding ethos and it is clear as clear can be on their homepage.
Real Food. Ootoya

Our motto is "Japanese meals"

The way our mothers and their mothers before them

who thinking of their children's health

worked hard in the kitchen,

we take customer orders, one dish at a time,

and prepare the food right there. 

That has always been important to us.

In order for us to get closer to that feeling a mother has, preparing for her family…

We wash and prepare vegetables, at the shop

We shave the dried bonito, making soup stock, at the shop

We carefully make pickles and marinade in the shop

We grill, simmer, and cook, at the shop.

We make good food by making the effort.
Ootoya has one brand. It makes "home-cooked food", on the spot, and that is its claim to fame. It has approximately 340 restaurants as of the end of May, across all locations, run by the company or by franchisees.
Colowide runs, or owns 50% of companies which run, a total of nearly 50 different brands across 2700 restaurants ranging from Karubi, "hamburg steak", sushi, cooked seafood, tonkatsu, Italian, French, Spanish, pizza, yakitori, several "regional food" specialty chains, shabu shabu, Freshness Burger, Wolfgang Puck, and others. They even have a new steak grill and deli food restaurant in Tokyo called "The Dad Bod." Colowide's revenue is, not unexpectedly with 8x the storecount, about 10x higher than Ootoya's. Colowide tries to run things efficiently, and so tends to run things wherever possible with centralized kitchen hubs feeding pre-prepared dishes and content to the for finishing at restaurant kitchens. 
For more on the differing natures of Ootoya and Colowide, please refer to Mio Kato, CFA's writeup in Ootoya – The Order May Be Delivered but It Could Leave a Bad Taste in Colowide's Mouth. There is nothing I disagree with there. 
The Colowide model did not appeal to Ootoya management when Colowide approached the firm, so negotiations went nowhere. Colowide made overtures to Ootoya shareholders, proposing that Ootoya become a subsidiary, before the shareholder meeting starting in April, and their proposals got soundly defeated at the AGM at the end of June 2020. Crushed, in fact. 
In response, Colowide launched a hostile tender offer to go from 19.2% to 51% of shares out. 
Ootoya's initial response said the Tender Offer was launched without warning, and proposes to make Ootoya a subsidiary despite the fact that it's proposals suffered a resounding defeat just two weeks ago. Ootoya will separately release an official Target Opinion. This is due 10 days from the Colowide announcement. I expect it to declare opposition to this hostile Tender Offer but I do not see what Ootoya can do. 
Ootoya is being priced expensively here. And that is in the middle of a pandemic which is causing the firm to burn cash. It is not clear who might rescue Ootoya from a buyer who wants to change the entire ethos of the Ootoya brand.  
More below the fold, with charts, and of course, Ye Olde Arb Grids.
(This insight covers specific insights & comments involving Stubs, Pairs, Arbitrage, share Classifications, and Events – or SPACE – in the past week)
You are currently reading Executive Summaries of Smartkarma Insights.
Want to read on? Explore our tailored Smartkarma Solutions.