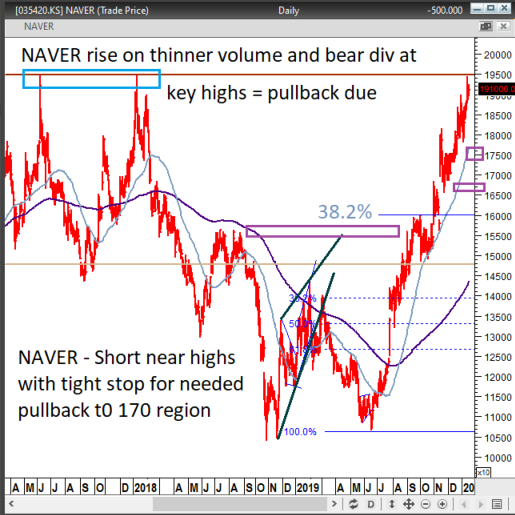 In this briefing:
---
We have outlined increasing risk of tops forming into the late January cycle timeline with some markets peaking before the SPX. The first top cycle date comes near January 23 and appears to be rolling in a touch early. The bigger cycle inflection comes between January 27 and February 9th. Our base case called for an equity cycle peak into late January and Q1 pullback into March.
Our short group in Asia is comprised of Korea Stock Exchange Kospi 200 Index (KOSPI2 INDEX) , FTSE Straits Times Index (STI) (STI INDEX) , Kuala Lumpur Composite Index (Klci) (FBMKLCI INDEX) , FTSE China A50 Index (XIN9I INDEX) , Hong Kong Hang Seng Index (HSI INDEX) and NIFTY Index (NIFTY INDEX) .
The common thread is an oversold USD, slated cycle peaks in line with the global cycle, severe RSI divergence and sell signals in A50, HSI, Korea and India. This technical set up warns of a harder decline in Q1. Today's price action aligns with power moves associated with non confirmation divergences.
EEM is also at a clear cycle peak as the USD makes key lows vs EM FX at a time when consensus is USD bearish (we have a bullish take on the green back).
Naver Corp (035420 KS) has risen in a linear manner and testing highs from 2017 and 2018 amid growing bear divergence (non confirmation of new price highs that creates a negative undertone and precedes intermediate corrective cycles) along with deteriorating buy volume into recent strength. These weaker inputs sets up a good short trade in Naver.
RSI break below pattern support will act as a lead signal for price to break noted trendline support near 180k. Initially one would expect a reaction bounce from this trend support.
38.2% retracement lies at 160k and 50% near 150k, representing key pullback objectives.
You are currently reading Executive Summaries of Smartkarma Insights.
Want to read on? Explore our tailored Smartkarma Solutions.