What makes a leading investor relations team?
After being asked this question in an interview with Deloitte, Christopher Jakubik, VP of Investor Relations at Kraft Foods, replied with an interesting mantra, which he calls "constructive dissatisfaction".
To deconstruct this, Jakubik alluded to "the sense that you should never assume that what has worked in the past is appropriate for the present or future."
At first glance, the term may seem nothing more than a general guiding principle. In truth, it's profoundly relevant to how modern-day IR departments pursue new, prospective investors.
Conventional Challenges
IR teams typically deploy an array of methods to identify the right investors before strategising how to reach out.
However, their efforts often meet with numerous obstacles. For instance, the sell-side often fails to make vital introductions to preferred investors.
Over-reliance on underwriters can sometimes prove extremely challenging for IR officers, and equally frustrating.
Why?
The sell-side relies on two main avenues for generating revenue:
Trading commissions

Bookrunning fees  
Taken into context, it's only logical that the sell-side's vested interests be represented when introductions are made so as to make such meetings worthwhile.
If an introduction has little to no chance of yielding future commissions and/or fees, it doesn't make sense to do it at all.
Similar motivations govern sell-side coverage selection. Read our article: Congratulations, Your Company Got Analyst Coverage. But Is It Useful to the Buy-side?
Don't Neglect the Inbound Funnel
But outreach is only part of the equation.
IR teams should also be easily accessible in case investors express an interest to make first contact.
One common way companies make themselves available is by publishing their IR contact details on the channels they own, including their website and social media pages.
As well as implementing this so-called best practice, IR officers can also leverage the network effect of sector-relevant platforms. Tapping on the high concentration of buy-side professionals that use them to monitor markets and inform decision-making can yield the desirable results.
A study conducted by Smartkarma, however, has shown that only a fraction of companies make it easy to be contacted via platforms like the Bloomberg Terminal and S&P Capital IQ.
Of the roughly 26,000 companies from more than 70 countries Smartkarma analysed, we found that nearly three-quarters of the sample size failed to list even an IR email address, while close to two-thirds had no designated IR officer for investors to contact.
The unfortunate consequence is that corporates miss out on the chance to receive potential queries and/or leads.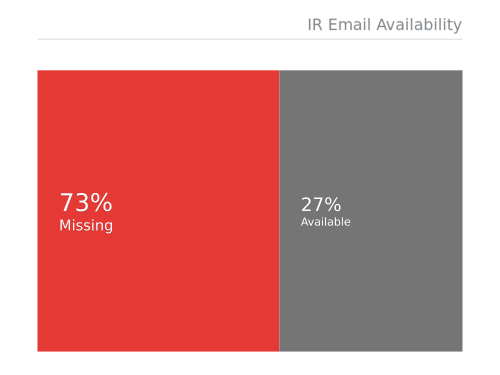 This ends up limiting investor interest in their companies, which could have a direct impact on investment from the buy-side.
Unconventional Solutions
Besides getting aboard Bloomberg and S&P Capital IQ, are there other avenues for IR officers to explore?
Here's one: Targeted contact lists, such as Smartkarma's Global Investor Relations Directory, offer a cost-free opportunity to expand a company's IR footprint. (Add your IR details here.)
And why not? Being listed on an independent investment research network brings the upside of gaining legitimate exposure without the downside of being vulnerable to spam.
There's a fine line between communicating proactively and spamming. Read our article: Investor Relations: How to Win Friends and Alienate Spammers
Bottom line: To all IR officers, do not settle on the status quo. Reaching new investors demands a relentless mindset of constantly searching for new avenues to get the word out and be more accessible.