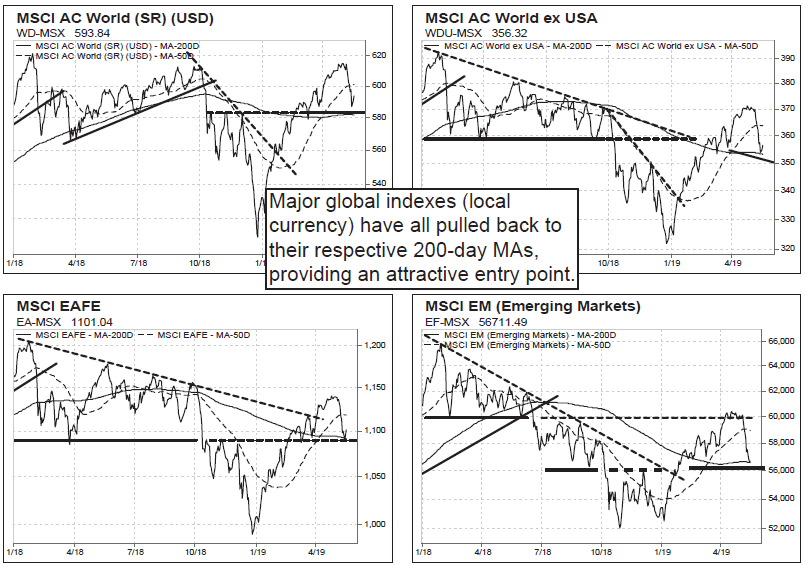 In this briefing:
---
As global equity markets pull back amid the U.S./China tariff saga we continue to believe this is an attractive time to add exposure. This view is supported technically with all major global indexes (MSCI ACWI, ACWI ex-U.S., EAFE, and EM) pulling back to their respective 200-day moving averages. In this report we highlight important technical levels across global markets and highlight actionable opportunities from a bottoms-up perspective within Europe (attractive pullback opportunity on the STOXX Europe 600 index) and Japan, including stocks within Financials, Communications, Consumer Discretionary, and Manufacturing.
GreenTree filed Form-3 after market close yesterday, for potential placement of up to USD 155 million. In this insight, we will revisit our earlier coverage on GreenTree, recap its recent financials and provide our preliminary thoughts on the deal. While the company reported a decent set of results, we are concerned about the needs for capital raising as the company's main business is franchised hotels that collect franchise fees.
A commentary on the latest official data on China housing markets from the National Bureau of Statistics (NBS) released today and yesterday. Price growth accelerated marginally year-on-year, with a stable growth month-on-month. New home sales (in gross floor area) growth picked up. Land sales (land acquisitions by developers) stayed negative year-to-date year-on-year after the big drop in recent months.
Yesterday's price action was brutal – down 10.3% ahead of the close of tendering on the 20 May (Monday).
This correlates to a "one up, two down" deal at the current price or ~18% upside to the $4.56 Offer price versus ~35% down to the undisturbed price of $2.50.
This is a two-stage Delisting Offer as the compulsory acquisition of minorities is not available for PRC incorporated companies.
Independent shareholders overwhelming approved the Delisting on the 7 May. The Offer is now conditional on 90% of H shares tendering.
CCASS analysis indicates 14.5% (11.03% yesterday) have tendered to date, which may have spooked investors. But a low tendering rate ahead of the close of Offer is not uncommon. Moreover, these numbers should be seen as a guide and not definitive of the final outcome. A lot can and will happen in the last 2-3 days before the close of a tender.
The current level implies a 65% completion, which is not far removed from a coin toss.
I would argue there is greater certainty of this completing and would take these odds, and size your exposure to the deal accordingly. I would tender into the Offer. I would not want to be short.
Tencent Holdings (700 HK) released its 1Q19 results after market close which beat or missed consensus depending on your chosen financial metric. We have previously outlined our Tencent bear case in Tencent Bear Case: The Growth Illusion (Part 1) and Tencent Bear Case: An Over-Played Hand (Part 2).
While the results offer support for the bulls (largely unanimous buy recommendation from sell-side analysts), we believe that the results offer reasonable ammunition to support the bear thesis.
Get Straight to the Source on Smartkarma
Smartkarma supports the world's leading investors with high-quality, timely, and actionable Insights. Subscribe now for unlimited access, or request a demo below.