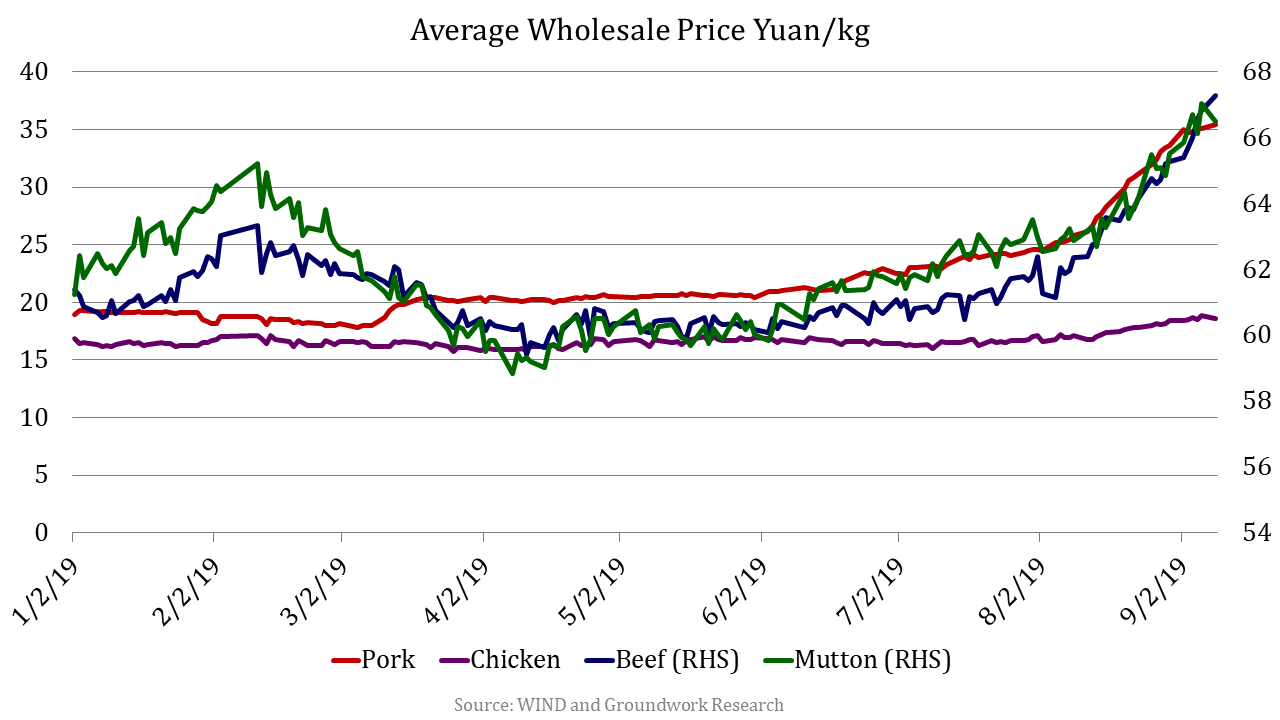 In this briefing:
---
A hot topic on blue checkmark Twitter is food prices in China. However, a lot of what we have seen getting relayed is very anecdotal. To that end we are digging into some of the protein pricing data we can find and putting them into our standard graphs. This is food sector data we have not presented before, so let us know if you want to see more of this type of data crunching. This is will also be a two-part piece, proteins today, followed by fruit, vegetables, and grain tomorrow.
Shanghai Henlius Biotech (2696 HK) is a biopharmaceutical company and a non-wholly owned subsidiary of Shanghai Fosun Pharmaceutical (Group) (2196 HK), a 61% shareholder. Henlius has launched a Hong Kong IPO to raise up to $477 million. It is the first large IPO after weeks of protests in Hong Kong.
In our initiation note, we stated that most of the core products have strong prospects. Overall, the combination of decent cornerstone support and a reasonable valuation makes Henlius tempting particularly at the low-end of the pricing range.  
For reference, our previous notes:
Initiation note: Shanghai Henlius Biotech IPO Initiation: Going Large 
Cash-breakeven study: Shanghai Henlius Biotech IPO: Cash Breakeven Analysis 
Shanghai Henlius, a biotech subsidiary of Fosun Pharma, launched book building today to raise up to USD 477 million.
In our previous insights covering Shanghai Henlius, we have covered the company's key drug pipelines, the management, shareholders, investors, and a SOTP based valuation.
In this insight, we will provide our final thoughts on the deal based on the price range. We think the company is overvalued and would avoid the deal. 
Our coverage on Shanghai Henlius Biotech
What can the world expect from its second largest economy in the near term now that a 2020 recession signal has been sent in the US and the EU seems destined to slip back into a growth paralysis? The good news is that we should expect growth in China to accelerate.
Venus Medtech, a China Hangzhou-based transcatheter heart valve medical device player, is looking to raise up to USD 300 million via a listing in Hong Kong.
In our previous insight, we looked at the company's commercial product, VenusA-Valve, and pipeline products, VenusA-Plus and VenusP-Valve. We like the company's strong leadership in the market, its experienced management team and a strong line-up of pre-IPO investors. 
In this insight, we will analyse the competitiveness of its VenusA-Valve product by comparing it to global peers and China peers. We also note that Microport's VitaFlow-Valve could become a key contender for the dominance of VenusA-Valve.
---
Our previous coverage on Venus Medtech
Get Straight to the Source on Smartkarma
Smartkarma supports the world's leading investors with high-quality, timely, and actionable Insights. Subscribe now for unlimited access, or request a demo below.