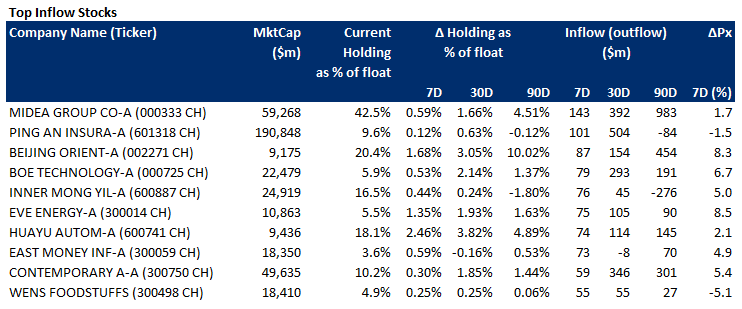 In this briefing:
---
In our weekly Shanghai/Shenzhen Connect Ideas series, we aim to highlight key stocks and sectors which the mainland investors traded via the northbound Shanghai and Shenzhen Connect, as analyzed by our proprietary data engine and highlight interesting trade ideas.
In this insight, we will have an overview of the weekly inflows into the A-share market via Shanghai/Shenzhen connect, top inflow and top three outflow stocks. We will also cover inflows and holdings by sectors, after which we will highlight top five inflows and outflows on a relative basis for large-cap and mid-cap stocks: stocks with a market capitalization above $5 bn, and those between $1 bn and $5 bn.
In this insight, we will highlight inflows into Midea Group Co Ltd A (000333 CH), Beijing Oriental Yuhong A (002271 CH) , and Boe Technology Group (000725 CH) , as well as outflows from China International Travel Service (601888 CH) , and Gree Electric Appliances (000651 CH).
XD Inc. (2400 HK)'s IPO lock-up expired on Friday. We have earlier covered the IPO in:
In this insight, we will look at the potential sellers upon lock-up expiry and updates of how the company has performed since listing.
You are currently reading Executive Summaries of Smartkarma Insights.
Want to read on? Explore our tailored Smartkarma Solutions.