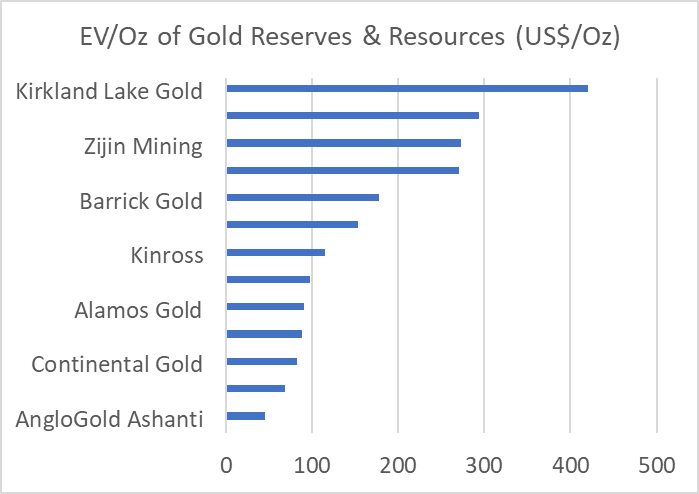 In this briefing:
---
Zijin Mining Group Co Ltd H (2899 HK) announced the acquisition of Continental Gold (CNL CN) in an all-cash offer of C$5.5/share or C$1.4B. Newmont Mining (NEM US) holds ~20% of Continental Gold has backed the transaction. The board of Continental has recommended the deal to its shareholders.
We believe that Zijin's offer for CNL is fair given that CNL has already returned nearly 140% YTD. The company is already trading above its peers on FY20 EBITDA and book value multiples but below on resource-based valuations.
OneConnect Financial Technology (OCFT US) is the largest technology-as-a-service platform for financial institutions in China, as measured by the number of customers. At the mid-point of the IPO price range, OneConnect will raise net proceeds of $438 million at a valuation of $4.8 billion. This valuation marked a down round from the $7.5 billion valuation when OneConnect raised $650 million from investors, including Softbank Group (9984 JP)'s Vision Fund and SBI Holdings. 
In our initiation note, we stated that that OneConnect's fundamentals struggle to establish a clear path to profitability, and we would be inclined to sit out this IPO. Overall, our valuation analysis suggests that despite the down round, we stick to our initial view to sit out this IPO.
In this month's "In-Focus", we look at agency ratings for Asian issuers, analysing ratings transitions for all issuers in the Lucror Asia HY index between January 2014 and the present.
The Asia Monthly focuses on providing updates on recent events, information on new issues and spread movements, as well as summarising our top picks and discussing specific areas of interest in the "In-Focus" section. The Asia Monthly is intended to broaden investors' understanding of the Asian USD high-yield market. 
OneConnect Financial Technology (OC) plans to raise around US$500m in its US listing. OC is a part of Ping An group. It provides cloud-native technology applications and technology-enabled services to financial institutions. As of September 30, 2019, it had over 3,700 customers including all of China's major banks, 99% of its city commercial banks, and 46% of its insurance companies.
In my previous notes,OneConnect Financial Pre-IPO – The Positives – Prospects Appear Promising and  OneConnect Financial Pre-IPO – The Negatives – Previous Valuation Might Have Been Too Demanding, I spoke about the company's products, its past growth and the heady valuation of its previous note.
In this note, I'll run the deal through our ECM framework and talk about valuations. 
Investors seem to be buying into the Lenovo recovery story. Every quarter they manage to produce some growth and talk about a future turnaround. A close look at their accounts reveals that all is not well. Lenovo will be raising capital again next year and the risk of collapse continues to rise.
Get Straight to the Source on Smartkarma
Smartkarma supports the world's leading investors with high-quality, timely, and actionable Insights. Subscribe now for unlimited access, or request a demo below.