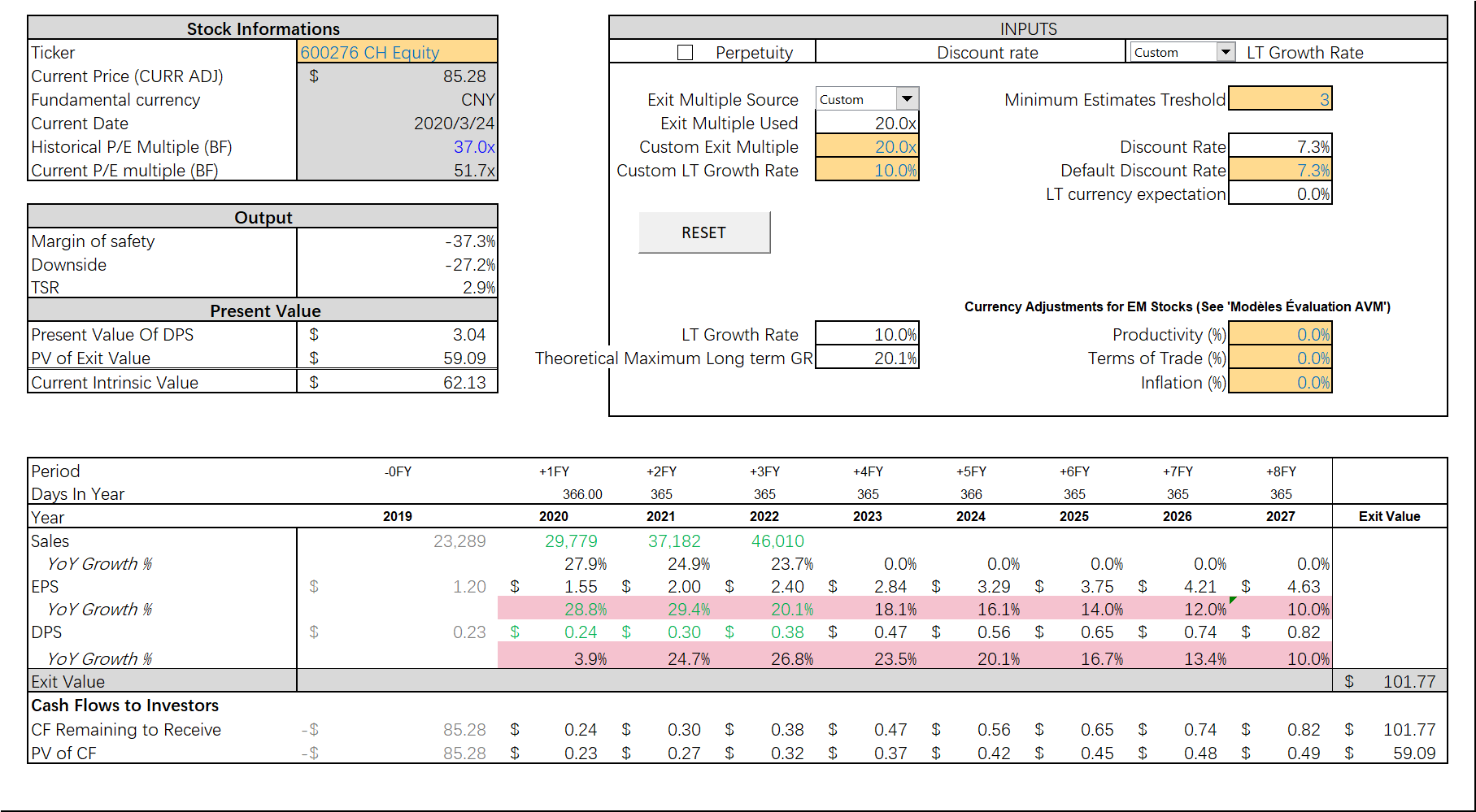 In this briefing:
---
This insight provides the updates from 2019 results and takeaways from recent management meetings on investors' concerns. More importantly, we analyzed the potential market size for Hengrui's key innovative drugs such as PD-1 as well as the projected sales for the four products, which were included in the centralized procurement program in January 2020. 
Although Hengrui Medicines is undoubtedly the best A share Pharma name with a big MOAT and consistently generated superior returns. We are pleased to see Hengrui continued the transformation from generics to innovative drugs maker. We remain confident that Hengrui will continue strong growth momentum with a CAGR 20-25%  in the next few years, driven by 1) solid existing portfolio performance; 2) deep pipelines of innovation; 3) better product mix with margin expansion.
Different from the street, we do not think Hengrui can sustain >30% CAGR in the next few years, at the current level (52x forward P/E, 40% premium to its 10 years average of 37x), we believe the growth potential (plus NPV of the pipeline) has been overpriced and there is limited upside in the next 12  months. We suggest waiting for a better entry point. Jiangsu Hengrui Medicine Co., (600276 CH) 
Potential catalysts include
1) above expected 1Q20 results
2) faster progress of clinical trials progress
A Mark-to-Market Result: China Life Insurance (2628.HK) [China Life] reported 2019 bottom-line of CNY 58.3 bn – increasing 412% YOY and well within the 400%-420% that the pre-announcement suggested –  driven by strong investment performance as gross yields increased 200 bp to 5.2%, and CNY 5.1 bn in tax refunds. China Life should be preparing for a reversal of fortune in 2020;   
Value Challenges Ahead: With value challenges ahead in China Life's illiquid securities portfolio (Challenged Tier 2/3 bank negotiable CDs and alternatives) and the CBIRC's enabling of insurers to increase their concentration in equities during the January/February market sell-offs, we not only question solvency margins but the viability of China Life's full-year dividend per share – not to mention the impact of lower gross yields; and
Conference Call: China Life will have its conference call on 3/26. We await updates on the dividend policy, the impact of COVID-19, and a restructuring plan.  
Xtep's 2019 annual results and their update on the Corona Virus (Covid-19) pandemic has provided a useful insight into the consumer sector. We examine their comments in reference with the International peers.
Our note includes the first cut to estimates, following our Negative earnings watch warning in February ( Notes from the Silk Road: XTep Int'l Holdings (1368 HK): Negative Earnings Watch in Place ).
Whilst the share price has come off since our Negative Earnings watch, we consider what is the fair value for this name and whether the band news and corporate governance issues are priced in enough.
 In this report we look at sovereign bond exposure and credit risk for the Italian banks
The leading Italian banks have reduced banking book exposure to domestic sovereign bonds, and the ECB's recent QE announcements and action should help to support Italian sovereign bond prices in the near term at least
Credit quality is set to deteriorate going forward, but the ECB's mitigating measures should help in the light of the coronavirus
We look at bank CDS spreads as a measure of risk, and reiterate our positive view on Unicredit, and see deep value at Banco BPM
We also look at the latest coronavirus trends in Italy, which we believe are encouraging
Risks to our view are that these data and ratios are based on the latest static data-points available; these "snapshots" of the Italian bank balance sheets are set to worsen going forward, and the real risk is that in the near term they could be worse than – the already bearish – market expectations impacting cost of risk and returns yet more adversely
Prosus has narrowed a significant portion of the discount and we are less comfortable with that leg of the trade.  Naspers still has upside relative to now both Prosus and Tencent in our opinion.  We are also starting to consider a Naspers Prosus discount trade.
You are currently reading Executive Summaries of Smartkarma Insights.
Want to read on? Explore our tailored Smartkarma Solutions.