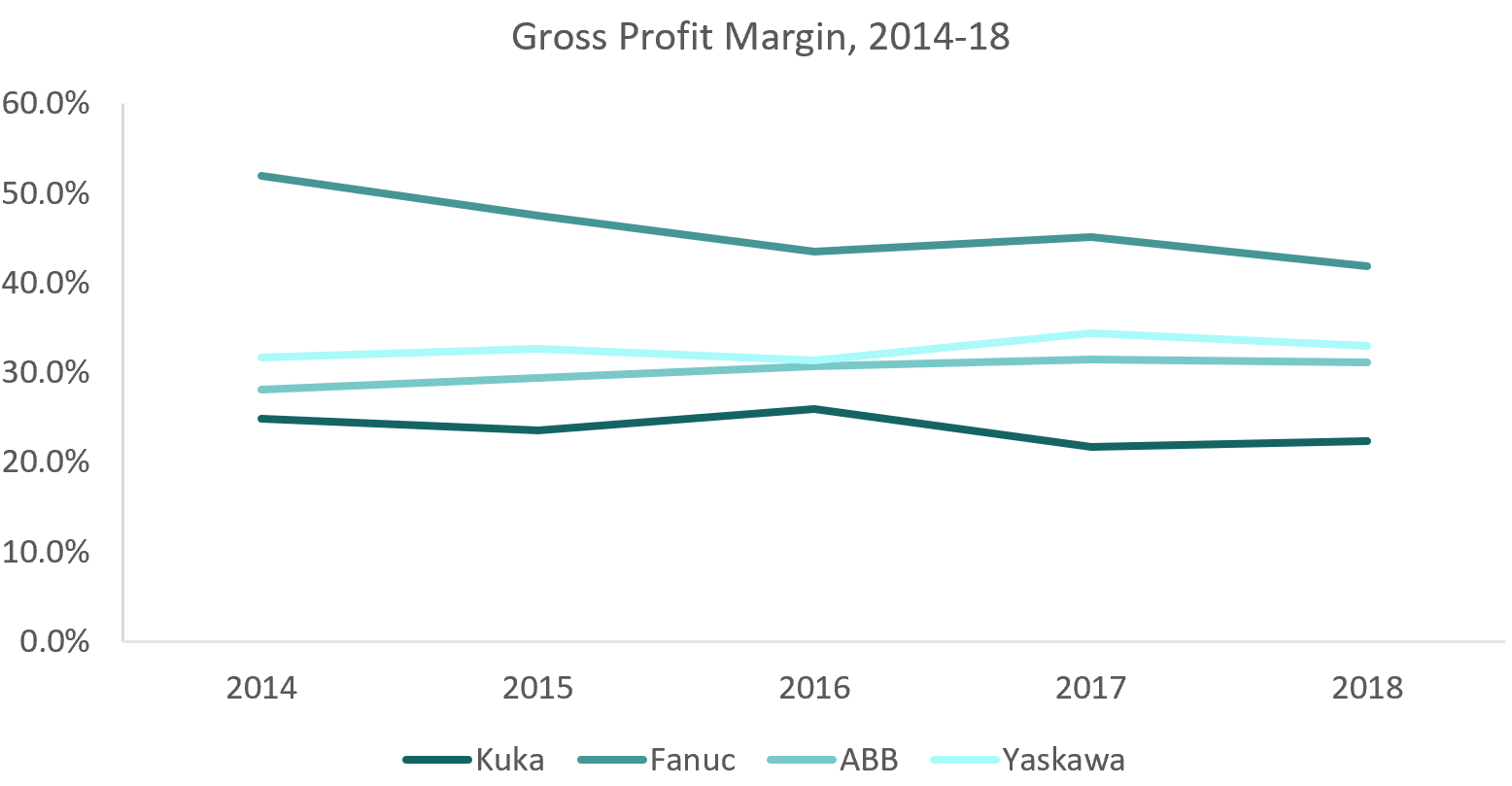 In this briefing:
---
This is the THIRD of a series of reports on Midea Corp. where we will be focusing on the company's Robotics and Automation Systems segment. Midea has entered into the industrial robots and automation market in 2016 through the acquisition of Kuka, a German-based company offering automation and robotic systems. The Robotics & Automation systems segment of Midea generated about 11% of the revenue in 2018 and we expect the segment's revenue to grow at a CAGR of 10% over the next 4-years driven by growth in demand for robots and automation systems globally.
China is the world's largest market for industrial robots which accounted for about 36% of total installations in 2018. Despite China accounting for the highest share of the global industrial robot market, the manufacturing robot density in China is still considerably lower compared to countries such as Japan, South Korea, Taiwan and Singapore. The Chinese government has implemented several policy measures to increase factory automation and robotics usage in the country due to increasing wage rates and growing ageing population in China. While the demand for industrial robots is expected to grow globally, we expect China to continue to account for majority of this growth over the next couple of years given its lower robot penetration and the government of China's initiatives towards promoting automation.
Kuka currently has limited exposure in the Asian market where it generates a majority of its revenue in Europe followed by North America. We expect the company's revenue share from China to grow over the forecast period.
Midea is the only domestic player in China who has exposure to high-end industrial robotics market. The Chinese industrial robot market is dominated by foreign players like Fanuc, Yaskawa and ABB, whereas Kuka is ranked fourth in China. According to Statista, Kuka was ranked the fifth largest player globally in 2017. The company previously had limited exposure into the Chinese market and with Midea acquiring the Kuka, the company has been expanding extensively in China using Midea's existing network of clients.
We continue to prefer Credicorp Ltd (BAP US) over Bancolombia SA (CIB US) in the Andean banks
Credicorp is trading at three year lows in terms of PBV ratio, and we believe that its significantly lower than historical average premium to BanColombia's PBV ratio is compelling
Looking to 2020, we believe that there are more fundamental earnings headwinds for BanColombia than Credicorp
Credicorps management's guidance for 2020 looks more credible and achievable than BanColombia's; the latter seems likely to remain range bound delivering low teen ROEs
Risks include coronavirus concerns continuing to linger over markets, depressing the performance of "risk on" assets generally; in terms of fundamentals, worse-than expected loan growth,  cost of risk and opex performance at Credicorp would erode returns going forward
You are currently reading Executive Summaries of Smartkarma Insights.
Want to read on? Explore our tailored Smartkarma Solutions.