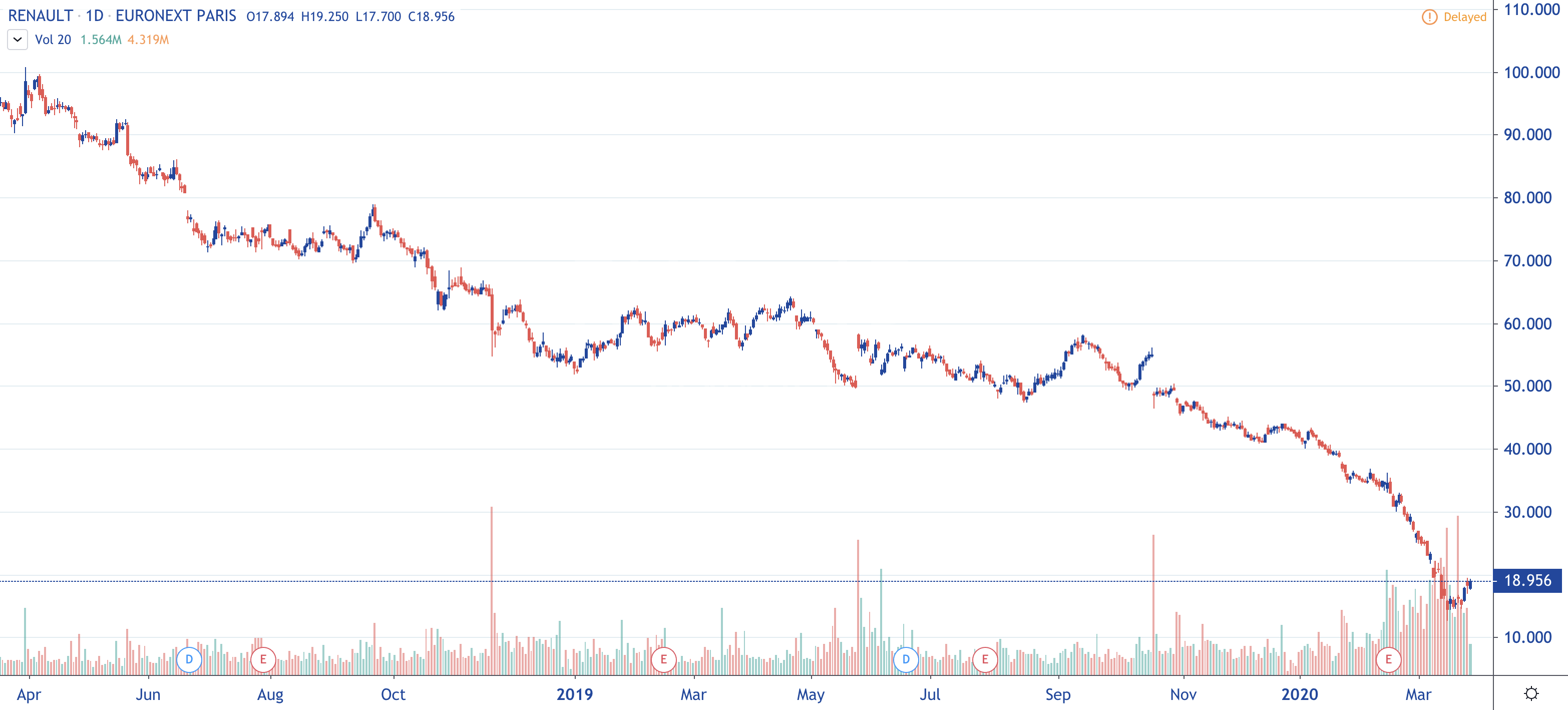 In this briefing:
---
Les Echos, the French media outlet with probably the most access to Bercy when it comes to Renault SA (RNO FP)/government/Alliance news, but also occasionally seen as the avenue for floating trial balloons, reports this morning that among the possible methods for putting the Alliance back on track would be to have Mitsubishi Corp (8058 JP) buy a 10% stake in Renault. 
This is quite along the lines of what I have long suggested for the past couple of years. There are good reasons for this. One is that Nissan Motor (7201 JP)'s 15% stake in Renault doesn't vote.  Another is that Mitsubishi Corp was effectively banished from control of Mitsubishi Motors (7211 JP) in 2016 after the third major scandal in 15 years practically necessitated a governance rescue. At the time, I proposed it would be Nissan and sure enough…
The goal here would be to effectively increase Japanese capital control of Renault so that there would be more seats on the board who could act against French state (l'APE) whim, and who could, in a pinch, sell a block to Nissan so Nissan would own 25% and allow them to block Renault's voting rights in Nissan. For Renault it would give them a different large holder near but not in the Alliance. 
Renault shares jumped 7% in the five minutes after the article came out. The shares still trade at a tiny fraction of book value. 
What remains odd is that Nissan – Renault's partner and the more profitable carmaker over the past nearly 20 years since the Renault capital injection into Nissan – still can't vote its shares. But an outside Japanese trading company would buy 10% and make it all better because they had voting rights? I think this is an interesting step in the right direction, but not all the way there by any stretch. 
There is one relatively easy technical construction of capital holding that Renault could undertake to make life easier all around. It would not require Renault selling Nissan shares cheaply, and it would not require anyone to put up any more capital. Renault would keep the economic interest in its full stake, but doing this would get Nissan the vote on its Renault shares, making the entire Alliance cross-holding construct much more equitable.
I remain surprised they have not done so yet. 
As it is, I think the idea of MitCorp buying 10% of Renault is an interesting step in the right direction, but it is not all the way there by any stretch.
The OTHER step noted above would be all the way there.
As always, more below the fold.
ITC Ltd (ITC IN) 's recent share price performance has been disappointing on all counts. The increase in Dividend Payout further re-iterates our view of ITC finding it a challenge to invest in other businesses, and therefore valuations now reflect that of global tobacco companies.  At current prices, the downside may be limited, but a Re-rating is unlikely. 
This Insight is labelled bearish, as we do not see any major PE Re-rating in the near term. 
The ongoing protests against China's ruling power over Hong Kong were the chief reason why investors left Cafe de Coral. Fundamentally, the company is not out of the woods yet, however, with China's lockdown is soon to be over and no overseas travel to start anytime soon, mainland Chinese tourists may flock to either Macau (therefore packing up Wynn Macau Ltd (1128 HK) and Melco International Development (200 HK) or Hong Kong.
Compared to the other chain restaurant names listed in Hong Kong Hang Seng Index (HSI INDEX) , Cafe de Coral is trading at the lowest valuation and it has the lowest exposure to hotpot menu. 
The soon-to-reopen China with pent up frustrations of being locked down and less likely able to travel overseas will provide the much-needed revenue increase for Cafe de Coral. Cover your shorts and start buying. 
The BTS Group Holdings PCL (BTS-W5 TB) warrants on BTS Group Holdings (BTS TB) were listed, and there were no buy opportunities. 
Instead, there were selling opportunities. And if you did not sell them then, you should think about doing so now.
The warrants are trading at an implied volatility exceeding that seen in the aftermath of the Thai floods in 2011, the demonstrations in 2013 and beyond, and any other time save the buy of BTSC in May 2010 which saw trading volumes rise 25-fold for a period of six months or more. 
The company has changed dramatically since then. 
Thailand has also become the latest country to implement a broad lockdown. Thailand's Prime Minister Prayuth Chan-Ocha said two days ago a state of emergency will be declared for a month. Borders will be closed to foreigners starting today the 26 March; social gatherings are banned, domestic travel has been limited, and only essential shops remain open. From my sources, activity has already been considerably dampened. We can expect damage to BTS revenues. That damage will impact the share price's ability to rebound to record new highs within the next 10 months so the warrants seem like an asset which will wither (if you are a vol trader, you know what you are getting into and different parameters apply).
More below.
Shots fired! Moody's two-step downgrade of Softbank Group debt to Ba3 on concerns it was selling high value stakes to shore up risky private equity debt led to a 9% decline in the share price and an angry response from Softbank. It came the same week that Softbank announced a massive restructuring program highlighting market concerns that the balance sheet side of Softbank's proposal may not be as aggressive as hoped. On Monday, Softbank said that it would allocate ¥2.5 trillion for debt reduction but that includes an increase in cash balances, which presumably could be used for programs like Vision Fund 2 down the road. Moody's downgrade as well as other feedback from credit analysts indicates markets need further reassurance before narrowing the valuation gap further. 
You are currently reading Executive Summaries of Smartkarma Insights.
Want to read on? Explore our tailored Smartkarma Solutions.