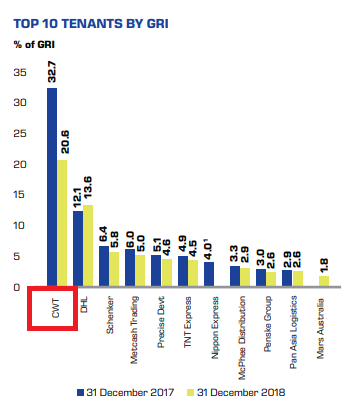 In this briefing:
---
Cache Logistics Trust (CACHE SP)'s unit price was down 4 cents (-5.3%) in one day as news of CWT International Ltd defaulting on a HK$1.4bn (S$241.7mn) loan triggered concerns about the credit quality of Cache's largest tenant, CWT Pte Ltd.  
CWT International said in its filing to the Hong Kong stock exchange that it has not paid HK$63mn in accrued interest and fees to lenders, who will seize its assets if the amount due is not paid by 9 a.m. on 17 April 2019 (Wednesday).  Among assets pledged is wholly-owned CWT Pte Ltd (CWT), a holding company for the conglomerate's (formerly HNA Holding Group Co) diverse businesses. CWT is CACHE's largest tenant, contributing 20.6% of total gross rental income in FY2018. 
If CWT International fails to settle its default on payments, we think CACHE may extend its trading losses to settle in the S$0.56 – $S$0.59 range in the near-term, after factoring in a potential 20% haircut to its distributable income and 8%-8.5% required yield. 
CACHE's weakness will likely intensify talks of M&A in the Singapore REITs sector as the consolidation trend continues. Its portfolio of logistics properties in Singapore and Australia appears to be a good fit with ESR-REIT (EREIT SP) 's portfolio following the latter's merger with Viva Industrial Trust (VIT SP) in October 2018. However, another merger involving ESR REIT may not happen so soon due to its high gearing of 41.9%, asset rejuvenation/plot ratio maximization priorities and its sponsor ESR Cayman's planned listing in Hong Kong.
Nonetheless, we see commonality between ESR REIT and CACHE in their shareholding structure which suggests that a consolidation of the two makes sense: Warburg Pincus, a leading private equity group, controls the sponsors and managers of both REITs. 
We are bearish on CACHE in the short-term, but hold the view that CACHE is compelling as a M&A target in the medium- to long term as it offers a good platform to access the increasingly scarce modern logistics assets in the Asia Pacific region. However, its sponsor ARA's motivation for M&A may be lacking. 
Major fashion wholesale-retail group, World Co Ltd (3612 JP), relisted last year and has now embarked on a number of M&A deals to help diversify its business away from its focus on adult apparel.
It made three deals in March alone. One is a sizing technology service which World hopes to offer to other apparel firms to compete with online services such as that of ZOZO (3092 JP), another is a bag brand and the third is an increase in its stake in Narumiya International Co Ltd (9275 JP).
While diversifying is essential to offset the decline in World's core channel of department stores, such a dramatic shift will bring its own problems and begs the question of whether World can compete in other retail categories where there are already powerful competitors.
Locondo (3558 JP) has for long talked up its plans to become a major player in the fashion e-commerce market and a rival to ZOZO (3092 JP).
This hasn't happened yet, but the e-commerce firm hasn't given up and now plans to create a chain of franchised Locondo stores to build its name.
Locondo posted GMV growth of 48.4% in FY2018 ending February to ¥14.1 billion and sales rose 68.9% to ¥6.7 billion.
Like Zozo, Locondo is also launching its own private brands and to differentiate from Zozo is introducing a high-end online mall called Locondo Department.
Last month, Locondo acquired a mobile fashion mall called Mobakore from Senshukai and says it has ¥5 billion set aside for more acquisitions to help build scale.
Get Straight to the Source on Smartkarma
Smartkarma supports the world's leading investors with high-quality, timely, and actionable Insights. Subscribe now for unlimited access, or request a demo below.