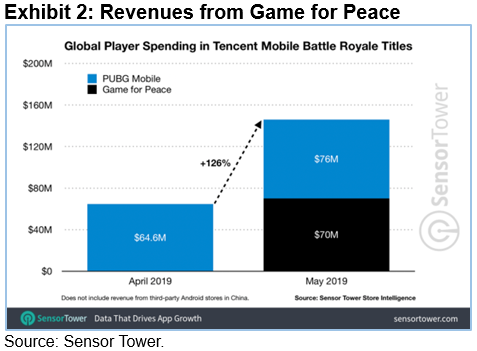 In this briefing:
---
In June, Tencent is hiring recruiting managers, especially for those who familiar with game developers.
In May, the revenues from the new game "Game for Peace" grew rapidly.
Therefore, the game performance in 1Q19 is only about history, but not about the future of Tencent.
Besides, game revenues account for only 1/3 of total revenues.
The 10-year P/E band suggests an upside of 40%. Buy.
Minth's business in North America contributes to 20% of the group's revenue focusing on top end clients such as General Motors Co (GM US) , Ford Motor Co (F US) and Daimler AG (DAI GR) with production factory in the US and Mexico. 
Trump's recent rhetoric on imposing tariff on Mexico has worked out well as the Mexican government promised to invest on the facilities that will help to crack down illegal migrants by having deployment of a militarized national guard at the Guatemalan border, thousands of additional migrant arrests per week and the acceptance of busloads of asylum seekers turned away from the U.S. border daily, all geared toward cutting the migrant flow sharply in coming weeks. 
However, that does not mean this will be sustainable in the long run as the agreement may be revised once Trump is no longer seating in the throne. This report is written to discuss the following:
Minth business in North America?
Trump vs Mexico
Minth's customers in North America 
After losing 67% of its value between Jul and Feb ZOZO Inc (3092 JP) has stabilised by changing direction on its Zozo Arigatou program and scaling back plans for its money losing private brand business. While the stock has stabilised and QoQ OP growth could reassure investors and convince some that the stock is cheap, we believe that looking at underlying trends in the company's operating metrics reveals a much more worrying long-term picture and that saturation is already upon the company. We go through the details, chart by chart, below.
According to the global Industry data published this week Radico Khaitan (RDCK IN), an India based popular alcoholic beverages maker, owns 2 of the top 12 fastest growing spirits brands globally in 2018. However, the stock is down 30% YTD trading close to its 52-week low as the spectre of regional alcohol ban rears its head in two states in India, including Andhra Pradesh, one of the bigger markets for alcoholic beverages in the country. Radico Khaitan had reported strong growth in sales, margins and profits for the quarter and year ended March 31st 2019. The proposed liquor ban, when implemented, will hurt Radico Khaitan's revenue growth, operating margins and net profit (expect full year impact in FY2021). However, based on our earnings/valuations analysis, the YTD stock slide seems to fully factor in the potential earnings downside. Any further stock decline could be opportunities for investors looking for favourable entry points. Regulatory issues – taxes/regional bans – will continue to be the key sector risks.
In the note below, we look at (1) likely earnings scenario for Radico Khaitan (RDCK IN) after factoring in possible volume/revenue impact from expected state alcohol ban and (2) implied valuations at the revised earnings levels and potential stock upside (3) Radico Khaitan's earnings and operational track record. We include few data points on India spirits market fundamentals and also present the list of top spirits brands for 2018, ranked by absolute volume growth.
Get Straight to the Source on Smartkarma
Smartkarma supports the world's leading investors with high-quality, timely, and actionable Insights. Subscribe now for unlimited access, or request a demo below.