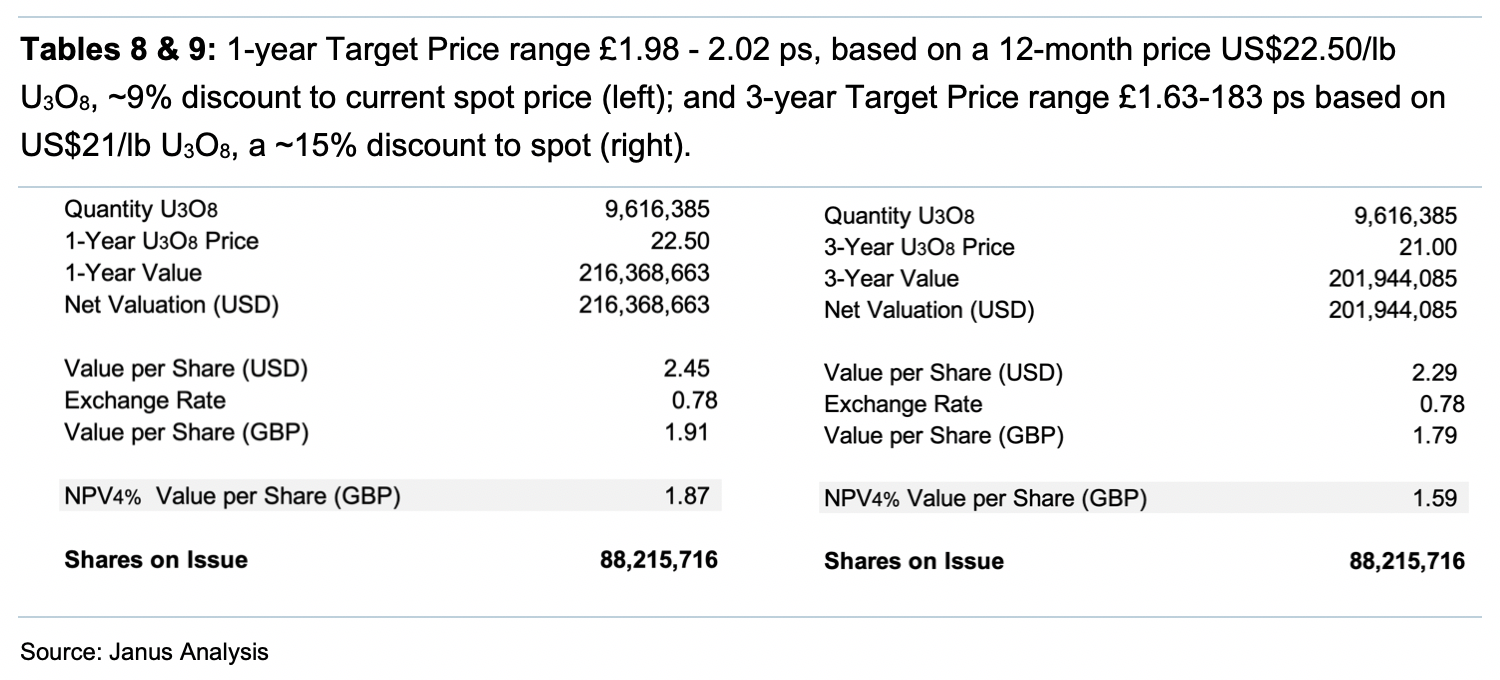 In this briefing:
---
Yellow Cake PLC (YCA LN) is a pure play on the uranium price
Spot Price $24.65/lb U3O8 down 15% in the past year
L.T. Price remains ~$32.50/lb U3O8
Trading at ~9% discount to NPV
Forecast global uranium demand to decline 30% by 2050
1-year Target Price £1.91 ps NPV4% assuming $22.5/lb U3O8
3-year Target Price £1.59 ps NPV4% assuming $21/lb U3O8
China's fresh food e-commerce DAU just soared ~60% in less than two months as consumers increasingly turned to digital solutions to avoid human contact during the COVID-19 outbreak. JD is one of the primary beneficiaries of this trend given that, in many cases, it was the only major platform that could fulfill these orders due to its robust logistics network and use of contactless technologies.
While this growth is likely to moderate after the outbreak, we believe that JD is well-poised to benefit from the increased e-commerce penetration as it continues to introduce new technologies such as drones and autonomous robots to its delivery fleet. We note that JD was already growing its revenues and userbase rapidly even prior to the virus, indicating that the current situation has likely only catalyzed even faster adoption of the Company's services long-term.
Tokyo Stock Exchange Tokyo Price Index Topix (TPX INDEX) and Nikkei 225 (NKY INDEX) have had a rough ride year-to-date. With the recent sell-offs, there is bound to be a bounce albeit it may not be a structural one. This report will help to uncover some of the names with high dividend yield and a substantial amount of cash in the balance sheet that will help to maintain the dividend rate despite a tougher economic outlook. 
Itausa-Investimentos Itau-Pr (ITSA4 BZ) has performed broadly in line with its largest holding Itau Unibanco Holding Sa (ITUB4 BZ) since September end 2019
Despite Itausa's attractive dividend yield, the payout on 2019 earnings has decreased and we think that this is not compelling
The NAV discount has widened recently, but may widen a bit further in the short term should a near-term market recovery drive a rally in Itau Unibanco; the discount remains below the long-run average
Risks to our cautious view include better than expected performance in the invested companies, especially Itau Unibanco Holding Sa (ITUB4 BZ) 
You are currently reading Executive Summaries of Smartkarma Insights.
Want to read on? Explore our tailored Smartkarma Solutions.