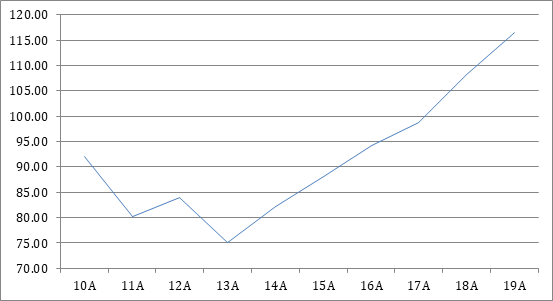 In this briefing:
---
We will try our best not to repeat the excellent analysis done by our fellow Smartkarma analyst Hemindra Hazari on Yes Bank. Rather our focus here is a more simple analysis suggesting that despite the breathe-taking decline in the bank's market capitalization over a very short amount of time, it is in no way certain that 4Q19 will be the only bad quarter. These things tend to last longer than most initially expect.  At the same time, it is a stark reminder that despite the radical decline in profit and stock price, there is still much to do within the analyst community on earnings forecasts, where S&P CIQ has at present 59% growth forecast for FY20.
There is an increasing probability of a major partnership between Tesla Motors (TSLA US) and Samsung Sdi (006400 KS) for a potential long-term contract to supply lithium ion batteries for EVs. Although such speculation has been brewing in the past six years, we believe this probability is increasing due to the following main reasons: 
More confrontational trade war between the US and China 
Elon Musk's public dispute with Panasonic
End of subsidies for EVs by the Chinese government & the potential for "several" suppliers of lithium ion cells by Tesla's Gigafactory in Shanghai

With the end of subsidies on the Chinese EV sector by the end of 2020, there will likely be a HUGE AMOUNT OF INDUSTRY CONSOLIDATION AND JOB LOSSES ON THE EV RELATED SUPPLY CHAIN IN CHINA IN LATE 2020 TO 2021.  
The Chinese government provided these subsidies for too long as well as to too many uncompetitive companies such as Optimum Nano who relied too much on generous subsidies, rather than trying to make a really competitive products. Time has come for even the Chinese government to say enough is enough on wasting too much money through subsidies on the EV sector and there is only about one and half years before the subsidies completely disappears. 
Once the competition is based on more equal footing (without any subsidies) in China, there is a good chance of leading Korean companies including Samsung SDI and LG Chem to start to increase their sales of lithium ion batteries sales in China starting 2021. 
Earlier this month Wesfarmers Ltd (WES AU) bid for Kidman Resources (KDR AU) in a move that raised some eyebrows in the lithium sector. Wesfarmers had earlier gone after Lynas Corp Ltd (LYC AU) but that deal looks increasingly complex given the latter has several pending issues to be resolved in Malaysia. Yesterday Australian newspapers reported that several KDR investors were resisting the Wesfarmers offer as they say it undervalues the company.
This morning investors are informed that Alliance Mineral Assets (AMS SP) is placing 32.5M AUD worth of shares at 0.20 AUD/share to both Galaxy Resources (GXY AU) and Jiangxi Special Electric A (002176 CH).  The entire placement will result in 13% dilution for existing shareholders.
After the placement Galaxy will become Alliance's largest shareholder with an almost 12% stake. Jiangxi Special Electric will own just over 9% of the company.
Officially this placement will help speed up the development of the Bald Hill deposit but the real reason for this share issuance is to get Galaxy over 10% so it has a blocking minority in case any other buyers would be circling Alliance Mineral.
Over time a full takeover of Alliance by Galaxy is the only logical outcome. Tick Tock, how long will this take? 
Recruit Holdings (6098 JP) (Recruit) reported its full-year financial results for FY03/19 on Tuesday (14th May 2019). The company reported revenue of ¥2,311bn (+6.3% YoY) and EBITDA of ¥293bn (+13.5% YoY) for FY03/19. Both revenue and EBITDA were broadly on par with consensus and our estimates.
Recruit's revenue growth declined to 6.3% YoY in FY03/19 from 11.3% YoY in FY03/18. This was mostly due to the slowdown in overseas staffing activity owing to current political and economic headwinds in the global market. However, domestic recruitment activity continued to remain strong during the year. Recruit's revenue exposure to overseas labour markets was around 48% of consolidated revenue (in FY03/19), while its exposure to the domestic labour market was around 36% of consolidated revenue.
We expect Recruit's consolidated revenue to increase 6.8% YoY to reach ¥2,468bn in FY03/20E, underpinned by the acceleration of domestic recruitment activity despite the slowdown in overseas labour markets. Our consolidated EBITDA estimate for FY03/20E is ¥319bn, which is at around the mid-point of the guidance range of ¥310-330bn.
At a FY1 (FY03/20E) EV/EBITDA multiple of 16.1x, Recruit looks expensive to us compared to both its employment and internet advertising business peers. Persol Holdings (2181 JP), the second largest staffing company in Japan after Recruit, is trading at a FY1 EV/EBITDA of 7.4x. Yahoo Japan (4689 JP), which earns around 70% of its EBITDA from advertising related businesses, is trading at a FY1 EV/EBITDA of 6.5x.
We met up with Thailand's second largest debt collector CHAYO and Precious Shipping, one of Thailand's top three shippers and a member of the G Premji Group that also includes MEGA. Here's a quick run-down:
CHAYO almost doubled their net income to Bt27m in Q1'19 on the back of high margins and higher debt collections. The company is also expanding into the lending business, where interests are capped at 15% (still pretty high!)
Headwinds. Admittedly, the local economy is not doing well, and collection costs will rise, but this also means less competition from the banks, who are constrained by tougher risk management standards.
PSL turned from a profit to a loss of US$2m in Q1'19, but they continued to paint a rosy picture citing how little the trade wars have affected  China's steel imports and the fact that BDI isn't much higher than the all time lows back in 2016.
Get Straight to the Source on Smartkarma
Smartkarma supports the world's leading investors with high-quality, timely, and actionable Insights. Subscribe now for unlimited access, or request a demo below.