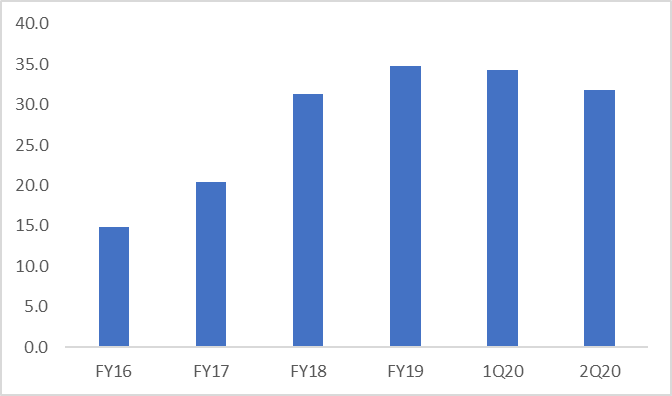 In this briefing:
---
It is typically a series. It is rarely a one-time event, recapitalizing a bank. This is all the more so when in the throes of a wrecked economy, with high growth in new bad loans and where there is no end in sight. Thailand in 1997 and the US in 2008 are good examples. Banks raised capital several times, before they were done. It was not a one-time event. The USD2bn that Yes Bank seeks to raise will likely be the first capital raising – if approved. After their last capital raising, banks become more interesting; not after the first.
Navios Maritime Holdings (NYSE:NM) reported its 3Q19 result on 25 November 2019. The bottom line still trends in red with a net loss of USD 39.14mn against a loss of USD 1.82mn in 3Q18. The net loss for the first nine months stood at USD 80.87mn as against the loss of USD 67.96 mn in the same period last year. The transaction with NSM has helped in the reclassification of USD 100mn short-term debt to long-term debt. The transaction is supposed to result in annual savings of as much as USD 27mn (company report) in the operating expenses.
Times have been tough for Straco Corporation (STCO SP) as of recent. The share price has been hit for two major reasons :
a) In their recently announced Q3 2019 results, earnings declined by 12% YoY due to a decrease in visitor arrivals at their aquariums in Shanghai and Xiamen.
b) Recently on the 26th of November 2019, the flyer operations were suspended again due to a technical issue. (link: Flyer Suspension – Channel News Asia ). The flyer accounts for 15% of PBT and 23% of EBITDA for the company in years other than 2018. The flyer experienced a technical issue where it was shut down for close to a quarter in early 2018. ( link to history: Singapore Flyer – Wikipedia )
The bright side though is the build-up in the cash pile. By the end of FY2019, I estimate that the company will have 187 mn SGD of cash ( 22 cents/share ) on its balance sheet which is around 31% of the current market capitalization of 600 mn SGD.  
They pay about 3.5 cents/share of dividends ( if you include the special dividend of 1 cent/share) which works out to a dividend yield of 5%. 
FCF for this year could end at 50 mn SGD or 5.7 cents/share, resulting in an FCF yield of 8.3%. If the company can hold onto an FCF of 50 mn SGD, The cash pile will continue to build by 10% a year.  
The main question in my mind though, is what's going to happen with this cash pile? Will it be used to increase dividend payouts further and do buybacks or will the company use it for an acquisition?
Bloomberg reported on 29th November 2019 that Thai Beverages is planning an IPO for its Beer Business to raise about $2-3bn towards the middle of next year. The IPO is expected to yield a valuation of around $10bn for the Beer Business of Thai Beverages. We believe a valuation of $10bn for the Beer business is not out of reach as the implied valuation multiple at a $10bn EV is in line with recent similar IPOs such as Budweiser APAC. Also, the current valuation multiples for the beer companies exposed to high growth beer markets are mostly valued at multiples higher than Thai Beverage's current multiple.
Thai Beverages acquired about 54% of share ownership in Saigon Beer Alcohol Beverage Corporation (Sabeco) in December 2017, a state-owned company who is the largest beer producer in Vietnam. Sabeco is listed on the Vietnam Stock Exchange (HOSE or HSX) and trades at an EV/EBITDA multiple of around 21x which is substantially higher than Thai Beverages' EV/EBITDA multiple. However, the valuation multiples of Thai Beverages, decreased post acquisition of Sabeco.
The domestic beer business is also valued at multiples lower than the regional peer multiples and we believe an IPO would help the sub segment to get a valuation on par with its regional peers.
The Spirits business generates the largest proportion of EBITDA for Thai Beverages. The segment has a higher margin than the Beer segment and uses less than half of the Beer segment's assets. However, the consolidated EV/EBITDA multiple suggests that both these segments are valued at multiples not substantially different from each other. Thus, we feel an IPO of the Beer Business would help unlock value in the Beer and Spirits businesses.
Investors seem to be buying into the Lenovo recovery story. Every quarter they manage to produce some growth and talk about a future turnaround. A close look at their accounts reveals that all is not well. Lenovo will be raising capital again next year and the risk of collapse continues to rise.
Get Straight to the Source on Smartkarma
Smartkarma supports the world's leading investors with high-quality, timely, and actionable Insights. Subscribe now for unlimited access, or request a demo below.