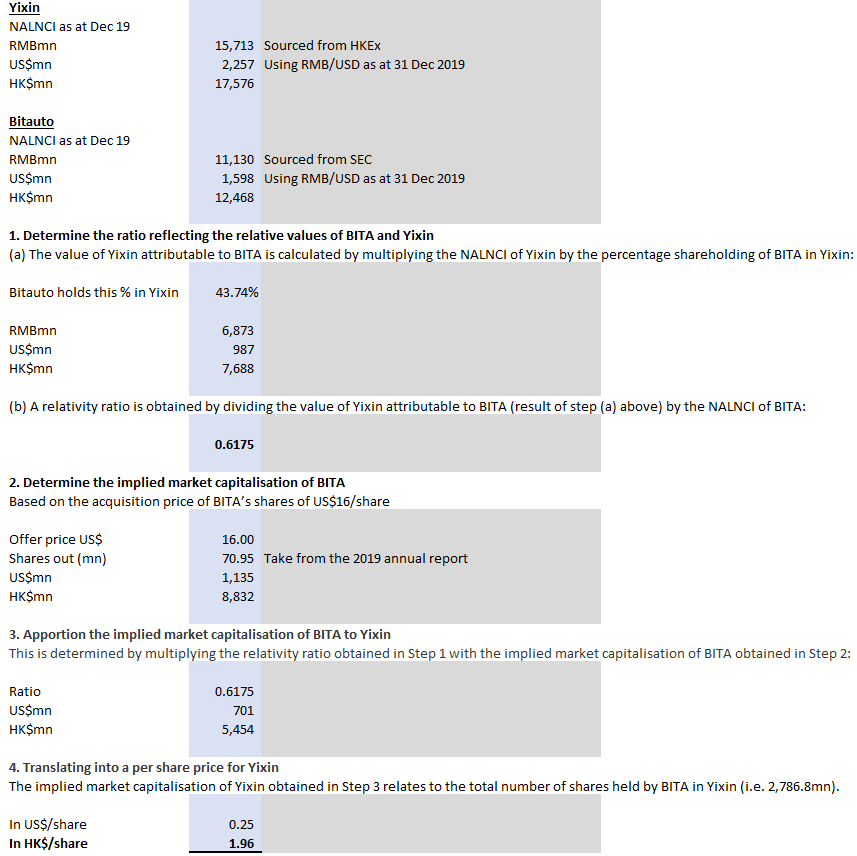 In this briefing:
---
On the 13 September 2019, Tencent Holdings (700 HK) and Hammer Capital tabled a preliminary non-binding proposal for Bitauto Holdings Ltd Adr (BITA US) at US$16/ADS, a ~20.6% premium to last close and a 36.1% premium to the 30-day VWAP. This was discussed in Tencent's Potential Downstream Offer For Yixin. 
On Friday (12 June), Bitauto announced it has entered into a definitive Merger Agreement with Tencent and Hammer at the previously-announced Offer price of US$16/ADS. 
Shareholders holding 55.3% of shares out have agreed to vote in favour of the Merger. The proposal needs two-thirds. This is a done deal.
The quirky takeaway from this Merger will be how the downstream unconditional MGO unfolds for Yixin Group Ltd (2858 HK), currently 43.74%-held by Bitauto.
(This insight covers specific insights & comments involving Stubs, Pairs, Arbitrage, share Classifications, and Events – or SPACE – in the past week)
Japanese consumer goods company Meiji Holdings (2269 JP) issued a press release on Friday (12th June 2020) stating that the company is considering a stock split to boost liquidity and capital injection by investors.
The company previously conducted a two for one stock split on 1st October 2015. The share price rallied as much as 17.9% in the two days following Meiji's announcement of its 2015 stock split.
We believe Meiji had genuine reasons for its previous stock split, whereas the explanation for the current considering stock split is not convincing. We explain our reasons below.
You are currently reading Executive Summaries of Smartkarma Insights.
Want to read on? Explore our tailored Smartkarma Solutions.