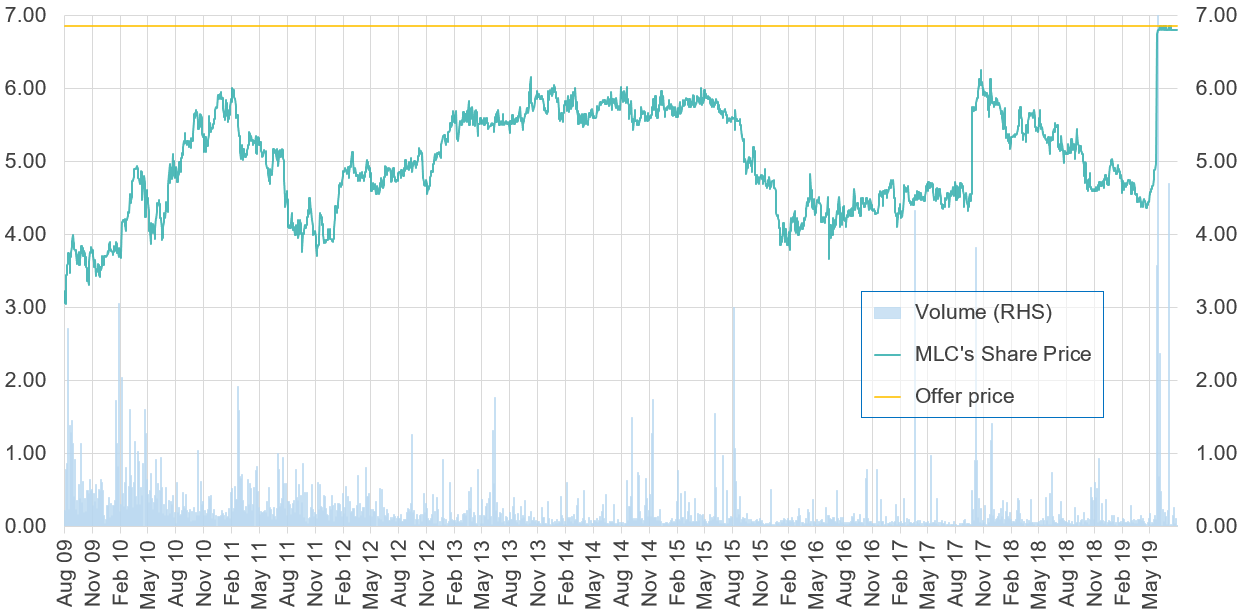 In this briefing:
---
On the 21 August 2017, City Developments (CIT SP) approached 65.2%-held hotel operator Millennium & Copthorne Hotels (MLC LN) ("M&C") with an offer to take the company private for 510 pence/share. This initial offer was rejected.
CDL returned with a revised proposal on 14 September 2017, which was also rejected. CDL made a third proposal of 545 pence/share  – a 23.7% premium to last close – in cash, together with a special dividend of 7.5 pence/share, conditional on the recommendation of the Offeree Independent Directors.
On 19 October 2017, M&C's Independent Committee concluded the Offer was fair and they intended to unanimously recommend the proposed.
On 8 December 2017, CDL made a further proposal, and Final Offer, to the Independent Directors of 600 pence/share – a 38.8% premium to last close – together with an increased special dividend of 20 pence/share. M&C's Independent Directors concluded that they should support the Final Offer being made to the Independent Offeree Shareholders.
The Offer was subject to certain conditions, which included CDL securing valid acceptances of more than 50% M&C Shares not already owned by CDL. 47.14% was received and the Offer lapsed on the 26 January.
The New Offer
On the 7 June, CDL and M&C announced a pre-conditional Final Offer of £6.85/share, a 37% premium to last close for shares it does not own.
The pre-condition refers to the granting of consent from New Zealand's Overseas Investment Office. That condition was satisfied on the 9 August. 
The Offer Document will be issued within 28 days, or on or before the 6 September. The Offer is subject to CDL receiving valid acceptances of more than 50% of the shares in M&C it does not own. CDL has received irrevocables totaling 43.58%. 
This is a done deal and is duly trading tight to terms – ~1% gross spread – with an expected payment of mid-October.
On 15 August 2018, when shares were changing hands at A$2.21/share, Aveo Group (AOG AU) announced a Strategic Review in which six proposals from investment banks and real estate advisors had been received. Seng Huang Lee, Chairman of Aveo said:
… Aveo Group's current security price does not reflect the underlying value of our market-leading retirement business which has grown strongly and consistently over the past five years.
Interested bidders were shortlisted in late February this year, with Brookfield emerging as the preferred party. 
Aveo and Brookfield have now entered into a Scheme Implementation Deed such that Brookfield will undertake to buy all Aveo shares at $2.195/share (inclusive of the FY19 annual distribution of A$0.045/share), the price first referenced on the 6 August, and a 28% premium to the undisturbed price of $1.71/share on the 12 February. 
The Offer Price is final. The Offer has Board approval, in the absence of a superior offer, subject to the Independent Expert concluding the Scheme is the best interest of shareholders.
Seng Huang Lee and Eric Lee, both directors of Aveo and Mulpha International (MIT MK), Aveo's largest shareholder with 24.4%, have confirmed they intend to recommend to Mulpha to support the Offer. Seng Huang Lee is Mulpha's shareholder with 44.96%.
A scrip alternative may be available if at least 10% of shares out seek scrip. The scrip option will be capped at 30% of shares out. It is not clear whether Mulpha, should it support the Offer, will opt for cash or scrip.
The Offer Price equates to a P/B of 0.56x, marginally below where Aveo was trading at the time of the announcement of the Strategic Review. The peer group trades at 1.5x. 
This is a tough call. The headline Offer Price makes somewhat a mockery of the Strategic Review. And agreed upon MACs are also a risk to the deal completing.
But Aveo reported a 67% decline in 1H19 earnings from the previous year and a 2% decline in NTA; peer comps are down 11% on average from a year ago and similarly reported negative growth in the 1H19.
Apart from Perpetual increasing its stake last November, there have been no other interested buyers of shares, despite half a dozen (initial) interested parties. Mulpha appears a willing seller at the Offer Price. That may be the best indication on how to trade this.
This week in StubWorld …
Preceding my comments on Swire are the weekly setup/unwind tables for Asia-Pacific Holdcos.
These relationships trade with a minimum liquidity threshold of US$1mn on a 90-day moving average, and a % market capitalisation threshold – the $ value of the holding/opco held, over the parent's market capitalisation, expressed in percent – of at least 20%.
Get Straight to the Source on Smartkarma
Smartkarma supports the world's leading investors with high-quality, timely, and actionable Insights. Subscribe now for unlimited access, or request a demo below.