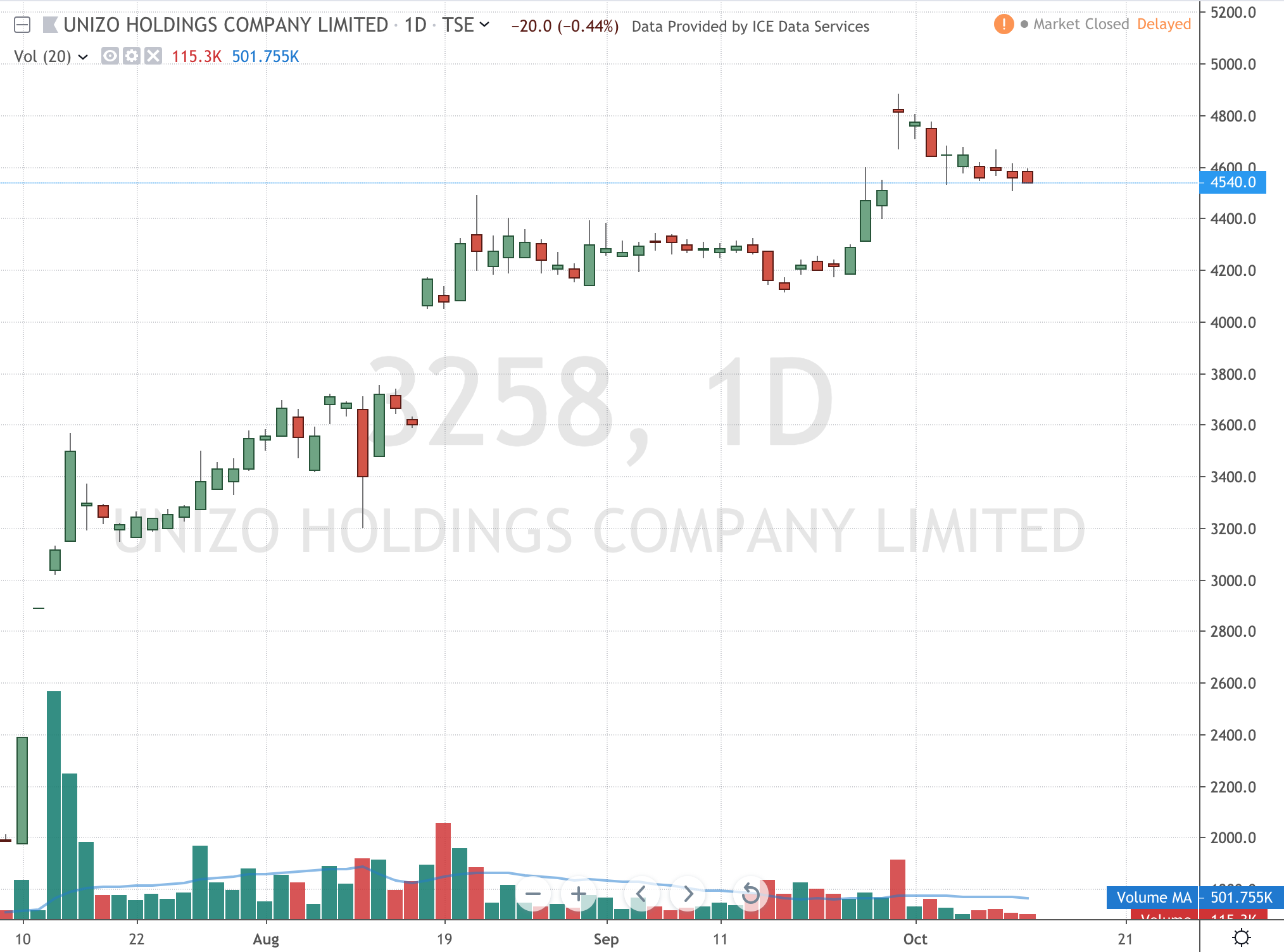 In this briefing:
---
Yesterday, various media outlets reported that Elliott Management – which has reported a 13+% position in UNIZO – sent an "open letter" to UNIZO management and the press. In the process of writing about it in the press, some media outlets contacted Unizo Holdings (3258 JP) management to get their response. Their response was that they knew of no such letter.
For being an open letter, it was a bit difficult for me to track down a public copy of it. Someone this morning finally forwarded me a Japanese version, which can be found here* (url below). 
Despite owning 13%, Elliott had been silent for two weeks since UNIZO made several releases on 27 September saying they had been negotiating with another party who had bid a higher price and offered unchanged employment to employees, but had not agreed to a new Basic Policy which UNIZO management described but did not explain, other than to assert that it seemed appropriate that when an Acquirer takes over your company, in order for management to support the takeover and ownership of a single owner, the workers must have decision-making power over the business of the company, the directors chosen, and the exit of the owner. This was explained as being the appropriate read-through the Fair M&A Guidelines as promulgated earlier this year by METI, and as being part and parcel of the Japan Corporate Governance Code. 
Most observers just read the explanation and tried to pick our jaws off the floor afterwards.
As discussed in Unizo (3258 JP) Goes Hostile on Its Own Shareholders? and then UNIZO: Fortress Clarity Is Not Certainty when we got Fortress' response, this UNIZO's response was really beyond the pale. 
Elliott's "press release" raises some good points in its questions, but some of the questions seem the result of frustration, and possible responses to the questions would invite a continuing lack of clarity. 
This is a small cap rights offer. Korea's small cap tech stock OE Solutions will offer a total 760,000 new shares with 0.25 bonus share per each post rights offer share. This is a 9.82% capital increase and a 8.94% dilution. Preliminary price is set at ₩39,750 at which total offer value amounts to ₩30bil, nearly 10% of the current market cap.
The Hang Seng Indexes Company Limited (HSIL) will announce the results of the 2019 Q3 review of the Hang Seng Family of Indexes on 8 November. The constituent changes will be effective from 9 December and the rebalancing trades will need to be done at the closing auction on 6 December.
In the Insight we look at the Hang Seng Index (HSI) methodology, the historical performance of adds vs deletes, and at potential candidates for inclusion/exclusion and some of the details around the names.
Given that HSIL have made no changes to the index over the last two reviews, we list the possible inclusions and exclusions if the Advisory Committee decides to make changes this time around.
Based on Market Value and Turnover Rank, we see Meituan Dianping (3690 HK) and Sunac China Holdings (1918 HK) as having the best chance of inclusion, while Sino Land Co (83 HK) and Want Want China Holdings Ltd (151 HK) could be excluded.
Last week and this week, we've had several interesting signals that SK is doing big preparations for the restructuring. These signals suggest that the restructuring should be really just around the corner. This post looks at these circumstantial signals.
In the mid-1960s, Japan's most successful baseball franchise – the Yomiuri Giants – designated a small company called "Toyo Agency" as its sole agent to design and manufacture team merchandise. Several years later, Toyo Agency branched out and started an eminently cheesy and entirely forgettable tokusatsu* series called Thundermask (サンダーマスク) which thankfully has been lost to the mists of time (except a couple of cuts, one of which is below, in the Appendix).
Toyo Agency changed its name to Sotsu Agency five years later in 1977, and a couple of months later launched its first anime series called "SUPER MACHINE ZANBOT 3" (opening scenes of Episode 1 below). Super machine Zanbot 3 was created by now-famous anime creator and director Yoshiyuki Tomino (who got his career started in the 1960s with Osamu Tezuka's Astroboy and later Ashita no Joe) who by then was part of the Sunrise Studio (which was founded by members of Tezuka's Mushi Productions who wanted to produce their own work (Tezuka was the only producer at Mushi)). Sunrise concentrated on robots, starting with mecha anime "super robot" series ("super robots" were implausibly large robots which could do unbelievable things – an obvious derivative of the tokusatsu genre). 
Sunrise and Tomino had started with a popular series called Brave Raideen, which was sponsored by another company (not Sotsu), followed by Daitarn3 which was somewhat kid-friendly, but Tomino-san was very much a story-teller and wanted to tell darker stories which did not glorify war but instead showed its horrors. Zanbot 3 ends in a total bloodbath.
By the late 1970s, Tomino was also a bit sick of "super robots" and had decided to shift his work to "real robots" which were a sub-genre bringing a bit more realism (real effects, real sizes, concerns about aerodynamics, etc) to the robot anime genre.
In 1979, Sotsu Agency launched Sunrise's Mobile Suit Gundam, created and directed by Tomino. The series was sponsored by toy company Clover, which hoped to sell toys related to the series.  There were 43 episodes over the next nine months but the show was cancelled before it got to the end of its planned 50-episode run because it couldn't sustain sufficient viewership, even with Clover's interference trying to make the series less gory.
Clover never made any money from the series, but in 1980, Bandai introduced Gun-pura (ガンプラ) which stands for 'GUNdam suit PLAstic' models – plastic model kits where kids could put them together, paint them, pose them, and then do more as more characters came out. The plastic models were a hit. 
That led to more models, better model tech with less painting and better joint manoeuvrability. It also led to a trio of movies, which led to more mobile suit characters which of course meant more models to assemble and collect for fans. 
Tomino's original series was dark, and was explicitly designed to make viewers understand the horrors of war. Brooding, gray robots and main characters dying mid-series (his nickname was "皆殺しの富野 Minagoroshi no Tomino" ('Kill'em all!' Tomino)) don't make for commercial success so the robots were made more colorful, and the themes lighter, and he was pressured to kill off fewer of the characters. Tomino got his royalties but he also re-released the original series in a trilogy of novels in the early 1980s. He later directed a series of movies, and follow-up movies, and there were followup TV series of different types. 
15 years later Sunrise became part of Bandai, which had a bunch of the licenses for Gundam. 20 years after the first series, Bandai had sold 300+ million Gun-pura and total Gundam-related revenues from all sources had hit US$5 billion. By the end of 2018, that number was estimated to be $20 billion. A TV series which couldn't get to the end of its first run turned out OK.
40 years on from the introduction of Mobile Suit Gundam, Sotsu is still in the business of promoting anime, including Gundam characters and merchandise.
This year has seen an unexpected star rise in the Gundam universe.
The New News
The new news is that Bandai Namco Holdings (7832 JP), which has owned 20+% of the shares outstanding since 2000, has announced (the doc, in English) that it will buy out Sotsu Co Ltd (3711 JP) in a tender offer at ¥3100/share – as far as I can tell, a lifetime high, and a 66% premium to the last close.
This is an easy one. Co-founder Nasu Yuji, who between himself and his asset management company Nusco own 49.2% (and his foundation owns a bit more), has agreed to tender his shares.
That gets Bandai past two-thirds ownership, which allows them to squeeze out minorities.
It also gives Bandai the ability to better deal with the Gundam franchise. I expect Kitty-chan as Gundam cameo may not survive the winter.
More details below.
---
*tokusatsu means "special filming" (Godzilla is probably the origin but Ultraman and others are classics) and is a media type which relies heavily on "special effects" of suits/costumes and miniaturized sets and fake explosions and smoke to create a different world. 
---
For more about the rules, regulations, quirks, and foibles of Japanese M&A, please see the Quiddity Japan M&A Guide 2019
Get Straight to the Source on Smartkarma
Smartkarma supports the world's leading investors with high-quality, timely, and actionable Insights. Subscribe now for unlimited access, or request a demo below.