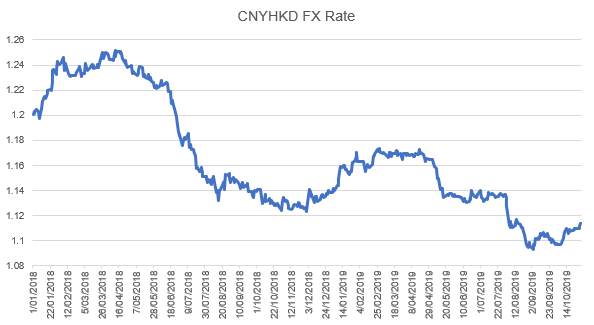 In this briefing:
---
Since we published our earlier Insight, the HSCEI dividends futures expiring in December 2020 have moved up 1.9% mainly driven by strong Q3 results led by Chinese insurers, a slightly stronger CNY and a marginally higher HSCEI. Open Interest in the 2020 dividend futures contract has continued to increase as prices push higher.
In this Insight, we look at the Q3 results of companies that announced quarterly results and estimate nine month EPS for non-reporting companies based on their half yearly results and operational statistics/data for the July to September period where provided.
We find that the 2020 dividend futures are trading below our bottom up fair value and provide a 3.7% upside from current prices.
The KRX first announced this 30% cap rule November last year and began to implement it starting June this year. The adjustment cycle is bi-annual, June and December. It is to become in effect on the next trading day in June and December after KOSPI 200 futures contracts are due. The reference date of the 30% cap is the last trading day of May and November. The period for the calculation is 3 months before June or December. To be clear, this isn't a weighted average. The calculation is based on a simple daily average of 3 months. If the daily average of 3 months, which is September 1 to November 30 this time, exceeds 30%, the 30% cap will be imposed starting the next trading day in December after KOSPI 200 futures contracts are due. Until the next cap adjustment which is June next year, Samsung Elec's index market cap weight in KOSPI 200 will stay less than 30% even if it exceeds 30%.
On 29 May, Sanyo Chemical Industries (4471 JP) and Nippon Shokubai (4114 JP) announced that they were considering a merger. The SanyoChem ratio at the time was about 0.8313 and it immediately jumped, reaching 0.862 within a week. Then it fell as far as 0.73 by the end of July when Nippon Shokubai lowered its earnings forecasts. After that downgrade, the ratio climbed almost to 0.80 by end-Sep then Sanyo Chem lowered its own earnings forecasts for the year, albeit by a fair bit less. 
The ratio has climbed back to 0.7856 as of 1 November (when Sanyo Chemical announced earnings). 
That ratio is slightly lower than at announcement date, but slightly in excess of  the average of announcement date, 1mo average, and 3mo average as of announcement date, but the fundamentals favor SanyoChem both on a historical run-rate and on March 2020 forecasts. 
Much more detail below.
For previous insights, see Sanyo Chemical – Nippon Shokubai Merger – Another "Guess the Ratio" Trade, which was followed by Sanyo Chem – Nippon Shokubai Merger Ratio Is a BUY and SanyoChem Vs NipponShokubai: An Even Better Trade Now in August. 
---
For other insights on Japanese M&A please check the list of Japan-related Event-Driven insights here. As a reference to Japan M&A rules and practices, please see the Quiddity Japan M&A Guide 2019.  
Get Straight to the Source on Smartkarma
Smartkarma supports the world's leading investors with high-quality, timely, and actionable Insights. Subscribe now for unlimited access, or request a demo below.