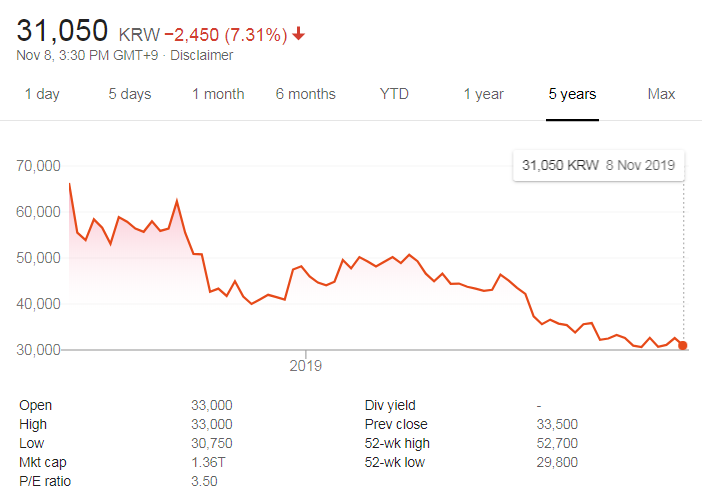 In this briefing:
---
It was reported in numerous Korean media on November 8th that the HDC Hyundai Development Engineering & Construction (294870 KS) & Mirae Asset Daewoo consortium is likely to acquire Asiana Airlines. However, there were conflicting information about the exact preliminary bid amounts made by HDC Hyundai Development consortium and others. 
Although Asiana Airlines has not formally announced which consortium it now prefers, it appears that the much higher probability event is for HDC Hyundai Development & Mirae Asset Daewoo consortium to become the preferred bidder. From the point of view of Kumho Industrial, the nearly 400 billion won to 500 billion won difference in the preliminary bid from the HDC Hyundai Development versus the other two contenders is so great that it probably makes sense for them (Kumho Industrial) to go with HDC Hyundai Development consortium.
There are four major concerns on the (likely?) acquisition Asiana Airlines by the HDC Hyundai Development consortium:
Over-payment
Lack of synergies & no experience in running an airliner
Construction + Airlines = Excessive Industry Cyclicality
Korean government not likely to save Asiana Airlines next time
Overall, although HDC Hyundai Development's share price is down 36% YTD, there are tremendous risks of its share price falling much further in the next 12 months if the HDC Hyundai Development consortium does indeed end up acquiring the highly leveraged Asiana Airlines.  
It was reported yesterday that Xerox, one of the largest sellers of photocopiers has offered to buy HP Inc., one of the largest makers of printers and the latter has confirmed the news by issuing a public statement confirming that talks have been on-going and it will act in the best interest of the shareholders. As at the end of yesterday's close, Xerox had a market capitalisation of USD8.2bn while HP had a market capitalisation of USD28.7bn, more than 3x that of Xerox. Xerox is considering funding the offer with both cash and stock. According to CNBC, Xerox's offer to buy HP comes in at USD22 a share, consisting of 77% cash and 23% stock. HP's shares closed at USD19.39 per share on Thursday's trading, and the offer price of US$22 a share translates into a 13.5% premium to the last close price. At USD22 a share, the deal will be worth around USD33bn and Xerox will have to fund about US$22bn through debt financing to fund the deal. Our cashflow and balance sheet analysis on the combined entity reveals that it will take c. 5.5 years to pay off the debt (existing loans plus the new borrowings to fund the deal) using the free cashflows of both HP and Xerox. At USD22 a share, the deal implies a PE of about 7.7x for HP (based on TTM EPS).
HP has been struggling with declining demand for its printing business which is the core profit generator for the company due to digitisation. At the same time, Xerox has been facing the same fate too for its copy machines and the company's revenues and profits have been declining over the past couple of years. What lies ahead for the two companies is not yet known and how the two companies will collectively respond to the declining demand for their core products is yet to be announced by the two companies.
Doubling up on StubWorld this week …
Preceding my comments on INDF are Setup/Unwind Tables for Asia-Pacific Holdcos.
MSCI announced the results of the November 2019 Semi-Annual Index Review earlier today. The constituent changes will be effective from 27 November and the rebalancing trades will need to be done at the close on 26 November.
There are eight inclusions: Berger Paints India (BRGR IN), Colgate Palmolive (India) (CLGT IN), Dlf Ltd (DLFU IN), HDFC Asset Management Co Ltd (HDFCAMC IN), ICICI Prudential Life Insurance (IPRU IN), Info Edge India (INFOE IN), SBI Life Insurance (SBILIFE IN) and Siemens Ltd (SIEM IN) 
Four stocks have been excluded from the index: Glenmark Pharmaceuticals (GNP IN), Indiabulls Housing Finance (IHFL IN), Vodafone Idea (IDEA IN) and Yes Bank (YES IN). 
The free float on ICICI Bank Ltd (ICICIBC IN) has been doubled following foreign room going above the 25% threshold.
With only eleven trading days prior to implementation day there could be some big moves, especially on names that were not expected to be included in the index. That said, most of the additions have seen big rallies over the last few weeks and any further jumps could lead to profit taking.
Last evening, Kirin Holdings (2503 JP) announced a buyback for up to 60mm shares (6.8% of shares outstanding excluding Treasury shares) and up to ¥100 billion to be conducted between 8 November 2019 and 7 November 2020.
At current price, the company will be able to buy back around 43.5m shares (4.95% of shares outstanding excluding Treasury shares).
Results for the nine month period were declared yesterday as well. Revenues were marginally higher than the same period last year, operating profit was 62% lower, pre tax profit was 61% lower and net profit was 79.6% lower. The stock is trading close to a two and a half year low as is the book value while the Japan beer market keeps shrinking. The buyback will help keep the stock supported.
In this Insight, we look at the buyback details, the impact of past buybacks on the stock price, and the potential impact of the buyback on the stock.
Get Straight to the Source on Smartkarma
Smartkarma supports the world's leading investors with high-quality, timely, and actionable Insights. Subscribe now for unlimited access, or request a demo below.