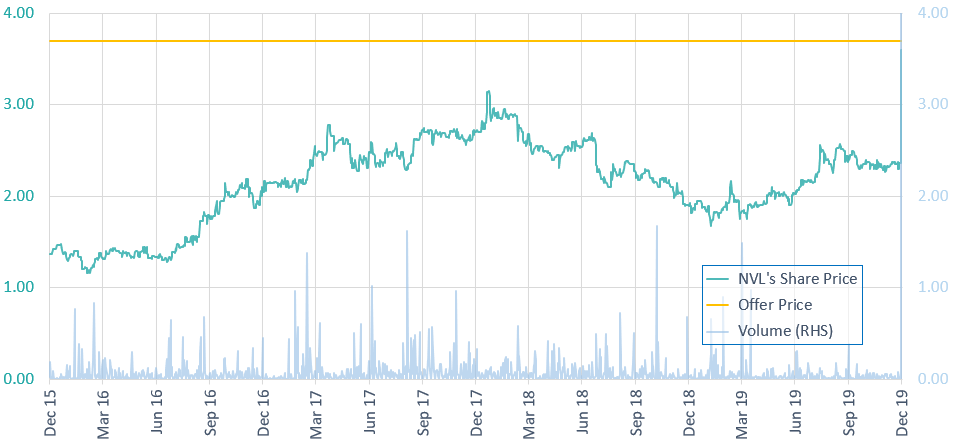 In this briefing:
---
Back in November last year, Australia and New Zealand's largest integrated consumer-facing pet retail and vet services company Greencross Ltd (GXL AU) entered a Scheme Implementation Agreement with TPG to acquire 100% of shares at $5.55/share, a 44.5% premium to the 1-month VWAP (& 34.1% premium to the undisturbed price), which backs out a ~10x FY18 EV/EBITDA and 18x FY18 PER.
At the time, I mentioned National Veterinary Care (NVL AU) was seen as Greencross' key – though considerably smaller – peer. Its business model is slightly different as revenue relates mainly to veterinary clinics, with income also sourced from management services for independent clinics. 
NVL has now
entered
into a Scheme Implementation Deed with Australian  Veterinary Owner's League, better known as Vet Partners, to be taken private at A$3.70/share (cash), a 56.8% premium to last close, in a ~US$170mn deal.
The Scheme has limited conditions including NVL shareholder approval, FIRB and no MACs.
Management supports the Offer in the absence of a superior proposal. This is a done deal, with expected completion in early April 2020, and it should trade tight to terms.
Suddenly, Lotte Holdings is getting a lot of attention. The share price got boosted by nearly 9% in the last three trading days. What's this all about here? Of course, the price hasn't indeed bottomed out yet. It is still sitting near the 5-year low. So, bargain hunters might have come in. But why now? Well, then there was this market speculation about SDJ (the older brother) purchasing back Lotte Holdings shares, which has spread lately in the local market. The growing expectation on another round of a brotherly fight seems to be pushing up the Holdings shares.
Here is the link to the local news report about the possibility of SDJ making a move on Lotte Holdings. (Source: MoneyToday Bell)
The upcoming integration of LINE Corp (3938 JP) with Z Holdings (4689 JP) at the end of the year follows Z Holding's acquisition of a 50.1% stake in Zozo last month.
The deal will further fuel the battle with Rakuten Inc (4755 JP) for hegemony in digital consumption across payments, loyalty points and e-commerce.
In payments alone, Z/LINE will have close to 60 million users and may well cause their temporary partners, NTT Docomo Inc (9437 JP) and KDDI Corp (9433 JP) to shift allegiance to Rakuten.
The battle for supremacy in payments is already proving expensive – Softbank Group (9984 JP) and Z's PayPay service alone posted net sales of ¥600 million last year but SG&A costs of ¥37 billion – but this new alignment will lead to a further incentives race, meaning more costs for the big players in the next two to three years.
While the potential synergies are obvious, the real question is whether Softbank can make the integration work.
Following on from our quick analysis of Fujitsu's four listed subsidiaries that could either be bought in or sold out, we spoke to Fujitsu Frontech today to understand the company's business and the degree of attachment to Fujitsu. Details below.
You are currently reading Executive Summaries of Smartkarma Insights.
Want to read on? Explore our tailored Smartkarma Solutions.