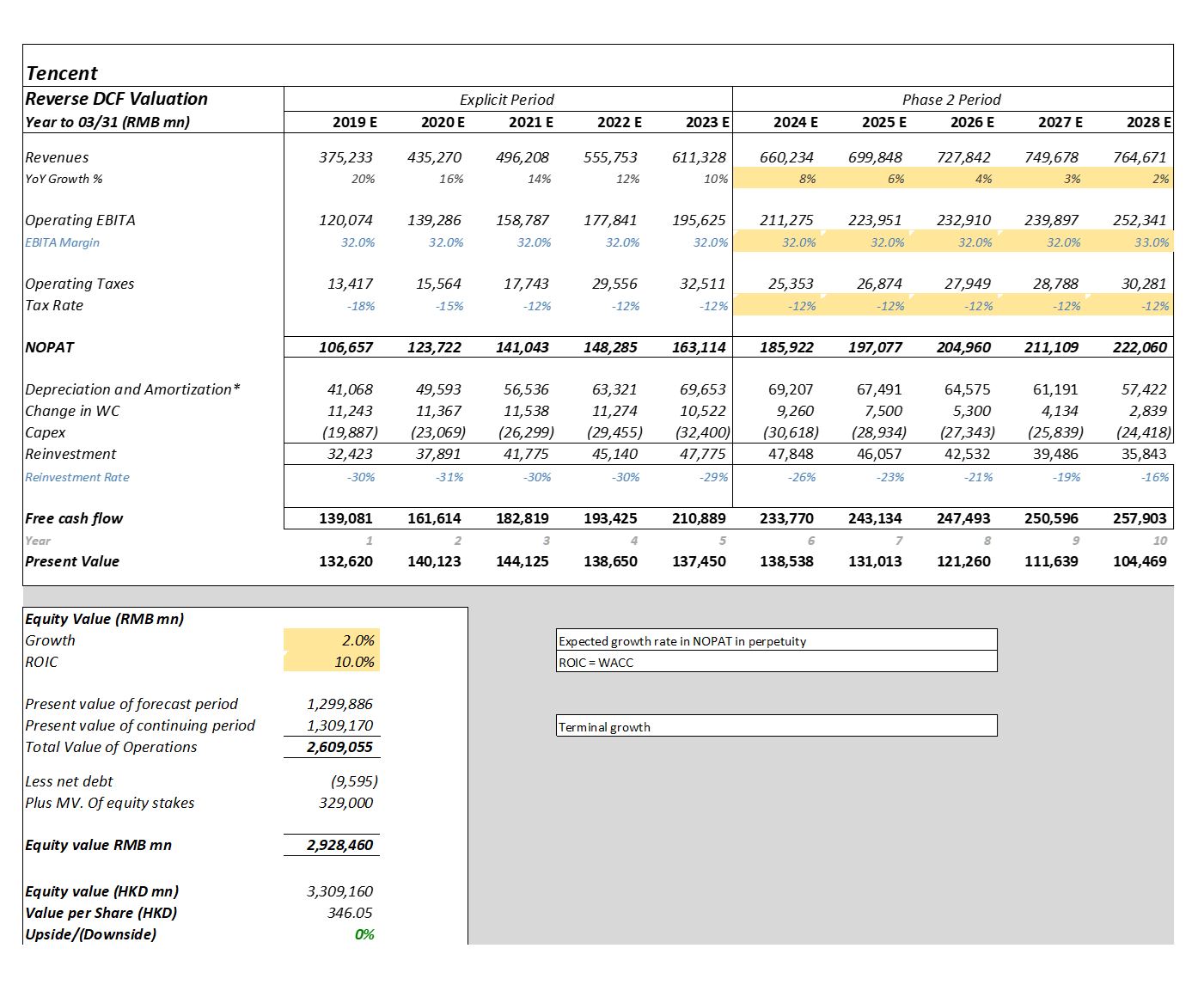 In this briefing:
---
With Tencent Holdings (700 HK) largest shareholder Naspers (NPN SJ) spinning off its Tencent stake into Prosus (PRX NA), we believe there are a couple of fundamental questions that arise from this, given that Tencent will represent c82% of the valuation for Prosus, according to the note written by fellow insight provider Patryk Basiewicz (His note here Naspers/Prosus (NPN SJ / PRX NA) – Analysis of the Two Discounts ). We believe there are two pertinent questions from this spin-off as it relates to the ongoing valuation for Tencent,  which are: 
1) What is currently priced into the Tencent valuation? 
2) Will overhang issues for Tencent emerge when the lock-up expires? 
More details below
The HKEX (388 HK) has announced a possible offer for London Stock Exchange (LSE LN). The proposed transaction implies a value for each LSEG share of ~8,361 pence (a 22.9% premium to last close) comprising 2,045 pence in cash (~24% of the Offer Price) and 2.495 newly issued HKEX shares. A firm Offer, should it unfold, may be implemented by way of a Scheme of Arrangement or Takeover Offer.
The implied equity value under the terms is ~£29.6bn with an enterprise value of £31.6bn.
HKEX, which acquired the London Metal Exchange (LME) in 2012, has often been tipped as a possible suitor for the LSE, and more recently after LSE's merger with Germany's Deutsche Börse collapsed in 2016.
The transaction will require various regulatory approvals, which will stress-test the world's understanding of Hong Kong's "one country, two systems" constitution, a Basic Law principle currently at front of mind as various rallies and protests in the city result in a government response (which triggers more protests).
A key condition to HKEx's proposal is LSE's £22bn deal to buy data firm Refinitiv – first announced on the 1 August – to either be voted down or scrapped/withdrawn. Subsequent to HKEx's announcement, LSE stated it "remains committed to and continues to make good progress on its proposed acquisition of Refinitiv."
In accordance with Rule 2.6(a) of the City Code on Takeovers and Mergers in the UK, the HKEx is required, by no later 9 October 2019, to either announce a firm intention to make an offer or announce that it does not intend to make an offer. 
The Tata Motors Ltd A Dvr (TTMT/A IN) Differential Voting Rights (DVR) are trading at a huge discount of around 54% to the Tata Motors Ltd (TTMT IN) ordinary shares. The premium on the Tata Motors Ltd Spon Adr (TTM US) is also beginning to perk up.
In this Insight, we look at how the DVR (Differential Voting Rights) differs from the Ordinary shares, the historical discount on the DVR and compare it to the discount on a couple of other DVRs listed in India, the movement of the ADR vs the local stock, changes in the shareholding pattern of the Ordinary shares and the DVR, and list out catalysts that could narrow the discount on the DVR line.
This week in StubWorld …
Preceding my comments on Melco are the weekly setup/unwind tables for Asia-Pacific Holdcos.
These relationships trade with a minimum liquidity threshold of US$1mn on a 90-day moving average, and a % market capitalisation threshold – the $ value of the holding/opco held, over the parent's market capitalisation, expressed in percent – of at least 20%.
After the Hong Kong markets closed on Wednesday, HKEX (388 HK) announced a surprising unsolicited bid for the London Stock Exchange (LSE LN). The bid which consists of 2,045p in cash and 2.495 HKEX shares, values LSE at 8,361p per share and an EV of £31.6 billion. On the back of the bid, LSE shares jumped as high as 16% before settling back down to 7,218p, up 6%.
HKEX's move is sensible based on creating a world-leading market infrastructure group, harnessing LSE's intellectual property and increasing the volumes of UK-China listings. While LSE's Board will evaluate the proposal, we believe the likelihood for a successful HKEX bid is relatively low.
Get Straight to the Source on Smartkarma
Smartkarma supports the world's leading investors with high-quality, timely, and actionable Insights. Subscribe now for unlimited access, or request a demo below.