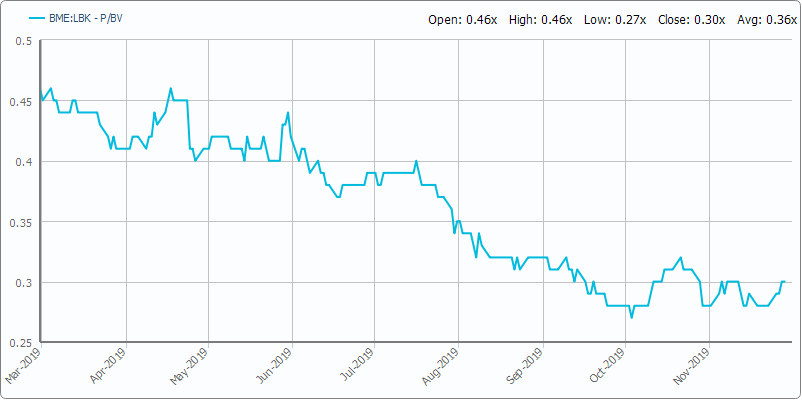 In this briefing:
---
At Q319,Bnk Financial Group (138930 KS)  reported a PH Score™ of 9.2 revealing benign trends in core indicators such as Profitability, Liquidity, Asset Quality, Capitalisation, and Provisioning. The valuation variable in the PH Score™ contributed to a high rating. We are though mindful of inefficiencies in particular, materialised in the "CIR excluding trading" and the "core jaws" position. Mid single-digit OPEX growth (including compensation costs) strikes us inappropriately high vis-à-vis reduced top-line performance. Earnings Quality could be better too which means that the Profitability trends may be flattering. However, the Asset Quality position is broadly moving in the right direction despite a delinquency spike at Kyongnam. We mainly recommend that management takes more stringent action on inefficiencies at both Busan and Kyongnam. There is ample scope.
BNK trades at a P/B, FV, and Earnings Yield of 0.3x, 3%, and 19.9%. Dividend Yield fetches 4.2%.
On balance, we recommend BNK shares. The valuation seems just too cheap given the stolid – if not rather undynamic- profile. Asset Quality improvement (not always the case in Asia to say the least) partly offsets risks and weaknesses which emanate from the growth of Funding costs, inefficiencies, Earnings Quality and sizeable real estate exposures. If shares traded at a FV of 6% and a P/B of 0.6x our recommendation would be different. Quite simply, despite aforementioned risks and headwinds, the asset is priced in the top quintile globally for value with little good news or potential, priced-in. There is a price for everything.
The South Korean banking sector has been described as many things. However, we believe that the sector is relatively quite stable while valuations and income compensation in the form of reasonable yields are supportive. The market remains a value space -not seemingly a natural for growth-oriented investors- without succumbing yet to the "cheap" and risky Japanese imbroglio.
BNK's share price has performed relatively well of late, moving into -and post- the Q3 release.
The PH Score™ is a fundamental momentum-quantamental score that scores banks according to changes in value-quality. The Score encompasses Profitability, Operating Efficiency, Liquidity, Capital, Asset Quality, and Coverage as well as a valuation variable. Scores lie between 0 and 10, with higher scores representing more positive signs. The PH Score™ was backtested over 2007-17 for global banks and conclusively shows progressively higher returns across quintiles ranked by Score. 
According to media, a group of shareholders of both Liberbank SA (LBK SM) and Unicaja Banco SA (UNI SM) are urging to again open negotiations to merge both banks and there is reportedly consensus for an exchange ratio of 59 Unicaja/41 Liberbank. The combined bank would have pro-forma assets of c. EUR 98 billion, thus becoming the 6th top domestic player.
Both Abanca and Unicaja need to gain scale and capture the synergies that would come with the acquisition of Liberbank. The buyer will surely be spared from the next round of consolidation in the Spanish banking sector.
Since last negotiations (abruptly finished in May), both banks have strengthened its solvency and have CET1 fully loaded ratios over 13%. Liberbank and Unicaja are succeeding in the cleansing of their balance sheets from NPAs (more than EUR 2 billion in the last year), moreover, an increase in the value of their bond portfolios is also helping. This would mean that the ECB would not require a massive rights issue to strengthen the capital of the merged entity. A EUR 500 million contingent convertibles (CoCos) issue and another EUR 300 million in subordinated debt would be enough.
A further catalyst is that Fundación Unicaja, the main shareholder of Unicaja must reduce its shareholding percentage in Unicaja from c. 50% to below 40% before the end of 2020. A merger with Liberbank would help to achieve this goal.
The operation would be structured as an acquisition of Liberbank by Unicaja, with payment in new Unicaja shares, in my view.
Assuming the PV of cost synergies is 778 million (see calculations under "Synergies") and that they are evenly split between Liberbank and Unicaja, EUR 389 million would go to Liberbank shareholders, or 0.128 per share of Liberbank in synergies, added to last close price would give EUR 0.438 per share of Liberbank.
Recommendation is long Liberbank with a target of EUR 0.438 per share, a 41% upside to the last close price.
Risks: the float in Unicaja is currently 28%, so there is a short squeeze risk in a position to capture the spread, specially if Abanca enters the fray.
It is typically a series. It is rarely a one-time event, recapitalizing a bank. This is all the more so when in the throes of a wrecked economy, with high growth in new bad loans and where there is no end in sight. Thailand in 1997 and the US in 2008 are good examples. Banks raised capital several times, before they were done. It was not a one-time event. The USD2bn that Yes Bank seeks to raise will likely be the first capital raising – if approved. After their last capital raising, banks become more interesting; not after the first.
On 8 November, Hang Seng Indexes announced the results of the quarterly index review of the HSI and HSCEI. While making no changes to the HSI, Hang Seng Indexes announced plans to conduct a market consultation on various topics related to the HSI, including eligibility of Weighted Voting Right companies for inclusion in the index and the weighting of the Finance sector in the index. The consultation is targeted to be conducted in the first quarter of 2020 and it is expected that the result of the consultation will be announced in May 2020.
In this Insight, we look at the potential impact on the HSI if one or both of these changes go through.
On November 29, 2019, Yes Bank (YES IN) finally revealed  the names of the prospective investors for its US$ 2 bn equity issue. Unfortunately, 90% of the issue consisted of family offices and the 3 family offices which accounted for 85% of the issue were relatively unknown names. It is apparent that global institutional investors have decided to stay away from the issue, and this is likely to disappoint the market, which was expecting marquee names to enter and turnaround the bank. Not only was there a dearth of public information about the family offices, but, more worryingly, they also had a dubious track record of backing out of deals, and one even went through bankruptcy proceeding in the late 1990s. Hence their source of funding for the Yes Bank transaction is suspect.
It is strange and perhaps an act of desperation that the Yes Bank board approved such names as possible investors, especially when it has R Gandhi, who was appointed by the banking regulator, on the board. Gandhi was the deputy governor, RBI, in-charge of currency management (and an active participant in the demonetisation fiasco). As the joint bid by the family offices of Erwin Singh Braich and SPGP Holdings would eventually hold around 27% of the bank, while the bid by Citax Holdings Ltd & Citax Investment Group would possibly hold an additional 11% of the shareholding, RBI's approval would be required (as for any individual holdings above 5%). The RBI would face a considerable loss of credibility if it were to permit such names to hold in excess of 5% in any Indian private sector bank.
Get Straight to the Source on Smartkarma
Smartkarma supports the world's leading investors with high-quality, timely, and actionable Insights. Subscribe now for unlimited access, or request a demo below.