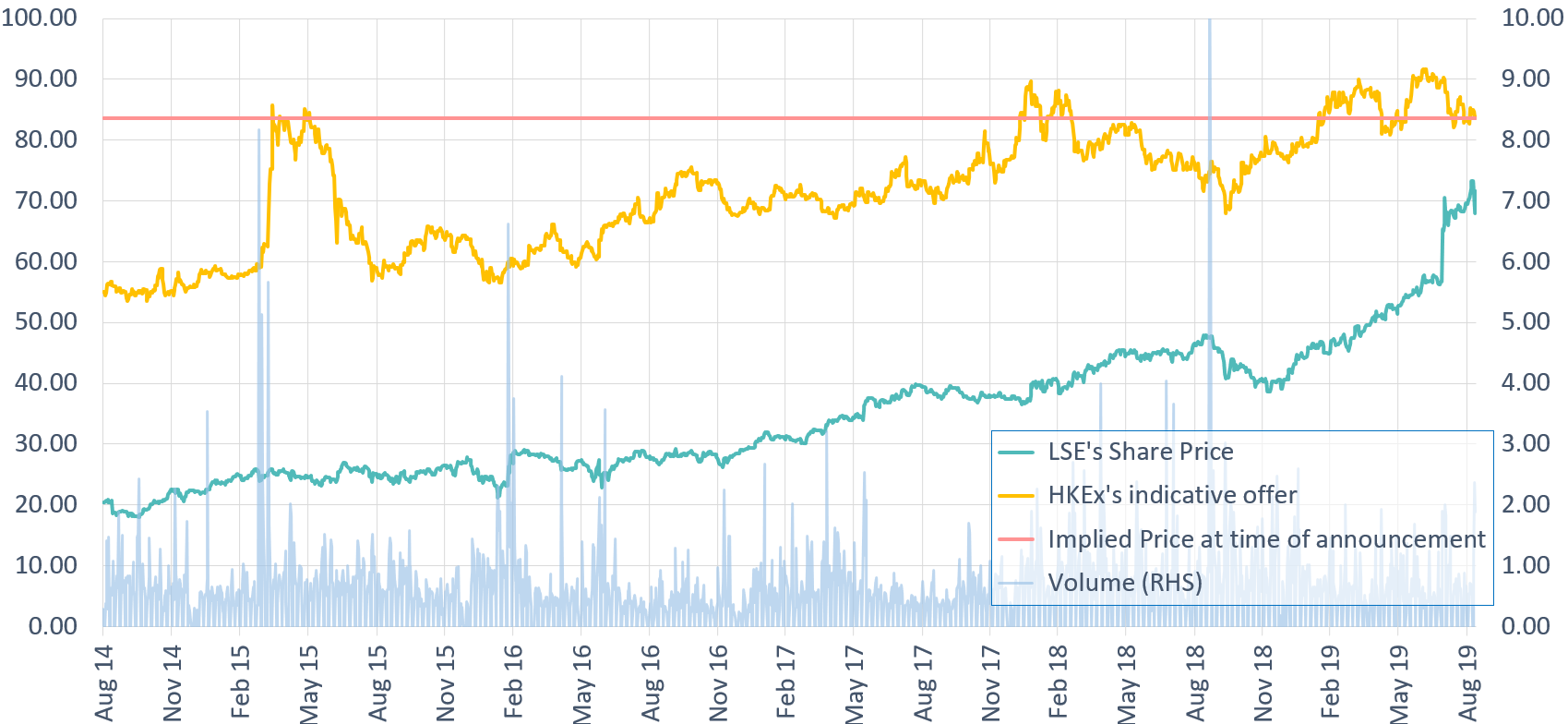 In this briefing:
---
The HKEX (388 HK) has announced a possible offer for London Stock Exchange (LSE LN). The proposed transaction implies a value for each LSEG share of ~8,361 pence (a 22.9% premium to last close) comprising 2,045 pence in cash (~24% of the Offer Price) and 2.495 newly issued HKEX shares. A firm Offer, should it unfold, may be implemented by way of a Scheme of Arrangement or Takeover Offer.
The implied equity value under the terms is ~£29.6bn with an enterprise value of £31.6bn.
HKEX, which acquired the London Metal Exchange (LME) in 2012, has often been tipped as a possible suitor for the LSE, and more recently after LSE's merger with Germany's Deutsche Börse collapsed in 2016.
The transaction will require various regulatory approvals, which will stress-test the world's understanding of Hong Kong's "one country, two systems" constitution, a Basic Law principle currently at front of mind as various rallies and protests in the city result in a government response (which triggers more protests).
A key condition to HKEx's proposal is LSE's £22bn deal to buy data firm Refinitiv – first announced on the 1 August – to either be voted down or scrapped/withdrawn. Subsequent to HKEx's announcement, LSE stated it "remains committed to and continues to make good progress on its proposed acquisition of Refinitiv."
In accordance with Rule 2.6(a) of the City Code on Takeovers and Mergers in the UK, the HKEx is required, by no later 9 October 2019, to either announce a firm intention to make an offer or announce that it does not intend to make an offer. 
After the Hong Kong markets closed on Wednesday, HKEX (388 HK) announced a surprising unsolicited bid for the London Stock Exchange (LSE LN). The bid which consists of 2,045p in cash and 2.495 HKEX shares, values LSE at 8,361p per share and an EV of £31.6 billion. On the back of the bid, LSE shares jumped as high as 16% before settling back down to 7,218p, up 6%.
HKEX's move is sensible based on creating a world-leading market infrastructure group, harnessing LSE's intellectual property and increasing the volumes of UK-China listings. While LSE's Board will evaluate the proposal, we believe the likelihood for a successful HKEX bid is relatively low.
Zenith Bank PLC (ZENITHBA NL) and United Bank of Africa are certainly worthy of attention. While the latter appeals on a Franchise Valuation (FV) of 6% and a PER of 2x, benign trends are more compelling at the former at an attractive valuation too.
It is not so widespread to find a lender which reports a ROAA of 3.5% and a ROAE of 25.5% trading on a P/Book of 0.7x. Globally, a bank with such Profitability would be assigned an elevated FV rather than the current rating.
Such stellar Profitability (with high margins) combines with robust Capitalisation, positive "underlying jaws", and strong Liquidity, given credit restraint and surging cheap retail funding. Fundamental momentum and value-quality attributes are highly positive as evidenced by a PH Score™ of 9.1.
The main area of concern revolves around Asset Quality – as elsewhere. While seemingly under control, total impaired loans are well in excess of problem loans or NPLs. Hydrocarbons still have a high weighting in the credit (and restructured) portfolios. Loan Loss Provisions look rather modest, flattering the aforementioned Profitability while coverage of impaired assets has decreased to 90%. Charge-offs are extremely elevated.
The evolution of digital banking at Zenith has been outstanding as elsewhere in Africa.
Nigeria remains mired in well-documented political and economic problems. But life goes on and banks can perform well in seemingly abnormal situations. Restoring an agro presence remains a huge challenge as well as managing a fiscal imbroglio given absurdly low tax collection and unaccountable spending. The country discount though for such a profitable outfit is arguably too high given risks seem baked into valuation.
SPX 2,950 will act as the bull/bear line for global risk with Europe and Asian facing tougher overhead hurdles. Treating the SPX breakout as just that with a buy the dips short term stance but upside needs proofing. A break below 2,950 would shift risk back to negative.
Rotation out of defensives and into underperform plays (transports, small caps and to a lesser extent banks) is the rotation theme near term. This shift needs sustainability to support a drive above SPX 3,020/50.
Gold is backing off of 1,530 macro resistance with a buy the dips strategy near 1,470/50.
Asia does shows sticky overhead resistance with some stand out pivot levels that would extend strength. For us to have high confidence in Asia strength we need to see the SPX test and hold 2,950 rally with an impulsive nature. Levels outlined over the weekend remain valid and reiterated here with H shares, Nikkei and Korea all kissing critical resistance points. USD still shows underlying support in Asia which is a key component for an extended counter trend rise.
Back in June, San Miguel (SMC PM) ​and Holcim Philippines (HLCM PM) entered into a SPA whereby SMC would acquire an 85.73% stake in HLCM. The agreement placed a valuation of US$2.15bn for HLCM on for 100% of the company, inclusive of fees for transitional service agreements, or ~PHP16.60-PHP17.00/share, depending on how that 100% is calculated.
Rumours first circulated in late January of such a takeover although a sale was largely on the cards after LafargeHolcim Ltd (LHN SW) divested Holcim Indonesia late last year. 
The biggest hurdle for this deal to get up was likely to centre on competition concerns. Therefore, the launching of a Phase II review by the Philippine Competition Commission (PCC) over the weekend should not come as a big surprise.
The more detailed Phase II review will be conducted within a 60-calendar day period – compared to 30 days under Phase I – to inquire whether there will be any substantial lessening of competition from the merger.
The PCC flagged six areas where the transaction may affect competition: Northeast Luzon, Northwest Luzon, Central Luzon and National Capital Region, Southern Luzon, Northern Mindanao, and Southern Mindanao Markets.
The PCC added that "the commencement of the Phase 2 review … signifies that a more detailed analysis of the transaction is required using additional information from the parties and stakeholders" and that it "seeks to assess whether … there will be an increased likelihood that competitors in such markets will coordinate their behaviour or strengthen existing coordination in a manner that harms competition".
SMC is the majority shareholder in Northern Cement (the 5th or 6th largest player in the Philippines) and it is expanding its cement business through Oro Cemento Industries Corporation and San Miguel Northern Cement. These subsidiaries are constructing cement-related facilities in Davao (southern Mindanao) and Pangasinan (western Luzon), which are expected to be completed and operational by 2020 and 2021, respectively.
In addition, SMC's President and COO Ramon Ang is the major shareholder and chairman of Eagle Cement, a cement manufacturer and distributor of roughly equal size to Northern Cement.
For the entire Luzon market, I estimate the SMC group (including HLCM, Eagle and Northern) would hold a ~51% market share. 
According to the PCC:
There shall be a rebuttable presumption of market dominant position if the market share of an entity in the relevant market is at least fifty percent (50%).

The Commission, however, may also set a new market share threshold for any particular sector, and it shall, from time to time, determine and publish the threshold for dominant position or minimum level of share in the relevant market that could give rise to a presumption of dominant position.
SMC will be busy over the following two months arguing its case. Plus, there is a separate and ongoing PCC investigation into anti-competitive agreements and abuse of dominant positions in the cement industry. 
Get Straight to the Source on Smartkarma
Smartkarma supports the world's leading investors with high-quality, timely, and actionable Insights. Subscribe now for unlimited access, or request a demo below.