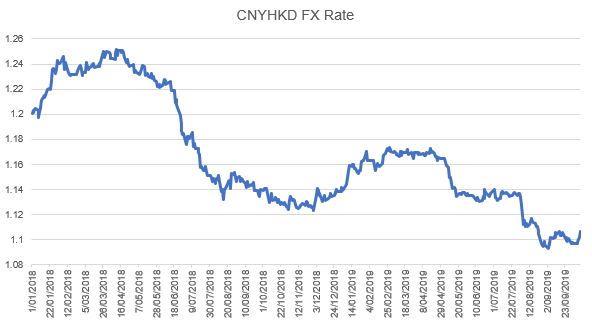 In this briefing:
---
Since we published our earlier Insight, the HSCEI dividends futures expiring in December 2020 have rallied around 5% mainly driven by a 1% strengthening in the CNYHKD FX rate and a 3.5% rally in the HSCEI index. Open Interest in the 2020 dividend futures contract has continued to increase as prices push higher.
In this Insight, we look at the potential impact of the upcoming HSCEI review in December and find that there is a small negative impact on the dividend index points if the expected changes go through. The bigger catalyst will be companies Q3 results that will be published in November.
Five recent developments / news flows that came on our radar screen recently:
Capital Nomura considers de-listing. CNS, one of Thailand's oldest securities firm, is offering a tender offer at Bt2.51/sh with a view for de-listing. Nomura's Thai arm lags behind rivals on many measures.
Army-Future Forward standoff. Future Forward's interim leader Piyabutr responds to Army Chief's veiled implication that his group was supporting socialists and southern secessionists.
A strong Golden Week. Following the resurgent Chinese tourist arrivals in August, Alipay mentioned a 22% increase in its payments in Thailand during Golden Week.
iPhone 11 arrives in Thailand. All three operators offer maximum subsidies of Bt9,700, but with subtle differences in their focus: AIS on customer quality, True Move H on customer base expansion, and DTAC on retention.
Government delays deadline for CP Group for the mega-project to build airport rail links between the three airports near Bangkok. If CP still can't get it done by October 25, it could turn into upside for STEC and BTS.
A meeting with Bank Rakyat Indonesia Perser (BBRI IJ) in Jakarta last week revealed a nimble strategy on improving returns in a tight liquidity enviroment, through digitalisation on all fronts. 
Bank Rakyat Indonesia Perser (BBRI IJ) continues to build on its key skillset of microlending, through digitalising its agents and loan officers, as well as increasing the role of branchless banking wth BRI LINK. Fee income from BRI LINK is growing at a blistering pace. 
The loan approval process is also digitalised with loan officers using BRI SPOT for loan approval and disbursement. It is already impemented to all loan officers across the bank's micro outlets.
The lion'share of its exposure in consumer loans is through payroll loans making, which are by nature lower risk. 
The bank's liquidity is quite managable with its loan to deposit ratio currently at 93.9%, which is supported by deposit growth running in line with loan growth. 
BRI is also achieving strong growth in its fee income, which grew by +12.6% in 1H19, with strong recovery income growth of +17%. 
In terms of asset quality, Bank Rakyat Indonesia Perser (BBRI IJ) is has relatively low NPLs compared to peers by dint of its exposure. It has moved early to make provsions for its exposure to torubled textile player Duniatex and have a loan loss coverage ratio of around 195%.
Bank Rakyat Indonesia Perser (BBRI IJ) continues to be a core holding amongst the Indonesian banks and is differentiated from its peers through its key skillset in microlending.  According to Capital IQ consensus, the bank trades on 11.4x and 10.x PER for FY20E and FY21E respectively, with forecast EPS growth of +16.4% and +12.9% for FY20E and FY21E respectively. It trades on 2.3x FY19E PBV, with an forecast ROE of 22%. For more detail and peer group comparisons please scroll down to the detailed section.
We see Vietnam Government International Bond (VIETNM GOVT)  as a "BB" credit with a positive rating pressure, following the path of Indonesia and the Philippines to an investment grade rating in the next 5 years on improving macroeconomic fundamentals. The US-China trade war led capital flow into Vietnam from China, in particular, to avoid the US tariff. Vietnam remains a communist country but we see political stability as one of the main catalysts for Vietnam to continue drawing foreign direct investments. We also see it as a place for opportunities where investors can earn alpha on an improving macro picture in an era of widespread geopolitical risk.
We believe Moody's decision to put Vietnam's "Ba3" senior unsecured debt rating on a downgrade review is premature and choose to ignore Moody's review. We consider VIETNM 24s as one of the more liquid USD sovereign bonds out of Vietnam, VIETNM 24s (at the yield to maturity of below 3% at the time of this report) were expensive against its similarly-rated peers (South Africa, Paraguay, and Azerbaijan) but we believe the bonds are already priced as a "BBB-" credit on our expectation of a near-term positive rating pressure.
We also see VIETNM 24's 10-bp sell-off on Moody's action as overdone. The 10-bp widening is, however, not sufficient for us to recommend buying the bonds as the bonds remain fully valued. As such, we assign a NEUTRAL recommendation on VIETNM 24s.
Get Straight to the Source on Smartkarma
Smartkarma supports the world's leading investors with high-quality, timely, and actionable Insights. Subscribe now for unlimited access, or request a demo below.