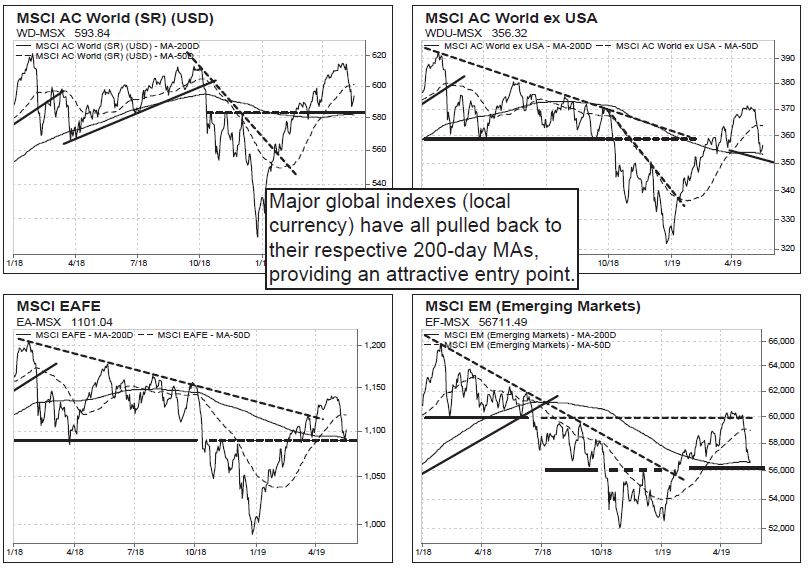 In this briefing:
---
As global equity markets pull back amid the U.S./China tariff saga we continue to believe this is an attractive time to add exposure. This view is supported technically with all major global indexes (MSCI ACWI, ACWI ex-U.S., EAFE, and EM) pulling back to their respective 200-day moving averages. In this report we highlight important technical levels across global markets and highlight actionable opportunities from a bottoms-up perspective within Europe (attractive pullback opportunity on the STOXX Europe 600 index) and Japan, including stocks within Financials, Communications, Consumer Discretionary, and Manufacturing.
In this report we outline important technical levels to watch for U.S. indexes and highlight several negative developments which lead us to a more cautious outlook. We also highlight attractive Groups and stocks within the Consumer Staples and Materials Sectors 
We will try our best not to repeat the excellent analysis done by our fellow Smartkarma analyst Hemindra Hazari on Yes Bank. Rather our focus here is a more simple analysis suggesting that despite the breathe-taking decline in the bank's market capitalization over a very short amount of time, it is in no way certain that 4Q19 will be the only bad quarter. These things tend to last longer than most initially expect.  At the same time, it is a stark reminder that despite the radical decline in profit and stock price, there is still much to do within the analyst community on earnings forecasts, where S&P CIQ has at present 59% growth forecast for FY20.
SPX bounce from 2,800 support targeted 2,850-60 which has been met with overhead pivot resistance that is critical to the immediate bias.
Our cycle work implies we could see a choppy rising wedge form into late May with a more negative cycle due in June. We outline trade levels on the short and long side into late May.
NDX 7,730 pivot support break will now act as macro resistance and a clear rejection level with a fade target well below this inflection point. This break shaped global risk as well as joined the underperform camp with transports, DJI, banks, small caps and the SOX (a bigger negative for breadth).
Earlier this month Wesfarmers Ltd (WES AU) bid for Kidman Resources (KDR AU) in a move that raised some eyebrows in the lithium sector. Wesfarmers had earlier gone after Lynas Corp Ltd (LYC AU) but that deal looks increasingly complex given the latter has several pending issues to be resolved in Malaysia. Yesterday Australian newspapers reported that several KDR investors were resisting the Wesfarmers offer as they say it undervalues the company.
This morning investors are informed that Alliance Mineral Assets (AMS SP) is placing 32.5M AUD worth of shares at 0.20 AUD/share to both Galaxy Resources (GXY AU) and Jiangxi Special Electric A (002176 CH).  The entire placement will result in 13% dilution for existing shareholders.
After the placement Galaxy will become Alliance's largest shareholder with an almost 12% stake. Jiangxi Special Electric will own just over 9% of the company.
Officially this placement will help speed up the development of the Bald Hill deposit but the real reason for this share issuance is to get Galaxy over 10% so it has a blocking minority in case any other buyers would be circling Alliance Mineral.
Over time a full takeover of Alliance by Galaxy is the only logical outcome. Tick Tock, how long will this take? 
Get Straight to the Source on Smartkarma
Smartkarma supports the world's leading investors with high-quality, timely, and actionable Insights. Subscribe now for unlimited access, or request a demo below.