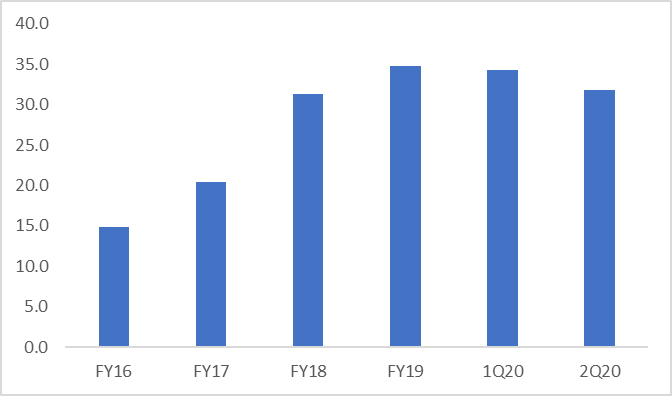 In this briefing:
---
It is typically a series. It is rarely a one-time event, recapitalizing a bank. This is all the more so when in the throes of a wrecked economy, with high growth in new bad loans and where there is no end in sight. Thailand in 1997 and the US in 2008 are good examples. Banks raised capital several times, before they were done. It was not a one-time event. The USD2bn that Yes Bank seeks to raise will likely be the first capital raising – if approved. After their last capital raising, banks become more interesting; not after the first.
On 8 November, Hang Seng Indexes announced the results of the quarterly index review of the HSI and HSCEI. While making no changes to the HSI, Hang Seng Indexes announced plans to conduct a market consultation on various topics related to the HSI, including eligibility of Weighted Voting Right companies for inclusion in the index and the weighting of the Finance sector in the index. The consultation is targeted to be conducted in the first quarter of 2020 and it is expected that the result of the consultation will be announced in May 2020.
In this Insight, we look at the potential impact on the HSI if one or both of these changes go through.
On November 29, 2019, Yes Bank (YES IN) finally revealed  the names of the prospective investors for its US$ 2 bn equity issue. Unfortunately, 90% of the issue consisted of family offices and the 3 family offices which accounted for 85% of the issue were relatively unknown names. It is apparent that global institutional investors have decided to stay away from the issue, and this is likely to disappoint the market, which was expecting marquee names to enter and turnaround the bank. Not only was there a dearth of public information about the family offices, but, more worryingly, they also had a dubious track record of backing out of deals, and one even went through bankruptcy proceeding in the late 1990s. Hence their source of funding for the Yes Bank transaction is suspect.
It is strange and perhaps an act of desperation that the Yes Bank board approved such names as possible investors, especially when it has R Gandhi, who was appointed by the banking regulator, on the board. Gandhi was the deputy governor, RBI, in-charge of currency management (and an active participant in the demonetisation fiasco). As the joint bid by the family offices of Erwin Singh Braich and SPGP Holdings would eventually hold around 27% of the bank, while the bid by Citax Holdings Ltd & Citax Investment Group would possibly hold an additional 11% of the shareholding, RBI's approval would be required (as for any individual holdings above 5%). The RBI would face a considerable loss of credibility if it were to permit such names to hold in excess of 5% in any Indian private sector bank.
Hang Seng China Enterprises Index (HSCEI INDEX) displays a clear bear setup after the recent bounce and Friday's break of trendline support.
The rally cycle from August was an a-b-c affair or corrective in nature within a rising wedge structure, after terminating at ideal 10,950 resistance, the bear cycle has resumed. Friday's break of trendline and price support is a negative. Fresh resistance lies at 10,600-650. A re test on the major lows is in store with risk of a minor new low that would set up a very interesting rally platform for 2020.
Hong Kong's HSI has been our preferred short vehicle but has yet to break pattern support as the HSCEI has. Recent updates have outlined our ideal short zone that came in at just under 28,000. Fresh sell resistance lies near 27,000 for a test on the August lows.
The a-b-c bounce cycle amid a rising wedge does increase risk of a new low and higher conviction buying opportunity to re test November highs just seen in 2020.
Ujjivan Small Finance Bank (USFB) is a mass-market focused small finance bank (SFB) providing financial services to un-served and under-served segments of Indian population, led by its commitment towards financial inclusion. Its promoter entity, Ujjivan Financial Services Ltd (UFSL), commenced operation as an NBFC in 2005 with a focus on providing microfinance (MFI) loans (typically group loans with small ticket size at < INR 100,000). MFI loans are typically income generating loans and play a crucial role in upliftment of the bottom strata of the society. Accordingly, they are a key focus area for the RBI and the government. SFBs and NBFC-MFIs (NBFCs registered as Micro-Finance Institutions) are some of the entities that cater extensively to this segment under the supervision of RBI.
USFB's robust financial performance, despite several crises faced by the sector, coupled with its high quality management, reasonable valuations and strong growth tailwinds for the sector, lends USFB a favorable setup. We recommend participating in the IPO.
USFB's issue size was of INR 1000cr, of which INR 250cr amount has already been placed via pre-IPO. Remaining 750cr is available for subscription via the IPO. The key objective of the IPO is to fulfill licensing mandate from RBI that requires USFB to list by Jan 31, 2020. There is no Offer for Sale and proceeds from the IPO is stipulated to be used as growth capital.
Get Straight to the Source on Smartkarma
Smartkarma supports the world's leading investors with high-quality, timely, and actionable Insights. Subscribe now for unlimited access, or request a demo below.