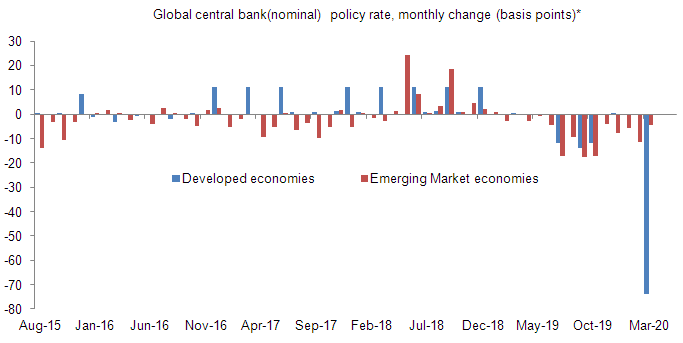 In this briefing:
---
Developed central banks in the past week have been falling over themselves to loosen monetary policy and secure the proper functioning of financial and credit markets.
The Fed, RBNZ, Bank of Canada, Bank of England and Norges Bank have delivered inter-meeting policy rate cuts of between 50bp and 100bp and our measure of the developed central bank policy rate has been cut 74bp so far in March, the largest monthly cut since December 2008. It is now in negative territory (-0.05%) for the first time in at least 15 years.
This has raised concerns that developed central banks are close to running out of ammunition, at least in terms of policy rate cuts, which have arguably weighed on global equities and contributed to the outperformance of the Dollar, Euro, Swiss Franc and Yen.
In contrast, major Emerging Market (EM) central banks have, with the exception of Bank of Korea and Banco Central de Chile, kept their policy rates unchanged in the past fortnight. This is broadly in line with our view that "the overall pace and magnitude of [central bank] policy rate cuts in Non-Japan Asia will be modest."
The EM central bank policy rate – a GDP-weighted average of policy rates in 20 major EM economies – was admittedly cut a sizeable 74bp between mid-2019 and end-January 2020 but has been cut only 4bp so far in March, albeit to a new multi-decade low of about 4.3%.
We think EM central banks are concerned that further rates cuts could exacerbate capital outflows and put further downward pressure on their currencies and upward pressure on already high and/or rising headline CPI-inflation.
As a simple rule of thumb we think EM central banks with a high real policy rate and stable/appreciating currencies are more likely to cut their policy rates in coming weeks (see Figure 7). On this basis central banks in India, the Philippines and Taiwan seemingly have room to cut rates.
We also think that the South African Reserve Bank will cut rates at its policy meeting on 19th March, as long as the Rand remains broadly stable as it has been in the past week.
The drastic measures which governments across the world have taken so far to mitigate the spread of the coronavirus have few precedents outside of war times and therefore quantifying their economic, financial and social impact remains challenging. 
However, there is little doubt that economic activity in China, the epicentre of the epidemic, has slowed sharply. Disruptions and delays to international supply chains are impacting global trade and production. Moreover, there is growing evidence that this supply-side shock is feeding through to the demand-side, heaping pressure on the service sector and retailers and forcing governments and corporates to postpone long-term investment plans. 
Our core scenario, based partly on developments in the global manufacturing PMI, remains that global GDP growth, which had looked set to pick-up slightly in Q1 2020 from about 3.0% yoy in H2 2019, will slow to around 2.5% yoy in Q1, its slowest pace in a decade.
This would in turn imply that quarter-on-quarter global GDP growth halved to around 0.35% in Q1 from an average of 0.7% per quarter in 2019 and that the world may, based on the IMF's definition, be teetering on the verge of a recession.
Recent (uncoordinated) central bank policy rate cuts, including the Fed's inter-meeting 50bp cut, likely further cuts and recently announced modest fiscal stimulus measures will near-term have only a marginally positive impact on global economic growth, in our view. They will have reduced the odds of a global recession but those odds remain significant.
However, history suggests that central bank rate cuts may well give further impetus to any global economic recovery further down the line, facilitating a V-shaped recovery.
Non-Japan Asian central banks have largely been on the sidelines in the past month, in line with our expectations, but the risk is now biased towards more rather than fewer rate cuts. China's exchange rate policy in favour of a "strong" Renminbi is indicative.
The coronavirus has lowered the until recently high bar for a Bank of England policy rate cut and our core scenario is for a 25bp cut at its 26th March meeting. Similarly, we think the RBNZ will cut rates 25bp on 25th March while noting the RBNZ's penchant for surprises.
You are currently reading Executive Summaries of Smartkarma Insights.
Want to read on? Explore our tailored Smartkarma Solutions.