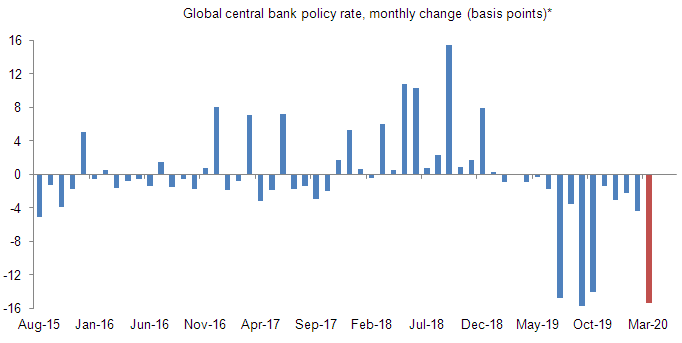 In this briefing:
---
The drastic measures which governments across the world have taken so far to mitigate the spread of the coronavirus have few precedents outside of war times and therefore quantifying their economic, financial and social impact remains challenging. 
However, there is little doubt that economic activity in China, the epicentre of the epidemic, has slowed sharply. Disruptions and delays to international supply chains are impacting global trade and production. Moreover, there is growing evidence that this supply-side shock is feeding through to the demand-side, heaping pressure on the service sector and retailers and forcing governments and corporates to postpone long-term investment plans. 
Our core scenario, based partly on developments in the global manufacturing PMI, remains that global GDP growth, which had looked set to pick-up slightly in Q1 2020 from about 3.0% yoy in H2 2019, will slow to around 2.5% yoy in Q1, its slowest pace in a decade.
This would in turn imply that quarter-on-quarter global GDP growth halved to around 0.35% in Q1 from an average of 0.7% per quarter in 2019 and that the world may, based on the IMF's definition, be teetering on the verge of a recession.
Recent (uncoordinated) central bank policy rate cuts, including the Fed's inter-meeting 50bp cut, likely further cuts and recently announced modest fiscal stimulus measures will near-term have only a marginally positive impact on global economic growth, in our view. They will have reduced the odds of a global recession but those odds remain significant.
However, history suggests that central bank rate cuts may well give further impetus to any global economic recovery further down the line, facilitating a V-shaped recovery.
Non-Japan Asian central banks have largely been on the sidelines in the past month, in line with our expectations, but the risk is now biased towards more rather than fewer rate cuts. China's exchange rate policy in favour of a "strong" Renminbi is indicative.
The coronavirus has lowered the until recently high bar for a Bank of England policy rate cut and our core scenario is for a 25bp cut at its 26th March meeting. Similarly, we think the RBNZ will cut rates 25bp on 25th March while noting the RBNZ's penchant for surprises.
You are currently reading Executive Summaries of Smartkarma Insights.
Want to read on? Explore our tailored Smartkarma Solutions.