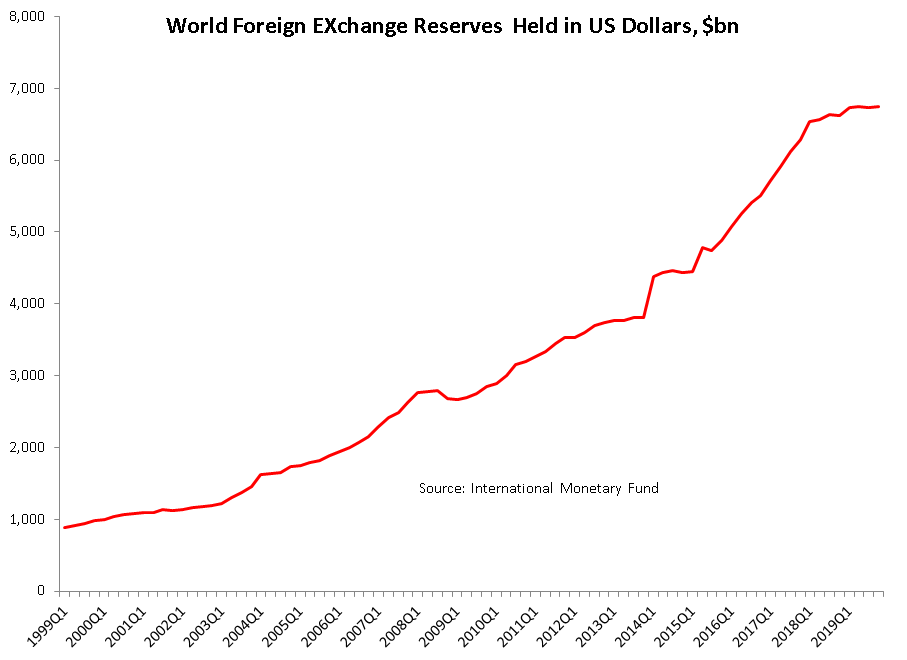 In this briefing:
---
Since the Bretton Woods Conference in 1945, there have been numerous accusations of the US abusing the dollar's position as the leading reserve currency for a variety of reasons, ranging from achieving geo-political objectives to the desire of individual Presidents to get re-elected.
Periodically, doubts about the US dollar's role as the world's leading reserve currency surface in the media. Currently, such concerns revolve around the response of the US to the COVID-19 virus outbreak, namely significant easing of monetary and fiscal policy settings, as being another harbinger for the demise of the US currency within the international monetary system. These fears will subsequently prove to be unfounded. 
Despite the media's berating of the Trump Administration's response to the COVID-19 pandemic, China is likely to emerge weaker both economically and geo-politically than the US in its aftermath.
Meanwhile, a Bretton Woods-style conference is probably required to design a new international financial system that boosts the role of other currencies. Such a landmark event will, however, be highly unlikely as countries focus on domestic agendas in the aftermath of the COVID-19 pandemic.
In order to dilute the dollar's role at the heart of the international monetary system, countries with aspirations to fill the dollar's vacuum need to undertake the necessary ground work, involving institutional and structural reforms. Notably, China has fallen way short in the required preparatory work for the RMB to being an considered an international store of value and, consequently, a safe-haven asset. China's reluctance to embrace a new growth model, along with structural reforms, will simply enhance the dollar's dominance within the global financial system in aftermath of COVID-19.    
In our next Smartkarma Webinar, Olivier Desbarres will discuss his outlook for Asian currencies. The webinar will be held on 1 April 2020 at 1700hrs Singapore/Hong Kong time.
---
---
Olivier Desbarres has over 21 years of experience in the finance industry, including 15 years as a senior Economist, Rates and FX strategist for Credit Suisse and Barclays in Moscow, London and Singapore.
In his last role, he was Head of Asia-Pacific FX Strategy at Barclays in Singapore and focal point for G10 research. Prior to that, Olivier covered Emerging Europe, Middle and Africa at Credit Suisse in London where he built a strong track record with the world's largest fund managers. He was also the UK Rates Strategist for two years and wrote extensively on EU and Eurozone membership.
You are currently reading Executive Summaries of Smartkarma Insights.
Want to read on? Explore our tailored Smartkarma Solutions.