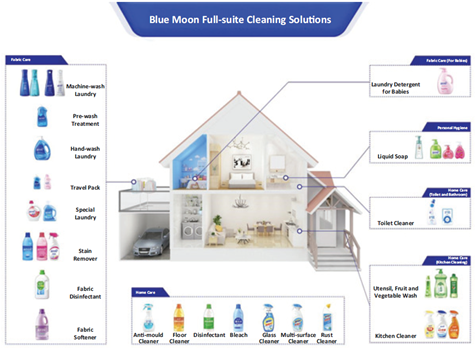 In this briefing:
---
Blue Moon, a leading consumer household care company in China has filed for an IPO to list its shares on the Hong Kong Stock Exchange. According to the news media outlets, the company is seeking to raise about US$1bn through its public offering.
The company offers a wide range of products under three segments fabric care, personal hygiene products and home care products. Our analysis of the company financials reveals that despite a slowdown in the company's revenue growth, its margins have been significantly improving.
The company has been the first to launch several new products such as liquid detergent and liquid soap to the Chinese market and the first mover advantage has helped the company grow its revenues and market share.
Blue Moon has effectively utilised the growing e-commerce penetration in China which has helped the company generate a majority of its revenues through online retail channels.
Though declining revenue growth remains a concern, we believe strong growth prospects attached to the Chinese household care market should help Blue Moon to generate stable revenues.
We initiate coverage of PSL with a BUY rating, based on a target price of Bt7.10, which is derived from 1.0xPBV'21E, its 10-year average.
The Story:
• Solid position in bloodied industry
• Expected TC rate recovery in 2021
• Effective cost management is its core competency
Risks:
• Charter rate fluctuation
• Exchange rate fluctuation
• Outcome of arbitration with Chinese shipyard
Alibaba (BABA)'s Freshippo opened two "Freshippo-mini" stores in Beijing.
Alibaba (BABA)'s Ele.me began to deliver goods other than cooked food.
The smart phone shipment decreased by 16.6% YoY in June, worse than 11.8% YoY in May.
It is the season for long serving business head verticals to exit HDFC Bank (HDFCB IN). Following the abrupt departures  of Abhay Aima (former Group Head – private banking) and Ashok Khanna (ex-Group Head – automobile loans) comes news of Munish Mittal (Group Head – Information Technology and Chief Information Officer [CIO]) quitting the bank on July 10, 2020.
In the true tradition of recent senior-level departures at HDFC Bank, the bank's highly visible and active communications department did not bother to inform stakeholders or even its own staff. Instead it was left to an anonymous source to tweet that Munish Mittal's last date was July 10, 2020, as was the case for one of his deputies in the department. The business media as usual did not consider the departure of the CIO at India's number 1 bank by market capitalisation (one which prides itself on its digital strategy) to be newsworthy, or found it too onerous to verify by querying the bank. Responding to a query by this writer, HDFC Bank said that the 51-year old Mittal, who joined the bank on August 1996 and rose to be the CIO, had decided to take a break, and wanted to enrol for a 2-year course at a foreign university.
There is something fundamentally wrong in the system when a prominent bank does not disclose senior level management exits, and it is left to anonymous sources or whistleblowers to inform the market. The business media, which exist to report such news, refuse to do elementary journalism and decline even to contact the bank to verify the news. In HDFC Bank it is all the more worrying as Aditya Puri, the CEO since the bank's inception, is finally stepping down in October 2020, and the successor is not yet known to the market. In this situation, it adds to the uncertainty when we find heads of important verticals suddenly leaving.
Today, the largest bank by market capitalisation, in a country where the index has a significant weightage towards banking and the financial sector, declines to provide market sensitive information; the media  chose to report only information which the company itself officially releases, and deliberately avoid reporting any information which may embarrass the company. The market is treading on dangerous ground when HDFC Bank is yet to officially acknowledge the controversial exits of Aima and Khanna, and the media has only just reported Khanna's unceremonious exit; but nobody seems concerned that the market is deprived of market sensitive information by the institutions tasked with the universal disbursal of such information.
FMCG E-Comm is China Tech's Next Big Growth Driver & Battleground
At a time when overall retail e-commerce in China has already reached 44% penetration, e-commerce penetration for fast-moving consumer goods ("FMCG") still lags behind tremendously. According to Euromonitor International, only 6.3% of fresh foods and 8.8% of alcoholic beverages were purchased online in 2019.
This gap represents a major growth opportunity as consumers, having grown accustomed to the convenience and safety of ordering FMCG products online, are now permanently shifting purchasing behaviors.
Already, Chinese Tech giants such as Alibaba and JD.com have moved in force – doubling down on their FMCG investments via Freshippo and JD Supermarket. Tencent is also making its own moves – investing in grocery startup Xingsheng Youxuan and valuing it at US$3bn.
Investors have taken note of this upcoming structural trend and have also moved in size. As seen in the chart below, companies with exposure to FMCG e-commerce have handily beat the broader market with names like Pinduoduo and Meituan Dianping doubling in value in just two months. Dada Nexus, an online grocery firm backed by JD.com, also chose to IPO in early June despite the COVID backdrop – its stock price has since soared by 100%+.
Read our previous FMCG E-Commerce Insights:
You are currently reading Executive Summaries of Smartkarma Insights.
Want to read on? Explore our tailored Smartkarma Solutions.