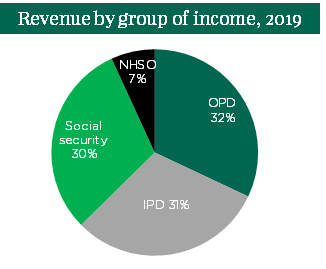 In this briefing:
---
We maintain HOLD rating on CHG with a 2020E target price at Bt2.65, derived from a discounted cash flow valuation (WACC of 6.0% and terminal growth of 2.0%). We attended an analyst meeting yesterday and came up with key information as followed;
•CHG net profit in 1Q20 was Bt186m (+4%YoY, +39%QoQ).
•Covid-19 would affect CHG performance in 1H20E. But it will strongly recover in 2H20E.
•Management targeted double-digit growth in 2020E, and, to breakeven two new hospitals for yearly figures.
•New project in Mae Sot, which is 100 IPD bed hospital, was expected to start operation in early 2022.
We like CHG for its hospital location in some of the country's strongest economic areas, and, it is on track of net profit expansion, thanks to better utilization of new hospitals. However, with demanding valuation and limited upside to our target price, we maintain our HOLD rating.
Background: Chularat Hospital Public Company Limited (CHG) was founded in 1986. The company provides hospital and healthcare services through nine hospitals and four clinics located in five areas covering Suvarnabhumi Airport, eastern Bangkok along Bangna-Trad Road, and extending to Chachoengsao, Prachin Buri, Chonburi, and Rayong. The company provides services to two main types of customers: general patients and social security customers and patients under the National Health Security Office (NHSO).
Yesterday analyst meeting came out in a positive tone. 2Q20 earnings outlooks looks solid from improved contribution from 114MW hydro power plants added in 4Q19-1Q20.
Updates:
2Q20 and 2020E earnings looks bright backed by partial and full year earnings recognition from 114MWe hydro power plants added In Laos (Nam San 3A and 3B).
BCPG is our top pick among renewables given 1) the firm's strong near-term 2020-24E earnings outlook backed by 391 MWe projects in pipeline and 2) solid expansion plans with budget allocation of Bt45bn to support long term growth, and fill the EBITDA gap from solar adder expiration of 3 projects in Thailand during 2022-24.
We maintain the BUY rating with a target price of Bt22.8 derived using discounted cash flow methodology (WACC 5.1% and TG 1%). Our valuation implies 20xPE'20E.
Fast Retailing (9983 JP) (Uniqlo) has faced a number of challenges over the last 10 months:-
From October 2019, South Koreans began boycotting Japanese goods – South Korea is the company's third-largest market, after Japan and China.
From January this year, China began its COVID-19 lockdowns severely restricting sales in Uniqlo's fastest-growing market.
Lastly, as COVID-19 has become a global pandemic, almost all of the company's markets have come under some form of lockdown.
Fast Retailing shares have declined by 43% from the peak of 25Th October 2019, but have recovered by 33% from their 19th March low.
We expect the Uniqlo brand to emerge from COVID-19 in a stronger position relative to peers than before, as the crisis has forced the company to address its previous weakness in E-commerce. We expect the shares to outperform TOPIX as the market's perception of this weak link changes.
As discussed in Softbank Starts on Its ¥4.5trln Capital Plan – A Model for Bullishness, in announcing a sale of $11.5bn of Alibaba Group (BABA US) and assuming that a sale of its shares in T Mobile Us Inc (TMUS US) could be done at the price of 31 March 2020 (which would provide a large discount for a large sale to Deutsche Telekom Ag (DTE GR) and perhaps an additional approved forward sale through a METS structure or collar+forward to the Street), Softbank Group (9984 JP) still needed $3bn or more in sales of other assets. And because they are stuck in Vision Fund 1 and have committed to funding Vision Fund 2, that left a partial sale of Softbank Corp (9434 JP) as the most likely angle. 
The NEW News
Today, Softbank Group (9984) announced a sale of approximately 240 million shares of Softbank Corp (9434) – roughly 5.0% of shares outstanding – at a price of ¥1,306.5-1,320/share (a discount of 4.0-5.0% to the close today of ¥1,375. It would lower the consolidated holding of Softbank Corp from 67.1% to 62.1%. This loses Softbank Group the super-majority but that had to be expected eventually. 
This goes the extra little bit to advance the cause of the ¥4.5 trillion (USD 41 billion) Program to Repurchase Shares and Reduce Debt announced 23 March. 
Details on the Offering and how it may be taken below the fold.
We maintain our overweight rating on HUYA given its expanding amount of exclusive broadcast licenses and the announced upcoming collaborations with new parent company Tencent. We believe the Company's closer partnership will allow it to supercharge user acquisition as it integrates more seamlessly into Tencent's 1.2 billion strong user ecosystem, while simultaneously improving monetization through additional content features and better AI recommendations.
1Q20 results posted strong revenue momentum as Huya successfully monetized the increased userbase growth during the COVID-19 lockdown in China through product diversification and increased content enhancements.
We revise Huya's fair value estimate upwards to US$28.2, representing 47% upside from today's prices.
You are currently reading Executive Summaries of Smartkarma Insights.
Want to read on? Explore our tailored Smartkarma Solutions.