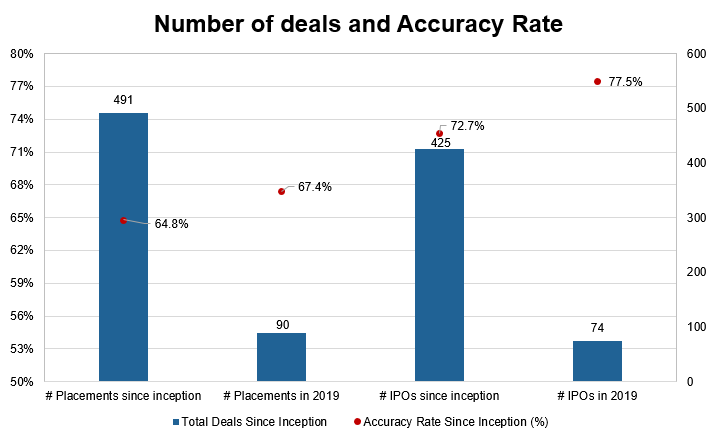 In this briefing:
---
Aequitas Research puts out a weekly update on the deals that have been covered by the team recently along with updates for upcoming IPOs.
Hong Kong IPOs' performance was mixed this week. ESR Cayman (1821 HK)'s struggled to hold above its IPO price after an strong debut while Changsha Broad Homes (2163 HK), which just got listed on Wednesday, is already trading 7% below its IPO price. On the other hand, Shanghai Kindly Instrument-H (1501 HK) closed 29% above its IPO price on the first day of trading.
Next week, Sinomab Bioscience Ltd (3681 HK) and China Feihe (6186 HK) will listed on the 12th and 13th of November respectively. Pharmaron IPO has been approved and filed its PHIP while Heaven-Sent Gold Group has already launched its IPO bookbuild. Ke Yan, CFA, FRM share his thoughts on valuation for both IPOs in:
China ADRs listings have been pushing through with their IPOs at lower valuation as seen from Ecmoho (MOHO US), 36Kr Holdings (1753455D US)  and Q&K International (QK US)'s much smaller deal size than initially filed. This doesn't bode well for new IPO filings like YX Asset Recovery (YX US), which we hear is premarketing for its IPO, Phoenix Tree, I-Mab, Ehang and etc.
In other markets, we are also hearing that Bangkok Commercial Asset Management (BAM) is starting its premarketing this month after getting regulatory approval for the IPO in October. There were also reports that Sri Trang Gloves will look to IPO in 1H 2020. 
In Australia, despite the setbacks, Tyro Payments (TYRO AU)'s IPO is looking promising so far as Sumeet Singh analyzed the company's business model and track record in:
Our overall accuracy rate is 72.7% for IPOs and 64.8% for Placements 
(Performance measurement criteria is explained at the end of the note)
New IPO filings this week
Burger King India (India, ~US$150m)
Liwayway (Global) Company (Hong Kong, ~US$100m)
Renrui Human Resources (Hong Kong, re-filed)
Beijing Enterprises Urban Resources (Hong Kong, re-filed)
Below is a snippet of our IPO tool showing upcoming events for the next week. The IPO tool is designed to provide readers with timely information on all IPO related events (Book open/closing, listing, initiation, lock-up expiry, etc) for all the deals that we have worked on. You can access the tool here or through the tools menu.
Analysis on Upcoming IPOs
Daikin reported results on the 6th of November which were slightly below consensus at the OP line at ¥78.7bn (consensus ¥82.6bn), despite beating slightly on revenue (¥673bn vs. consensus at ¥668bn). The slight miss on margins and a 2.2% downward revision to FY revenue guidance drove the share price down about 2.6% over the next two days but we believe a slowing rate of decline in China makes a closer look appropriate.
We initiate coverage of TFG with a BUY rating and a 2020E target price of Bt4.7, derived from 17.5xPE'20E, which implies a PEG ratio of 1.0x in 2020-21E and is equal to -1 SD of its 3-year trading average.
The story:
•Gradual expansion in a high-margin business
•Beneficiary of African Swine Fever outbreak in the region
•Short-term spread contraction is about to pass
•Expected earnings growth at 17% CAGR in 2020-21E
Risks:    
•Raw material cost fluctuation
•Exchange rate volatility
Ownership in Baidu (BIDU US) among GEM asset managers has been volatile over the past 8-years, with the holding dynamics mirroring the extreme moves in prices.  We split our analysis into 4 phases based on peak to trough levels of ownership since January 2011.  GEM managers have been quick to enter and exit the stock within each phase, with current levels the lowest in our history.
It was reported yesterday that Xerox, one of the largest sellers of photocopiers has offered to buy HP Inc., one of the largest makers of printers and the latter has confirmed the news by issuing a public statement confirming that talks have been on-going and it will act in the best interest of the shareholders. As at the end of yesterday's close, Xerox had a market capitalisation of USD8.2bn while HP had a market capitalisation of USD28.7bn, more than 3x that of Xerox. Xerox is considering funding the offer with both cash and stock. According to CNBC, Xerox's offer to buy HP comes in at USD22 a share, consisting of 77% cash and 23% stock. HP's shares closed at USD19.39 per share on Thursday's trading, and the offer price of US$22 a share translates into a 13.5% premium to the last close price. At USD22 a share, the deal will be worth around USD33bn and Xerox will have to fund about US$22bn through debt financing to fund the deal. Our cashflow and balance sheet analysis on the combined entity reveals that it will take c. 5.5 years to pay off the debt (existing loans plus the new borrowings to fund the deal) using the free cashflows of both HP and Xerox. At USD22 a share, the deal implies a PE of about 7.7x for HP (based on TTM EPS).
HP has been struggling with declining demand for its printing business which is the core profit generator for the company due to digitisation. At the same time, Xerox has been facing the same fate too for its copy machines and the company's revenues and profits have been declining over the past couple of years. What lies ahead for the two companies is not yet known and how the two companies will collectively respond to the declining demand for their core products is yet to be announced by the two companies.
Get Straight to the Source on Smartkarma
Smartkarma supports the world's leading investors with high-quality, timely, and actionable Insights. Subscribe now for unlimited access, or request a demo below.