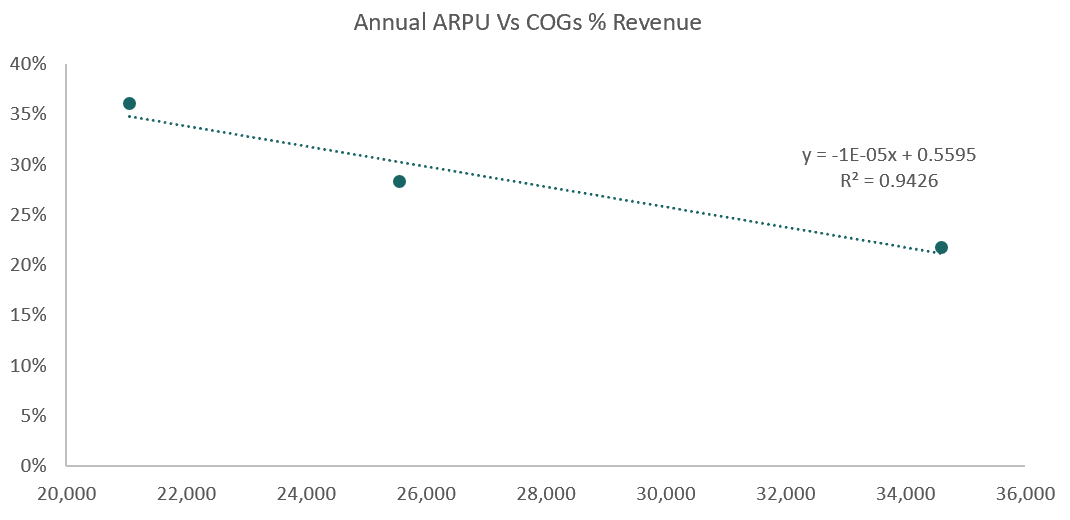 In this briefing:
---
Freee offers cloud-based online accounting and HR/Payroll software to small and medium businesses (SMBs) in Japan. The company operates a subscription-based revenue model and the adoption of cloud-based accounting and HR software among SMBs is still at a nascent stage compared to other Western markets. According to the company, it is the market leader in accounting/HR software for SMBs in Japan and the growing Japanese market offers the company the potential togrow its top-line significantly over the years.
The company has been very profitable at the gross profit line with gross margin reaching almost 80% in 1QFY06/2020. However, the company has not yet begun making operating profits and we believe the operating losses are mainly due to increased spending on sales and marketing to acquire customers. Freee's paying user base has increased over the years alongside a steady rise in ARPU resulting in rapid expansion in the company's top-line. Our quantamental analysis on the company reveals that it will start generating profits over the next two years with sales and marketing expenses declining as a percentage of revenue over the next 1-2 years.
Freee has filed for an IPO onthe TSE to raise funds of US$307m at the midpoint of the company's indicative IPO price range of JPY1,800-2,000 per share. We believe the company is fairly valued including at the high-end of the IPO price range.
It is typically a series. It is rarely a one-time event, recapitalizing a bank. This is all the more so when in the throes of a wrecked economy, with high growth in new bad loans and where there is no end in sight. Thailand in 1997 and the US in 2008 are good examples. Banks raised capital several times, before they were done. It was not a one-time event. The USD2bn that Yes Bank seeks to raise will likely be the first capital raising – if approved. After their last capital raising, banks become more interesting; not after the first.
Navios Maritime Holdings (NYSE:NM) reported its 3Q19 result on 25 November 2019. The bottom line still trends in red with a net loss of USD 39.14mn against a loss of USD 1.82mn in 3Q18. The net loss for the first nine months stood at USD 80.87mn as against the loss of USD 67.96 mn in the same period last year. The transaction with NSM has helped in the reclassification of USD 100mn short-term debt to long-term debt. The transaction is supposed to result in annual savings of as much as USD 27mn (company report) in the operating expenses.
OneConnect Financial Technology (OC) plans to raise around US$500m in its US listing. OC is a part of Ping An group. It provides cloud-native technology applications and technology-enabled services to financial institutions. As of September 30, 2019, it had over 3,700 customers including all of China's major banks, 99% of its city commercial banks, and 46% of its insurance companies.
In my previous notes,OneConnect Financial Pre-IPO – The Positives – Prospects Appear Promising and  OneConnect Financial Pre-IPO – The Negatives – Previous Valuation Might Have Been Too Demanding, I spoke about the company's products, its past growth and the heady valuation of its previous note.
In this note, I'll run the deal through our ECM framework and talk about valuations. 
Times have been tough for Straco Corporation (STCO SP) as of recent. The share price has been hit for two major reasons :
a) In their recently announced Q3 2019 results, earnings declined by 12% YoY due to a decrease in visitor arrivals at their aquariums in Shanghai and Xiamen.
b) Recently on the 26th of November 2019, the flyer operations were suspended again due to a technical issue. (link: Flyer Suspension – Channel News Asia ). The flyer accounts for 15% of PBT and 23% of EBITDA for the company in years other than 2018. The flyer experienced a technical issue where it was shut down for close to a quarter in early 2018. ( link to history: Singapore Flyer – Wikipedia )
The bright side though is the build-up in the cash pile. By the end of FY2019, I estimate that the company will have 187 mn SGD of cash ( 22 cents/share ) on its balance sheet which is around 31% of the current market capitalization of 600 mn SGD.  
They pay about 3.5 cents/share of dividends ( if you include the special dividend of 1 cent/share) which works out to a dividend yield of 5%. 
FCF for this year could end at 50 mn SGD or 5.7 cents/share, resulting in an FCF yield of 8.3%. If the company can hold onto an FCF of 50 mn SGD, The cash pile will continue to build by 10% a year.  
The main question in my mind though, is what's going to happen with this cash pile? Will it be used to increase dividend payouts further and do buybacks or will the company use it for an acquisition?
Get Straight to the Source on Smartkarma
Smartkarma supports the world's leading investors with high-quality, timely, and actionable Insights. Subscribe now for unlimited access, or request a demo below.