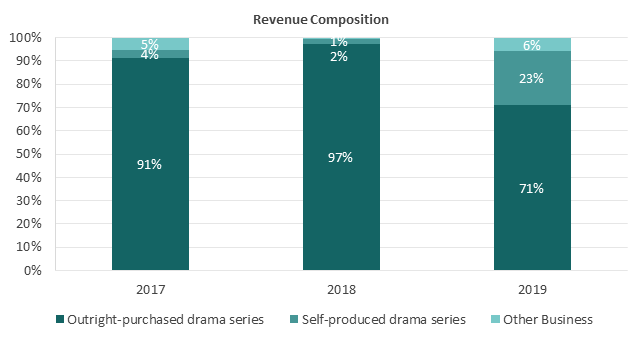 In this briefing:
---
Chinese drama series distribution company, Litian Pictures Holdings Ltd (9958 HK) is planning to raise HK$ 192-288m via a Hong Kong IPO. The company will issue 75m (27.71% of post-IPO shares outstanding) new shares (excluding an overallotment option of 11.25m shares) at an offer price range of HK$ 2.56-3.84 per share to raise funds primarily for content production and purchase. Book building ends on 15th June 2020 at 12.00 noon. The IPO price will be announced on 19th June, and the shares are expected to start trading from 22nd June 2020.
| | | |
| --- | --- | --- |
| Litian Pictures Holdings Limited | | |
| | | |
| Post-IPO Shares Outstanding (in millions) | | |
| Market Capitalisation – Post Money (HK$m) | | |
| Net Debt/Cash – Post Money (HK$m) | | |
| | | |
| | | |
| | | |
| | | |
Use of Proceeds
Approximately 50.0% (or HK$94m) will be used to produce 7 drama series and 4 web series across several major genres.
37.5% (or HK$71m) will be used to purchase copyrights (or broadcasting rights) of drama series produced by third parties.
7.5% (or HK$14m) will be used to expand the headcount of experienced professionals.
5.0% (or HK$9m) will be used to fund working capital and general corporate needs.
After getting hit by Covid-19 in February and early March, Chinese express company YTO Express (600233 CH) has roared back to life, hitting a two-year high of 15.96 CNY on Friday, June 12. 
YTO's apparent recovery from the depths of the pandemic (April parcel volume up 41% YoY) masks a ferocious price war in China's express market. A newly-aggressive S.F. Holding (002352 CH) and a shift to low-priced shipments tied to discount eCommerce platform Pinduoduo (PDD US) have combined to put strong downward pressure on pricing. We see no near-term recovery for YTO.
YTO's +51% move since March 22 puts the shares on approximately 33x 2020 diluted EPS and over three times book value. We see little room for strong growth in 2021 due to ongoing margin compression. Weaker than expected Q220 results (out in August) will dent shares over the next six months and recommend investors Short YTO against an equivalent Long position in SF Holding. 
Aequitas Research puts out a weekly update on the deals that have been covered by the team recently along with updates for upcoming IPOs.
Markets were a little shaky this week after the big one-day drop in the U.S. on Thursday. A handful of placements broke their respective deal prices but overall, IPO pipeline and bookbuilds are still moving along well as far as we hearing.
Burning Rock Biotech (BNR US) launched its bookbuild on earlier this week and will list this coming Monday. Ke Yan, CFA, FRM covered it in:
In Hong Kong, NetEase (9999 HK)'s secondary listing held up well above its pricing of HK$123 per share on the back of strong ADR trading of late which should bode well for JD.com Inc (ADR) (JD US)'s listing next week.
We are also preparing for a handful of upcoming Hong Kong IPOs, starting with Hygeia Healthcare Group (1702613D CH) and Kangji Medical (1498779D CH) which was said to be premarketing its IPO. We also shared more on-the-ground research and early thoughts on recently filed, Nongfu Spring (NON HK), POP MART (POP HK), and China Bohai Bank (BOHAIBZ HK) . 
Hong Kong IPO pipeline still looks promising. Simcere Pharma filed its draft prospectus with the Hong Kong Exchange this week while WeDoctor and Jiangxiaobai (a competitor to Moutai but targeting the younger crowd) are preparing for their respective IPO on the Hong Kong Exchange. Zhenro Services (ZS HK) and Smoore International (0959165D CH) were also reported to have sought for approval. We covered this IPOs in:
Other research on upcoming IPOs, placements and lock-up expiry:
Our overall accuracy rate is 73.3% for IPOs and 65.5% for Placements 
(Performance measurement criteria is explained at the end of the note)
New IPO filings this week
Simscere (Hong Kong, ~US$1bn)
Happiest Minds (India, US$100m)
Below is a snippet of our IPO tool showing upcoming events for the next week. The IPO tool is designed to provide readers with timely information on all IPO related events (Book open/closing, listing, initiation, lock-up expiry, etc) for all the deals that we have worked on. You can access the tool here or through the tools menu.
XD Inc. (2400 HK)'s IPO lock-up expired on Friday. We have earlier covered the IPO in:
In this insight, we will look at the potential sellers upon lock-up expiry and updates of how the company has performed since listing.
You are currently reading Executive Summaries of Smartkarma Insights.
Want to read on? Explore our tailored Smartkarma Solutions.