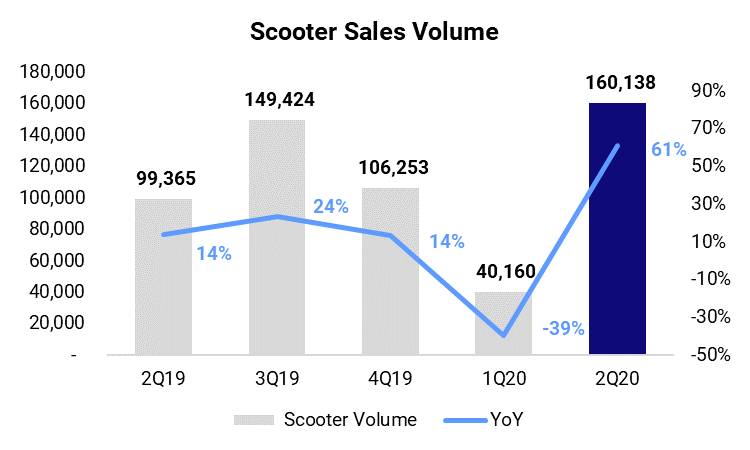 In this briefing:
---
Niu shares have soared by ~170% since we initiated coverage on the Company in January 2020. We believe that COVID-19 has validated Niu's value proposition and is accelerating the shift towards EV micromobility as consumers realize the convenience and increased safety of personal mobility solutions in a post-COVID world.
Despite the major run-up in Niu's prices, we see 6 trends that can continue accelerating Niu's growth:
Shift away from public transportation towards personal mobility
Urbanization requiring more energy & space-efficient mobility 
Launch of more affordable entry-level scooters
Higher-margin accessory upsells
Operating leverage and economies of scale
Virtual stores and e-comm live streaming as a more cost-efficient channel
We chose to value Niu at 4x its 2022 sales and brought this to present value at a discount rate of 30%. Our 2022 sales forecast assumes that the Company successfully captures 5.5% of the world's lithium-ion 2-wheeler market (10% in China, 3% in Europe, 1% in Southeast Asia, 1% in India).
We believe these assumptions are fair given that COVID catalyzed faster adoption for Niu's products and that the business has been significantly de-risked since our initial valuation.
Cosmetics is one of the industries, worst hit by the coronavirus pandemic. The industry was struggling for growth even before COVID-19. Due to the consumption tax increase, Japan's domestic cosmetics market declined 0.6% year-on-year on average during Oct-2019 to Jan-2020. The rate of decline accelerated to 26% by April 2020 due to COVID-19.
However, the situation is much better outside of Japan. Total cosmetics exports grew 8% year-on-year in May 2020 as exports to China increased 49.8% year-on-year.
Below we analyse, Japan's cosmetics industry using the monthly data released by the Ministry of Economy, Trade and Industry (METI) and the Ministry of Finance.
3 shareholders of Jinxin Fertility come to market to sell 207.6 million shares. In this note, we will provide our thoughts on the deal. We like the fundamentals of the company with recent acquisition help expanding the company's footprint to Central China. We also note that past deal has done well.
Our previous coverage on Jinxin Fertility
A Korean software company called Younglimwon Soft Lab (YSL KS) is getting ready for an IPO in the next few weeks. The IPO price range is from 9,500 won to 11,500 won. the IPO base deal size is from $13 million to $16 million. According to the bankers' valuation, the expected market cap after the IPO is from 77 billion won to 93 billion won.
Established in 1993, Younglimwon Softlab is a leading ERP software provider in Korea with more than 1,700 customers. The company provided the "first" Korean specific ERP software called 'K-System."
The company has excellent growth in sales and profits in the past three years. The company had sales of 38 billion won (up 24.9% YoY) and an operating profit of 4.3 billion won (up 191.3% YoY) in 2019. Its sales and operating profit growth continued to accelerate in 1Q 2020 when it achieved sales of 10.8 billion won (up 44.9% YoY) and operating profit of 1.5 billion won (up from an operating loss in 1Q 2019). 
Shenzhen Hepalink raised HKD 3,806 million (USD 491 m) from its global offering and will list on the Hong Kong Stock Exchange tomorrow.
In our previous insights, we had discussed that the company is a dominant heparin supplier on a global scale but it is not as prominent in the branded heparin segment.  The company's biotech products are under its investee companies.
In this note, we will look at the allocation and implications. We think there's a 20% upside at the IPO pricing given that the A-share has performed well over the last few days.
Our previous coverage on Shenzhen Hepalink:
You are currently reading Executive Summaries of Smartkarma Insights.
Want to read on? Explore our tailored Smartkarma Solutions.