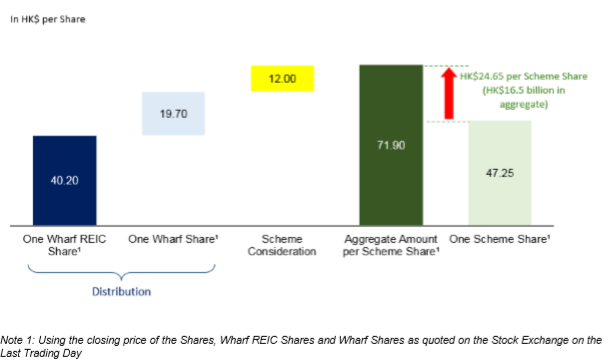 In this briefing:
---
Yesterday, Wheelock (20 HK) announced a proposal to privatise the company by distributing its equity holdings in Wharf Holdings (4 HK) and Wharf Real Estate Investment (1997 HK) to shareholders, plus HK$12 per share for its other holdings.
The implied premium to Wheelock (20 HK)'s previous close was 52.17%, though this will keep changing with movements in the price of Wharf Holdings (4 HK) and Wharf Real Estate Investment (1997 HK). At yesterday's closing prices, the premium to Wheelock (20 HK)'s undisturbed price was 46.88% and will probably be lower today once Wharf Holdings (4 HK) resumes trading.
In this Insight, we look at the impact of the privatisation on Wharf Real Estate Investment (1997 HK) due to its inclusion in the Hong Kong Hang Seng Index (HSI INDEX) and MSCI Hong Kong indices, and of Wharf Holdings (4 HK)'s inclusion in the MSCI Hong Kong index. 
Despite the fanfare only one Chinese company listed (and raised money) in London after the announcement of the London Shanghai Connect.  There have been no listing of Chinese Depository Receipts by companies listed in London.  This is starting to look like a white elephant.  We have reviewed the successful Depository Receipt programmes around the world and conclude that the pull to issue Chinese Depository Receipts is only weak at present.  We do think that companies are reviewing the option of issuing CDRs but there is no intense pressure to do so.  By following the factors we have identified, authorities and exchanges could build a more successful programme.
Wheelock (20 HK) is one of the largest property developers in Hong Kong. On 27 February, its shares rose 40% on the back of a privatisation offer from the Woo family, its controlling shareholder. The Woo family is taking private Wheelock through a two-step transaction. First, Wheelock will distribute its equity holdings in Wharf Real Estate Investment (1997 HK) and Wharf Holdings (4 HK) by offering one share each of Wharf REIC and Wharf Holdings. Second, the Woo family will offer HK$12.00 cash per Wheelock scheme share. 
Overall, we believe that the offer is a reasonable but not a knockout bid. In combination with the bid's small cash component, short-term investors/traders should lock in profits as we expect the value of the privatisation bid to creep downwards. 
Melco is well positioned, it's taken a big virus related hit but offers a very cheap entry point relative to peers.
Virus duration unknown, but we see a strong upside forming late Q3 to Q4 2020 from a low base.
2019 performance in mass subsection will ramp fast, but VIP will take longer to rebuild.
"Buy when everyone sells, sell when everyone buys…"Warren Buffett
 As global markets precipitously dive over mounting fears that the coronavirus will evolve into a pandemic, we are reminded of the above quote attributed to Warren Buffett. It seems appropriate at this juncture to watch valuations crumble by the day and bear in mind that no matter the damage ultimately inflicted on stocks, at one point or another, the outbreak will peak and finally end.
 SARS, Swine Flu, Ebola and others as frightening as they were, ultimately peaked and faded around a 6 month time frame. We make no such forecasts here other than to stipulate we are using it as a benchmark duration only. Nine months or more cannot be ruled out. All that can be ruled out is that we are clearly not experiencing a revisit of the medieval black plague which swept through Europe and Asia for years during the 14th century and the latter day early 20th century Spanish flu pandemic which killed millions. World health authorities possess an armory of weapons to battle the virus that simply did not exist before. But the coronavirus will take its toll at all events.
 So the penultimate question now for investors is the same one raised through war, depression, recession, global financial crises or mass health emergencies. Do you take money off the table, run and hide until events play out? Or do you make bets now when good stocks are cheap and getting cheaper, then grit your teeth and twist the cork on a bottle of good champagne and hold it in place until macro disasters dissipate and send your bets now soaring with profits? And in the aftermath will you bask in the adulation of peers commending your genius for following that very penetrating notion of Warren Buffett at the top of this insight?
 The Asian gaming sector is rife with bargains now for those strong of heart and conviction in the longer term valuations
 The Asia gaming sector in particular has taken a huge beating and may well experience a continuing fall until the health scare passes and valuations return, or exceed pre-virus levels. The action on gaming stocks at first news of the virus breakout, puzzled many observers. Investors not only stood pat, but did some buying, keeping the sector remarkably immune from the unfolding health disaster—temporarily.
 It did not last. We now have a sector, along with broader markets, taking a major beating. Valuations have plunged. The cause and effect of the Asian sector in particular clearly shows a straight line between the collapse of the Macau customer flow and the anticipated damage it will in the end inflict on earnings and valuations this year.
 Added to that we have two days of plunge suggesting capitulation. Yet the virus doesn't play by traditional market rules. Have we indeed experienced capitulation after a long bull trend? Whether after a standard bubble or a virus black swan we note that the market has left Asia gaming stocks at lows that invite serious consideration as entry points now for those with the risk profile.
 We have applied the Buffett principal to the situation and concluded that yes, for reasons we will detail here, we think It's time to buy and buy strongly in the Asian casino sector. Valuations tumbled, but fundamentals are unchanged. It is in the interim period, between now and such a time when the virus finally abates and disappears, that the sector can expect to be hammered.
  As the sector get cheaper, the temptation to buy on the deep dips would normally kick in. Thus far we have noted in trading volume and various options plays the ongoing sentiment remains: Take money off the table and get out. The assumption: There will be plenty of time ahead where the sector will be cheap enough to dive back in when the waves of selling pressure begin to abate.
 Regardless of that well- worn attitude we see much value right now in the sector.
Consider Melco Resorts & Entertainment Inc.
We have selected one stock we believe offers the longest and most vibrant ramp up post virus: Melco Resorts & Entertainment Inc. (NASDAQ: MLCO). Overall we believe there is money to be made across the Macau sector as all the stocks have had their recent run ups destroyed. We have selected Melco as representative of a stock we believe has dropped to a level that makes it extremely attractive because of a friendly entry price compared with industry peers.
 Recovery from the virus disruption will be slow and steady but at some point in the process, pent up demand in mass will ignite and translate into a powerful earnings tide late this year. We like Melco's low starting point, its quick response to the virus challenge, particularly in cutting Capex. The company announced it was postponing acquiring the second tranche of Crown Resorts(ASX:CWN) stock and making other judicious cuts which reduced its run rate during the crisis to around US$2.5M a day.
Furthermore, management has gone on record as promising to continue dividend payments for the knowable duration of the crisis. As a general sense, management is looking at a six month time line for a return to normal operations.
 Our thesis: Building a larger position pre-recovery at a smaller outlay. In theory you can now buy 3.5 shares of MLCO for every share of Las Vegas Sands Inc. (NYSE: LVS). You can also buy 6 shares of MLCO for every share of Wynn Resorts Ltd. at the price at writing. We expect the entire Macau gaming sector to ignite post recovery. All face the same headwinds, all will respond with similar forward momentum. But MLCO sits at a cheaper starting point with as sound a going forward recovery potential than any of its major peers.
 A quick glance at Melco (USD)
 Price at writing: $19.53
52wk range: $18.68 —$26.97
5 year high: Sept 2017: $31.21
Market cap: $8.982B
Beta: (5 yr monthly) 1.93
P/E: (ttm): 25.23
EPS: $0.77
Forward dividend and yield: $0.66 (3.38%)
 Our view: Based on its  global ambitions, surefooted asset allocation skills,  and operational flexibility, we believe MLCO has been undervalued even at its recent pre-virus highs.
 Pre-virus performance this month:
 Stock was at $22. 58
 This company's 4Q19 and annual 2019 results are impressive:
 Q4 luck adjusted EBITDA hit a record, all time high propelled by a 17% increase in  the mass segment up 17% to $249M. Group wide EBITDA was $382M, but luck adjusted at $413M. MLCO played unlucky in Q4.
 A key metric we like: MLCO's 2019 share of the Macau market rose 180bps to 16%—in a market showing a sector wide decline in VIP. Its properties proximity to the new light rail station is superior to many peers putting properties within 14 minutes of the ferry and 12 minutes from the airport. We believe this will contribute to an uptick in market share again once recovery begins probably in the back six months of this year.
 The company showed strong upsides in mass at all properties including its Manila operation yet at the same time it is facing market wide declines in VIP. The success of the Morpheus tower in Macau in premium mass in particular played a significant role in the solid performance.
 Capex going forward MLCO will continue to move ahead on its $1.35B investment in the Phase One expansion of Studio City, a project aimed directly at the heart of the mass and premium mass market segments by adding 600 rooms and a water park.
 Cyprus: MLCO's EBITDA from its temporary casinos rose to $9M. The properties are a toe-dip into what is coming there in the integrated resort project with a large footprint expected to debut in late 2021. The property will be de facto the first ever, modern integrated casino resort built to service the European /Middle East market. City of Dreams Mediterranean will cost just over $617M to complete and the capex on the project will continue through the virus interregnum. The property will open with a modest game spread of 100 tables and 1,000 slot machines.
We think the Cyprus property will quickly absorb the capacity and provide a rationale to MLCO to scale. It will open with 500 rooms, but we note that the property will sit on 91 acres controlled by MLCO. It is a clear first mover advantage for the company in  the European facing market.
 Japan: MLCO has been among the most aggressive pursuers of one of the three Japan IR licenses to be issued late this year or early 2021. It has pivoted from an Osaka target to a Yokohama first strategy going head to head with Las Vegas Sands. In the last quarter it's PL showed it had spent $18M on various initiatives in Japan. Our industry source on the ground in Tokyo believes that "it will be a tough down to the wire contest between the two companies. The estimates of sunk cost for a Yokohama IR have risen as high as $18B. It's entirely possible that MLCO and LVS will wind up in some kind of joint venture with a third, Japan based partner."
 MLCO cash and coronavirus burn rate
 At writing, MLCO is sitting on $900M in cash against $3B in long term debt exclusive of Studio City and the Cyprus project.
Management now estimates the burn rate during the virus challenge at $2.5M per day fixed expenses, inclusive of some cost cuts already made in both operations and capex expense.
 Their outlook at present foresees no substantive recovery beginning before Q3 this year. Cash reserves are considered more than adequate to meet that contingency. However, management sees a ramp up back to normalcy starting slower and not gaining powerful momentum until late in Q4 or early 1Q21. Our take: Most of the virus downside is already baked in.
 In effect management sees Q1 and Q2 as essentially lost in terms of contribution to annual results this year.
The takeaway
 Market consensus has put a $27.87 PT on the stock. Analysts believe that now within the virus context, it is trading at near fair value. My own view from an industry perspective is contrarian to these calls. I believe and have believed for two years that MLCO has remained undervalued trading in a very narrow range. Going through the history I found that much of the periodic downside volatility I discovered in the trade was related to unlucky play. And that was fueled by the company's aggressive posture in marketing to VIPs and taking on a bit more risk in bad debts to support the arrival in 2018 of the Morpheus Tower $1.2B investment at City of Dreams.
 There is also the inherent volatility of the Macau market in general where since 2015, Beijing assaults on money laundering and junkets have bruised the VIP business. The macro China economic woes (pre-virus) likewise had their impact on the sector.
 CEO Lawrence Ho is among the industry's most effective asset allocators. Yet his decisions at times, such as a sudden pull out from a highly touted deal in the Russian Far East., and a quick pivot to Cyprus have raised some eyebrows among investors. His more recent move to acquire James Packer's stake in Crown Resorts for US$1.2B triggered several calls I had from hedge fund friends questioning the move on several grounds. Mostly they expressed concern about a growth trajectory in the Australian market with new capacity coming on line. Second, one associate, an admirer of Ho's, questioned whether "Lawrence has the penchant to bite off more than he can chew". He believes that these moves are part of what keeps the stock "hostage in a narrow range".
 While I believe that MLCO may be fairly valued by traditional metrics, I think the potential of the stock based both on management effectiveness under pressure and the global vision of Lawrence Ho to move his asset base to places where he expects the highest risk/reward ratios is worth a premium to the stock.
 MLCO has always been relatively cheap among its peers for a company whose vision reaches beyond Asia. US based giants have fortress positions in Las Vegas. Ho has apparently bypassed opportunities there and pivoted to Cyprus and Australia beyond Macau and Manila. Therefore, in time, MLCO will be a strong contender in Asia and global in scope with its shares still "held hostage" as my hedge fund friend noted, by aspects of the company it has not valued.
 I believe post virus in full recovery mode in Macau, plus continuing strong growth trends in Manila and the possibilities both for the Cyprus project and Japan, that MLCO looks like it could be a $35 stock to me bought at a price now that could afford a larger opening position than many peers.
Everyone's selling? Buy.
You are currently reading Executive Summaries of Smartkarma Insights.
Want to read on? Explore our tailored Smartkarma Solutions.