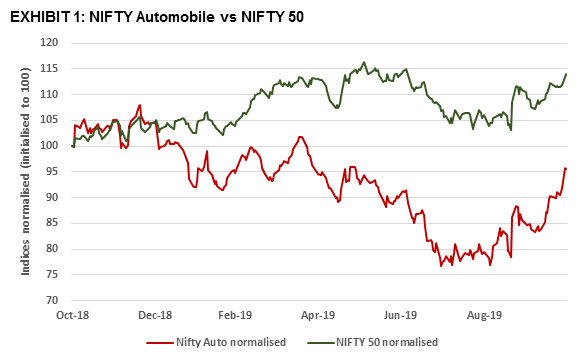 In this briefing:
---
In the first of our local currency bond series, we look into Indian INR bonds in the auto finance industry in India. We believe there are some green shoots emerging amid a slowdown in the automobile industry in India. We also believe the worst in the automobile industry is behind us and, from a credit perspective, a rating action on automobile companies with strong parents, is less likely. 
Automobile company stocks have staged a rebound since August this year. The NIFTY automobile index recovery since August has been stronger than the overall NIFTY 50 index recovery. This is not yet reflected in local currency credit spreads of auto finance companies. For investors with high risk appetite, gaining exposure to well-rated INR denominated auto-finance corporate bonds offers value, in our view. Alternatively, stock market investors may consider switching out of stocks into bonds.
Ownership in Baidu (BIDU US) among GEM asset managers has been volatile over the past 8-years, with the holding dynamics mirroring the extreme moves in prices.  We split our analysis into 4 phases based on peak to trough levels of ownership since January 2011.  GEM managers have been quick to enter and exit the stock within each phase, with current levels the lowest in our history.
Google's recent boast of having achieved Quantum Supremacy raised a number of eyebrows, but is it really that meaningful?  This insight explains Google's claim and reviews Quantum Computing in general to see just how close we are to experiencing tectonic changes in computing architectures.
The short answer?  Not too close.
MSCI announced the results of the November 2019 Semi-Annual Index Review earlier today. The constituent changes will be effective from 27 November and the rebalancing trades will need to be done at the close on 26 November.
There are eight inclusions: Berger Paints India (BRGR IN), Colgate Palmolive (India) (CLGT IN), Dlf Ltd (DLFU IN), HDFC Asset Management Co Ltd (HDFCAMC IN), ICICI Prudential Life Insurance (IPRU IN), Info Edge India (INFOE IN), SBI Life Insurance (SBILIFE IN) and Siemens Ltd (SIEM IN) 
Four stocks have been excluded from the index: Glenmark Pharmaceuticals (GNP IN), Indiabulls Housing Finance (IHFL IN), Vodafone Idea (IDEA IN) and Yes Bank (YES IN). 
The free float on ICICI Bank Ltd (ICICIBC IN) has been doubled following foreign room going above the 25% threshold.
With only eleven trading days prior to implementation day there could be some big moves, especially on names that were not expected to be included in the index. That said, most of the additions have seen big rallies over the last few weeks and any further jumps could lead to profit taking.
Tata Steel's Q2/19-20 results were unsurprisingly weak, being very similar to peer JSW's figures for the same period. Revenue and earnings dropped massively. Financial risk increased sharply, and liquidity is poor. We believe that the operating environment in India has passed its peak, with earnings to follow a downtrend for the next few years. The business environment in India is highly worrying.
In the next two quarters, we anticipate weaker production and sales volume in India with flattish stats in Europe. The seasonal factors cited by the company should not have much impact, since the comparison is made on a y-o-y basis. Further, while the tax cut has somewhat boosted sentiment, the liquidity crisis remains severe, with banks and shadow financial firms collapsing.
We believe that rating pressure will start to build up on Tata Steel's ratings of Ba2 (stable) / BB- (positive) / BB (stable). We revise our LARA to "High Risk" from "Medium Risk", as we expect the financial risk profile to remain elevated for a sustained period amid the challenging operating environment.
Get Straight to the Source on Smartkarma
Smartkarma supports the world's leading investors with high-quality, timely, and actionable Insights. Subscribe now for unlimited access, or request a demo below.