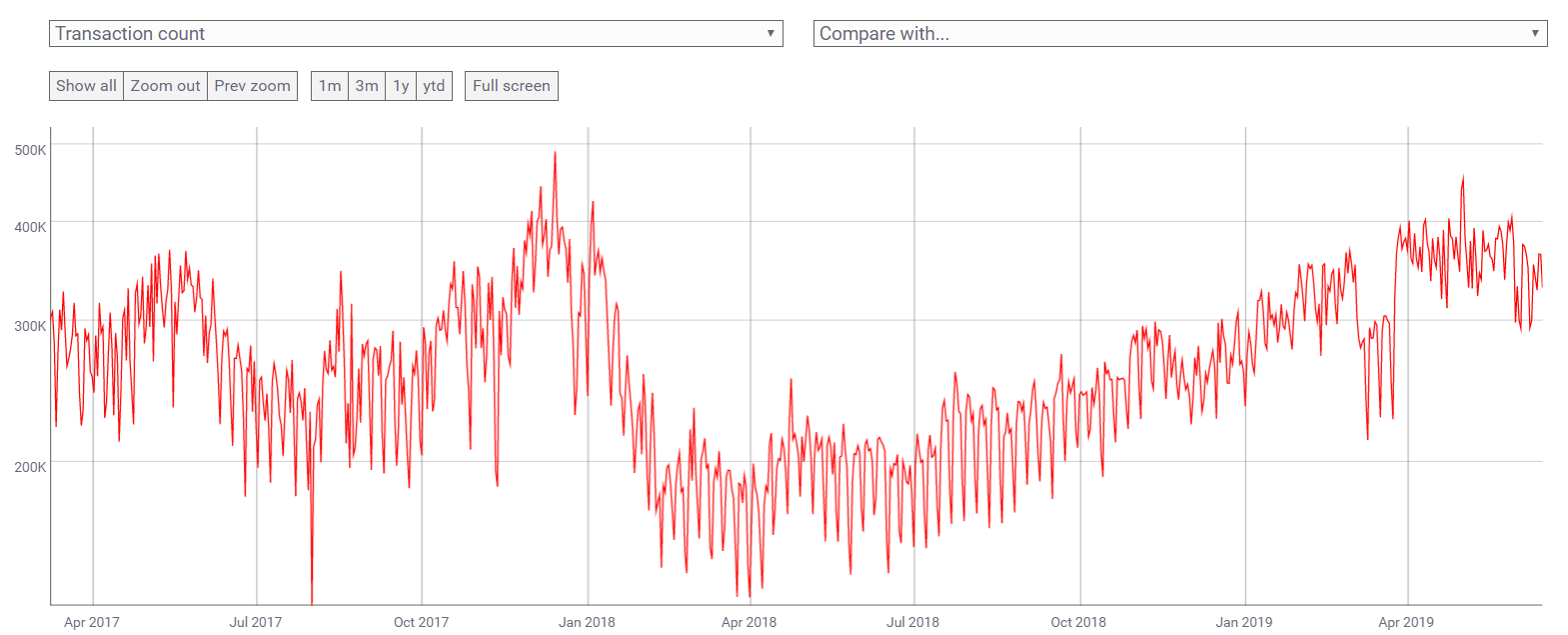 In this briefing:
---
Bitcoin saw a correction during the first week of June but has recovered quickly. Bitcoin's leading indicators remain positive, giving a bullish outlook for the market.  
A number of public companies, including Visa Inc (V US), UBISOFT Entertainment (UBI FP), Legal & General (LGEN LN),  General Motors Co (GM US), Target Corp (TGT US), Panalpina Welttransport Holding (PWTN SW), Facebook Inc A (FB US) and Apple Inc (AAPL US) revealed their blockchain plans/initiatives during the past two weeks. 
In other news, Justin Sun, the founder of the cryptocurrency company Tron, was the winner of this year's "Power Lunch" with Warren Buffet, while major Korean banks show an appetite for blockchain based solutions.
In this Insight, we bring you takeaways from our visits to Tractor dealers in Northern India (Jodhpur in Rajasthan) and Western India (Vadodara & Dahod in Gujarat). The visits included dealers of Mahindra & Mahindra (MM IN) , Escorts Ltd (ESC IN) , TAFE (which has a partnership with Agco Corp (AGCO US) , John Deere (part of the Deere & Co (DE US) ), Local village administrations (Panchayats) and some farmers. The purpose of the visits was to understand the current demand environment and evaluate the possibility of a turnaround in the sector.
Our visits seem to indicate the current slow down could be temporary and is nowhere a structural problem for the Industry. MSP hikes and water reservoir levels continue to be key determinants of demand. There are initial signs of a turn around in sentiment on the ground, with inventory slowly moving post elections. Water reservoir levels in August should help decide the trend for the current financial year. M&M trading at 13x (Consensus) forward, and Escorts at 11x (Consensus) forward could be attractive at current levels.
According to the global Industry data published this week Radico Khaitan (RDCK IN), an India based popular alcoholic beverages maker, owns 2 of the top 12 fastest growing spirits brands globally in 2018. However, the stock is down 30% YTD trading close to its 52-week low as the spectre of regional alcohol ban rears its head in two states in India, including Andhra Pradesh, one of the bigger markets for alcoholic beverages in the country. Radico Khaitan had reported strong growth in sales, margins and profits for the quarter and year ended March 31st 2019. The proposed liquor ban, when implemented, will hurt Radico Khaitan's revenue growth, operating margins and net profit (expect full year impact in FY2021). However, based on our earnings/valuations analysis, the YTD stock slide seems to fully factor in the potential earnings downside. Any further stock decline could be opportunities for investors looking for favourable entry points. Regulatory issues – taxes/regional bans – will continue to be the key sector risks.
In the note below, we look at (1) likely earnings scenario for Radico Khaitan (RDCK IN) after factoring in possible volume/revenue impact from expected state alcohol ban and (2) implied valuations at the revised earnings levels and potential stock upside (3) Radico Khaitan's earnings and operational track record. We include few data points on India spirits market fundamentals and also present the list of top spirits brands for 2018, ranked by absolute volume growth.
Cross-border capital flows to Emerging Markets (ex China) plunge by US$75 billion in May 2019
Flows into China buck this trend rising by US$10 billion
Cross-border flows are sensitive to Chinese economic tempo and US dollar
EM investors turn decisively 'risk-off' in positioning, but this is a future opportunity
Get Straight to the Source on Smartkarma
Smartkarma supports the world's leading investors with high-quality, timely, and actionable Insights. Subscribe now for unlimited access, or request a demo below.