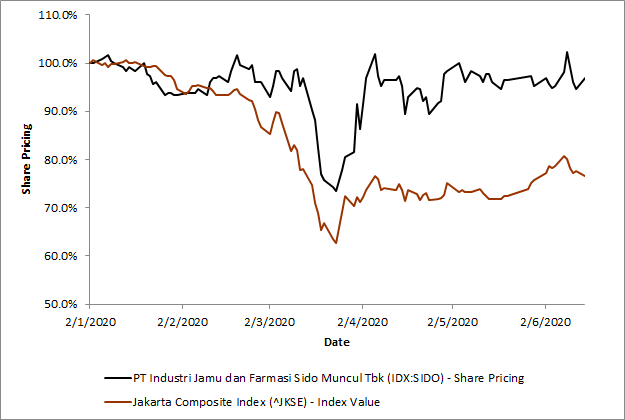 In this briefing:
---
The management has confirmed that the wholesale price for ginger (a key ingredient and natural immunity booster is well known in Indonesia) is much more manageable compared to the retail price that has gone through the roof as demand surges. 
With a lasting COVID-19 pandemic in the country,  Sido Muncul (SIDO IJ) is the beneficiary of the increased demand for an immunity booster therefore if there will be an increase in the raw material cost, the revenue growth could negate that and translate into some earnings growth. 
SIDO has outperformed Jakarta Stock Exchange Composite Index (JCI INDEX) post initial COVID-19 event, and while it may seem that the Index is cheaper relative to SIDO, the index constituents have to deal with the economic reality post-COVID-19 while SIDO is a beneficiary. 
This past week's offering of Insights across [email protected] is filled with another eclectic mix of differentiated, substantive and actionable insights from across South East Asia and includes macro, top-down and thematic pieces, as well as actionable equity bottom-up and credit insights.
Please find a brief summary below, with a fuller write up in the detailed section. We also include in the detailed section the past week's relevant discussions in [email protected]
Macro Insights
In Labour Market Slack Remains but FOMC Will Need to Tighten by Mid-2021, CrossASEAN Cheif Economist Prasenjit K. Basu revisits the US Economy, where he sees inflationary risks ahead. 
In Post-COVID 19 – Economic Reality Bites,Sharmila Whelan suggests that we may be about to see a change in market sentiment as the realisation of the true impact of COVID-19 dawns on liquidity-driven markets. 
Equity Bottom-Up Insights
In Bank Mandiri Persero (BMRI IJ) – Biting the Bullet on Restructuring, CrossASEAN Insight Provider Angus Mackintosh revisits this leading Indonesian lender as it lays out its COVID-19 restructuring plans.
In SATS: Traffic -99.5% in April and May; How Much Worse Can It Get?, CrossASEAN Insight Provider Nicolas Van Broekhoven revisits Singapore's leading aircraft maintenance player and asks whether we have hit the bottom.
In Malaysia – Carlsberg or Heineken?, CrossASEAN Insight Provider Henry Soediarko zeros in on the Malaysian brewery space. 
In BTPS – Exceptional Core, banking specialist Daniel Tabbush revisits Indonesia's most interesting Sharia lender and finds an encouraging picture. 
In Keppel Corp – Stretched Vs Proxy Baskets And Now With New Risk, Travis Lundy revisits this long-in-the-tooth partial offer. 
In Sembcorp Marine Rights Offer – Cast Away,Travis Lundy comments on the recently announced Sembcorp Marine (SMM SP) S$2.1bn rights issue. 
In Sembcorp Industries/Sembcorp Marine Rights Issue and Demerger,Arun George also comments on this ongoing transaction.
In SMM Rights Issue & Demerger Is One Step Closer to Keppel O&M+SMM Merger,Ke Yan, CFA, FRM looks at this ongoing situation but sees a longer-term endgame ahead. 
In BTS: Solid Core Operation with Huge Potential Upside, our friends at Country Group revisit BTS Group Holdings (BTS TB) and expect some softening in the outlook. 
In SPA: Major Beneficiary of Return Chinese Tourist Arrivals in Thailand,Country Group upgrade Siam Wellness Group (SPA TB) to BUY as it will be a beneficiary of Chinese tourists returning to Thailand. 
Sector and Thematic Insights
In Indonesian Consumers – This Transformation Is Forever – BUY Staples and Healthcare, CrossASEAN Insight Provider Angus Mackintosh zeros in on the changing behaviour of the Indonesian consumer over COVID-19. 
In Indonesian Media – A Tale of Two Cities – BUY MNCN, CrossASEAN Insight Provider Angus Mackintosh revisits the sector in light of the ongoing COVID-19 impact.
In Indonesia Banks – Loan Forbearance, banking specialist Daniel Tabbush zooms in on the Indonesian banking sector, where he sees a relatively promising outlook.
In Sathorn Series O: Thai Banks Expand Abroad, our Thai guru Athaporn Arayasantiparb, CFA zeroes in on Thai Banks as they look overseas for future growth. 
In WhatsApp, PayPal Funding To Fortify Go-Jek's Go-Pay Business,Aqila Ali takes a look at the reasoning behind Facebook Inc A (FB US) and Paypal Holdings (PYPL US)'s recent investment into Gojek (1379371D IJ).
Credit Insights
In Chandra Asri – Earnings Flash – Q1 FY 2020 Results,Trung Nguyen zeros in on recent results from Chandra Asri Petrochemical (TPIA IJ),  which were weaker than expected. 
You are currently reading Executive Summaries of Smartkarma Insights.
Want to read on? Explore our tailored Smartkarma Solutions.