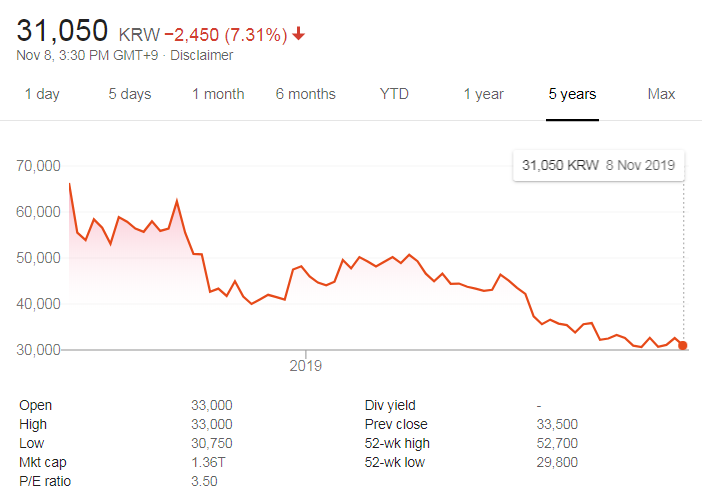 In this briefing:
---
It was reported in numerous Korean media on November 8th that the HDC Hyundai Development Engineering & Construction (294870 KS) & Mirae Asset Daewoo consortium is likely to acquire Asiana Airlines. However, there were conflicting information about the exact preliminary bid amounts made by HDC Hyundai Development consortium and others. 
Although Asiana Airlines has not formally announced which consortium it now prefers, it appears that the much higher probability event is for HDC Hyundai Development & Mirae Asset Daewoo consortium to become the preferred bidder. From the point of view of Kumho Industrial, the nearly 400 billion won to 500 billion won difference in the preliminary bid from the HDC Hyundai Development versus the other two contenders is so great that it probably makes sense for them (Kumho Industrial) to go with HDC Hyundai Development consortium.
There are four major concerns on the (likely?) acquisition Asiana Airlines by the HDC Hyundai Development consortium:
Over-payment
Lack of synergies & no experience in running an airliner
Construction + Airlines = Excessive Industry Cyclicality
Korean government not likely to save Asiana Airlines next time
Overall, although HDC Hyundai Development's share price is down 36% YTD, there are tremendous risks of its share price falling much further in the next 12 months if the HDC Hyundai Development consortium does indeed end up acquiring the highly leveraged Asiana Airlines.  
Daikin reported results on the 6th of November which were slightly below consensus at the OP line at ¥78.7bn (consensus ¥82.6bn), despite beating slightly on revenue (¥673bn vs. consensus at ¥668bn). The slight miss on margins and a 2.2% downward revision to FY revenue guidance drove the share price down about 2.6% over the next two days but we believe a slowing rate of decline in China makes a closer look appropriate.
Citic Envirotech (CEL SP) is a leading membrane-based integrated environmental solutions provider specialising in water and wastewater treatment, water supply and recycling. Last night, CKM announced a pre-conditional privatisation offer at S$0.55 per share. 
At first glance, the offer price which represents a 69% and 66% premium to the 3-month and 6-month VWAP respectively, seems attractive. Overall, our valuation analysis suggests that CKM's offer while not a knockout bid, is worth a look for investors not willing to wait around for recovery and seeking a reasonable exit. 
The pre-conditions included approval from the PRC Ministry of Finance, NDRC, SAFE, and Ministry of Commerce, amongst others. 
Those pre-conditions were fulfilled on the
5 March 2015
, the Offer was declared unconditional in all respects on the
26 March
, the circular was dispatched on the
2 April
 and the Offer closed on the
16 April
with the Offerors holding 85.80% of shares out.
United Envirotech Ltd's name was changed to CITIC Envirotech on the
30 July 2015
. 
On the
16 November 2016
, CRF Envirotech/China Reform Puissance Overseas acquired KKR China Water's 23.89% stake or 269mn shares.
A two-for-one share split was announced on the
28 November 2016
, increasing the number of shares out to 2.256bn. Movements in the shareholder register have been largely static since.
The New News
Yesterday, CITIC Group announced a pre-conditional
Exit Offer at S$0.55/share
, a 48.6% premium to last close and a 61.9% premium to the one-month VWAP.
Those pre-conditions include approvals from NDRC, SAFE and Ministry of Commerce. The Offeror is CITIC – these approvals are a foregone conclusion. The same approvals were sought and received in the 2014/2015 Offer.
The making of the Exit Offer is conditional on receiving these pre-approvals within four calendar months, an approximately similar time frame required for the 2014/2015 Offer. The timeframe should be significantly shorter. CEL has guided pre-approvals by the week of 23 December and a possible close of the Exit Offer by mid-Jan.
The Exit Offer is conditional on approved by a majority of at least 75% of CEL's shares out. CITIC and concert parties (namely CRF Envirotech) holding 79.1% in CEL must abstain from voting on the Delisting Resolution.
Changsha Broad Homes (2163 HK) raised US$151m at the bottom-end of its IPO price range. We have previously covered the IPO in:
In this insight, we will look at the IPO deal dynamics and updated valuation.
Get Straight to the Source on Smartkarma
Smartkarma supports the world's leading investors with high-quality, timely, and actionable Insights. Subscribe now for unlimited access, or request a demo below.