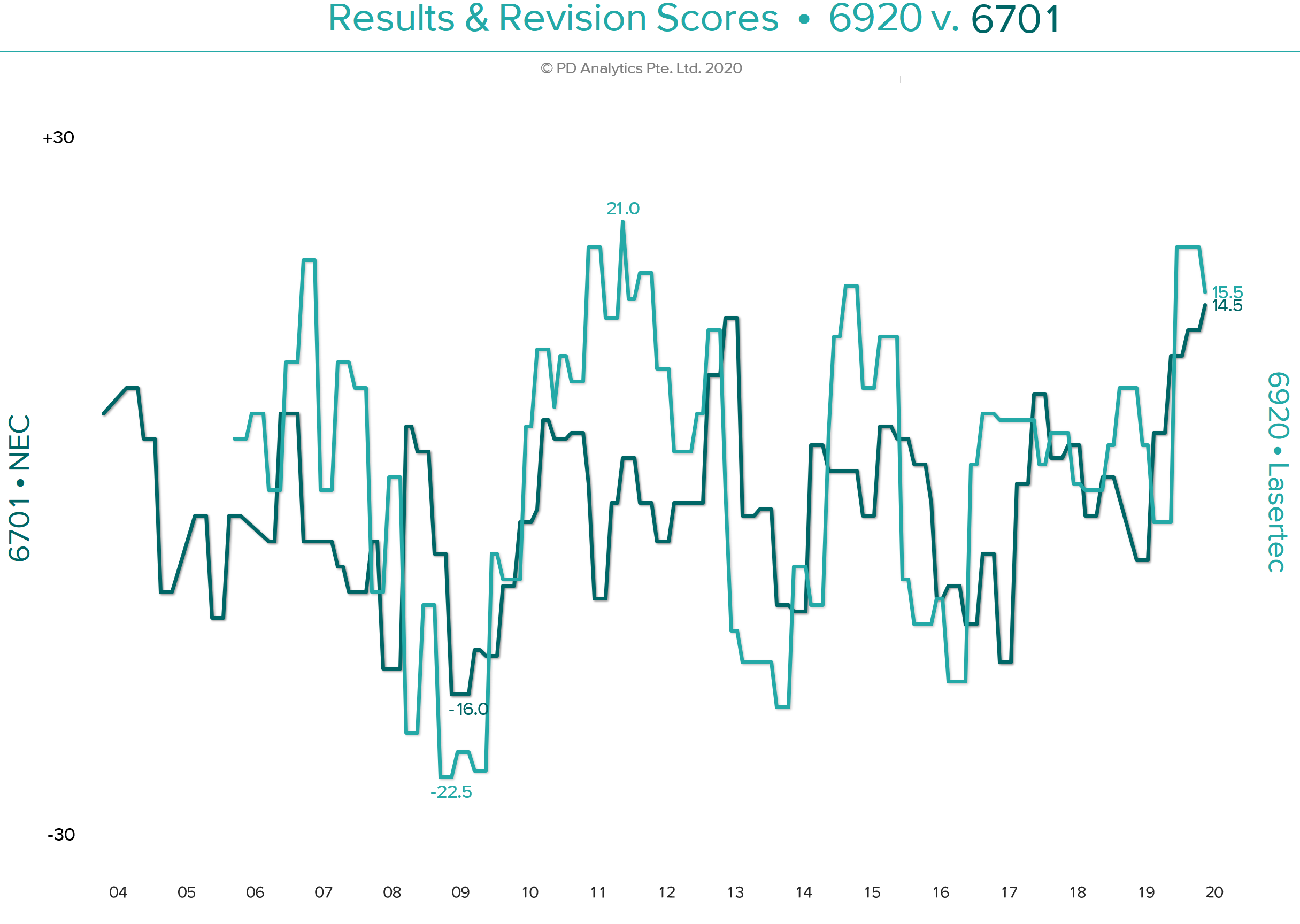 In this briefing:
---
THREE-YEAR LOW – With Bridgestone (5108 JP)'s results and revision now added, our final tally for this season is a 196 basis point decline in our Results Sore – the lowest since March 2017.  In contrast, the Forecast/Revision Score reached a three-month high as the 470 companies with December year-ends put an optimistic gloss on their medium-term outlook. As we have noted in our recent daily roundups, a normal precondition for a cycle low is for the Forecast/Revision Score to rise above the Results Score. Forecast/Revision Score peaks and troughs usually occur one to two quarters ahead of those for the Results Score.  Covid-19's impact will likely see the 2016 'playbook' repeated next quarter with a lower Results Score and a 'sideways' Forecast/Results Score. The Results Score cycle low point will be reached with the mostly-interim results to be released in six months. 
LEADING INDICATOR – By including several momentum factors into our Scoring (see below), we can provide a better indication of future business conditions. Indeed there is a 0.83 correlation between the Cabinet Office's Business Condition Leading Indicator and the Forecast/Revision Score. Reported earnings, as well as company forecasts, are lagging indicators and, as shown in Part 1 of this Insight. Both data series peaked one year after our Scores and the market peaked in early 2018. 
SCORING METHODOLOGY – For those new to these Insights, we briefly recap our scoring methodology below:-
Results Scores are calculated using the most recent eight quarters of company data for Revenues, Operating Income and Operating Margin and, for each, measure the rate, degree and consistency of change. The Results Score has a maximum of +30 and a minimum of -30 for each period. Our data series commences from the time a particular company issues quarterly results. The sample size becomes significant from March 2005.

The Forecast/Revision Score is based on both Annual and Interim period company forecasts and compares changes from previous forecasts as well as against the trailing twelve-month (TTM) or previous first-half results, with annual forecasts being double-weighted. This Score also has a maximum of +30 and a minimum of -30 for each period.  For this series, our data samples start from August 2008.

The combined Results & Revision Score (RRS) is the average of the Results Score and the Forecasts/Revision Score.

All company Scores are then cap-weight-aggregated into Sector, Peer Group and Market Composite Scores for which the seventeen-year monthly and two-year daily track records are shown above. Only currently listed-companies are covered in the aggregate Scores, and the Total Market Capitalisation excludes delisted entities. REITs are not included.

---

• SECTOR SCORES •

In the DETAIL Section below, we provide a detailed breakdown of our RRS Scoring for Sectors, Peer Groups and individual companies, highlighting this quarter's 'winners' and 'losers'. The chart above shows a  seventeen-year 'timeline' of the cap-weight-aggregated Sector RRS Scores and the ebbs and flows around the business cycles. The Metals Sector is the most volatile on the downside and has yet to 'bottom' this cycle. Technology Hardware appears to have already rebounded; however, Covid-19 suggests this Sector may relapse. On the upside, the Information Technology Sector has replaced the Internet and Telecoms Sectors as the contra-cyclical 'champion'. 
Japan Airport Terminal's operating position is interesting. The company has been making significant investments to expand its capacity for international flights, partly due to the upcoming Tokyo Olympics and thus has seen capex surge from a low of ¥4.8bn in FY03/15 to an expected ¥77bn this FY. This is likely to lead a significant surge in depreciation together with the potential for a significant increase in operating profit… if strong demand continues. Ultimately, this is the story that the coronavirus outbreak threatens, and we are concerned that the depreciation burden may be being underestimated by the market.
Sectorally, short positions were increased in Consumer Discretionary (US$502m) and Financials (US$44m) while shorts were covered in Communication Services (US$84m), Health Care (US$41m) and Real Estate (US$26m).
Japan Prime Realty Investment (8955 JP) is looking to raise about US$150m in its placement to acquire a property.
We have earlier covered two of the REIT's 2015 and 2017 offering in:
Overall, the deal scores well on our framework on all factors except for valuation, which indicated that JPR is trading largely in line with peers. 
Recruit Holdings (6098 JP)'s 3Q FY03/20 results show early signs of the risks that we highlighted in our previous notes materialising. In our note, Global Labour Markets Are Starting to Slow Down – Time To "Lay Off" Recruit, we suggested that Recruit's exposure to the Japanese and global labour markets is 84% and 71% of its consolidated revenue and EBITDA, hence, with global labour markets starting to slow down, and hiring stalls, Recruit's growth could be hampered in the medium term. Recruit's Staffing and HR Solutions revenue decreased by 3.3% YoY and 2.8% YoY respectively in FY03/20 (cf. +1.9% YoY and +7.7% YoY respectively in FY03/19). 
In our note, Recruit Holdings [Alternative Data]: Should the Slowdown in Indeed Warrant a Discount?, we suggested that revenue growth of the HR Technology segment, which operates indeed.com (Indeed) and glassdoor.com (Glassdoor), would fall below 30% YoY (22%-28% YoY) for the first time in 3Q FY03/20. HR Technology segment revenue increased by c.28% in 3Q FY03/20. We believe most of this growth is due to better monetisation efforts at Glassdoor which could be maxing out soon, hence, HR Technology revenue growth is likely to be even lower over the next few quarters. 
We didn't find anything exciting to look forward to on the long side from Recruit's 3Q FY03/20 results. We believe that the market would start discounting Recruit over the next few quarters as risks (that we have highlighted above) would become more obvious. Thus, with its valuation also at an all-time high, we believe it is a good time to short Recruit. 
You are currently reading Executive Summaries of Smartkarma Insights.
Want to read on? Explore our tailored Smartkarma Solutions.