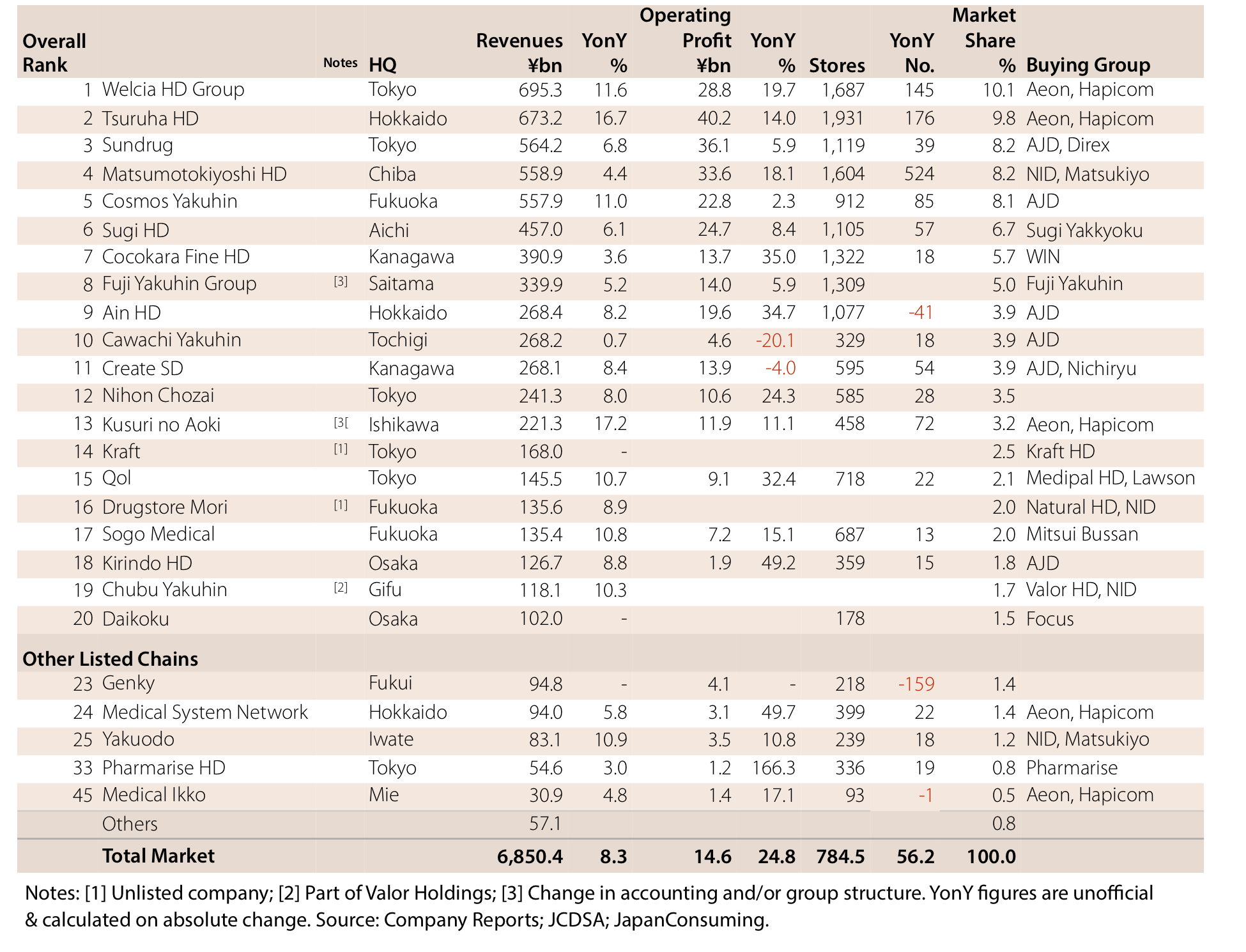 In this briefing:
---
The Japanese drugstore sector has been consolidating fast for a decade led by Aeon's (8267 JP) Welcia subsidiary, Tsuruha Holdings (3391 JP) and Sundrug Co Ltd (9989 JP), which have taken the top three spots in the sector ahead of the long-time leader, Matsumotokiyoshi Holdings Co (3088 JP).
Last month the latter tried to retake its pole position by opening negotiations to buy seventh-ranked Cocokara Fine (3098 JP). A few days later, however, sixth-ranked Sugi Holdings (7649 JP) began its own negotiations, creating an unusual situation where two companies are publicly bidding for the same target.
(For details on the deal and the likely implications for respective share prices etc, as always I defer to Travis Lundy who has an excellent analysis on this in his Insight here).
A deal with Cocokara Fine is crucial for Matsumotokiyoshi. If it succeeds, it will again lead the sector with a business a third bigger than the current leader. If it fails to woo the smaller firm and Sugi succeeds, however, Matsumotokiyoshi will have fallen from sector leader to the sixth position in three years and will likely want to start wooing current third-ranked player Sundrug Co Ltd (9989 JP). It may even try and negotiate a partial merger with Tsuruha if it doesn't want to be left behind in what will likely become a sector dominated by three or four major retail groups in the next five years.
Whatever the outcome of the Cocokara Fine deal, further consolidation will occur in Japan's drugstore sector and M&A will be a key strategy to make this happen.
Get Straight to the Source on Smartkarma
Smartkarma supports the world's leading investors with high-quality, timely, and actionable Insights. Subscribe now for unlimited access, or request a demo below.