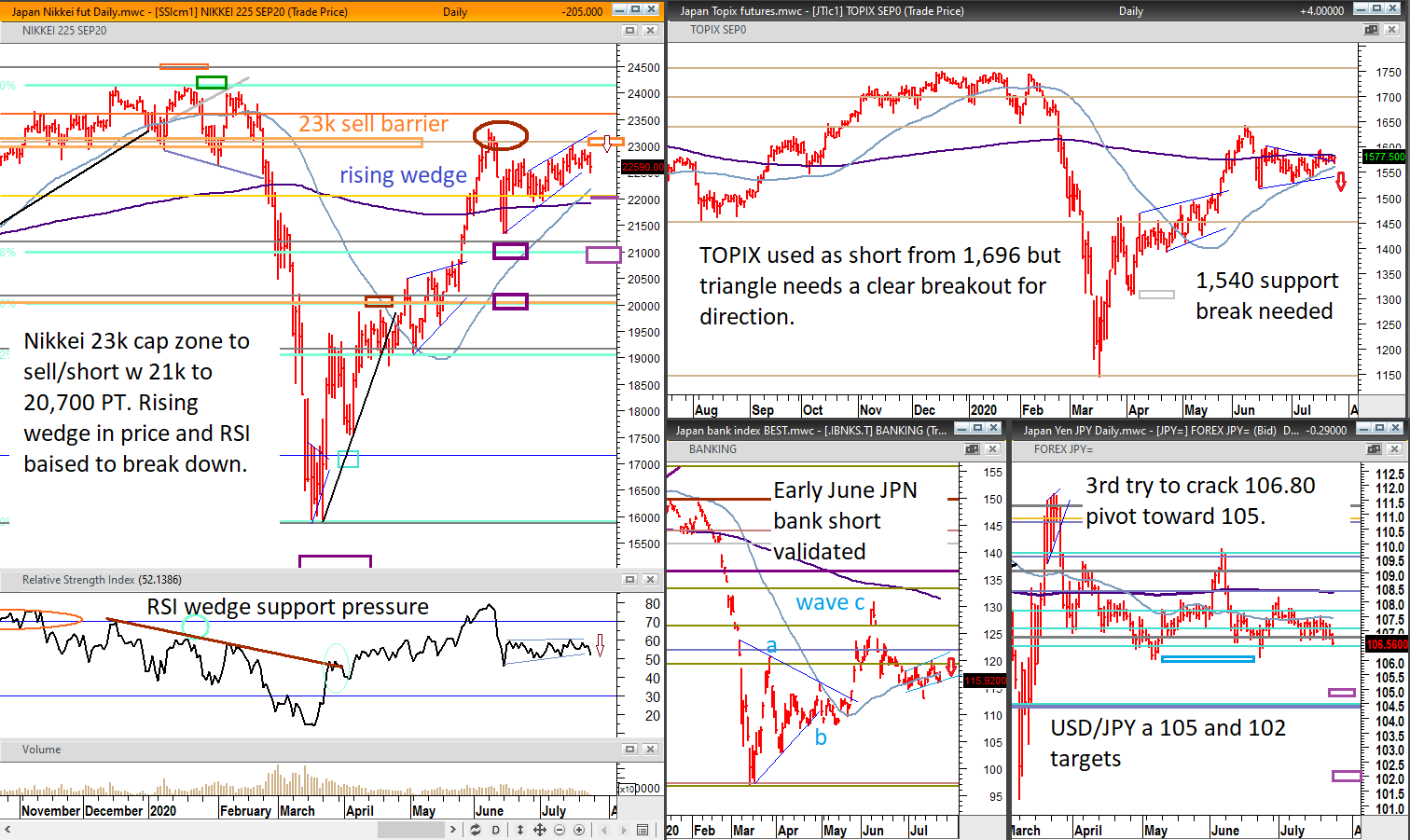 In this briefing:
---
Nikkei 225 (NKY INDEX) has formed an overlapping rising wedge that spells trouble for the Japanese equity market as a second rejection at 23k is in process. USD/JPY has cleanly broken below 106.80 support and the Japan bank index is set to break lower out of the micro bear flag.
A number of negatives are aligning to make this a top short play as the global risk cycle matures to a point of inflection in August. Japan is over owned and overbought.
This is a quick update on our insight Nikkei 23k Sell Zone.
1Q FY3/2021 results for Aomori Bank (8342 JP), the leading regional bank based in Aomori Prefecture at the very top of Japan's main island of Honshu, showed a 10% YoY improvement in consolidated net profits despite a fall in overall revenues.  Dig a little deeper and it becomes evident that that result was achieved through heavy reliance on stock profits, bond trading and asset sales.
Aomori Bank ("Aomori" 青森 means "green forest" in Japanese) is a good example of the plight befalling many regional banks around Japan where the population is shrinking rapidly, young workers are leaving to find jobs elsewhere and the local economy is in long-term decline.  Net profit generation is poor, core earnings have been declining rapidly since FY3/2013, net interest margin has fallen to less than half what it was a decade ago, the overhead ratio is a worrying 84%, credit costs are rising exponentially and the bank has been forced to cut its FY3/2021 dividend from ¥60ps to ¥50ps to preserve capital.
The stock price is down 21% in the last six months and yet, on a forward-looking PER of 27.9x (using the bank's own FY3/2021 guidance), this remains the 2nd-most demanding regional bank stock in the Tohoku Region (being beaten only by Michinoku Bank (8350 JP), also from Aomori Prefecture, on a staggering 62.7x).
Remarkably, aggregate ownership by foreign institutional investors is at an all-time high, and has been rising steadily for the last eight years.  We fail to understand the attraction.  Caveat Emptor!  (May the Buyer Beware) is our advice to any would-be investor in this bank stock.
TIRED – Since our Short-Term Buy on 16th March, the TOPIX index has risen by 25%, or by 27% in US$ terms helped in no small part by 'support' from the Bank of Japan and the US Federal Reserve. The BoJ's cumulative ETF purchases equal 4.8% of current Total Market Value, having peaked at 5.4% at the March low. As a percentage of TOPIX Value Traded, the BoJ's interventions peaked at 6.3% on 30th March; however last Wednesday's purchase was the third-highest on record for this metric – mostly as a result of a decline in overall trading activity, particularly in larger capitalisation stocks. In the DETAIL section below, we shall review current market conditions ahead of a likely torrid results 'season'.
Auto exposures are in decline among Global active investors.  Average holding weights are towards the lower end of the 9-year range, at 0.83%.  A record low of 49% of the 406 funds in our analysis have exposure to the Autos sector.
Fund activity over the last 6-months saw Global managers selling down stakes in Daimler AG (DAI GR) , Toyota Motor (7203 JP) and Ford Motor Co (F US) . Tesla Motors (TSLA US) and Volkswagen (Pref) (VOW3 GY) were the main bright spots as ownership levels grew over the period.
Overall, the auto industry is becoming increasingly unattractive to the average Global fund manager, with increases in Tesla Motors (TSLA US) exposure unable to counteract significant declines in ownership across the more traditional auto manufacturers.
Spare a thought for the poor, embattled Japanese banker.  In this COVID-19-altered world, his biggest problem is that he has too much money.  Way, way too much money.  Money keeps piling in through the branch doors faster than he can put it to work, shovelling it out to customers as loans or investing it in minimal-return securities.
In our recent Insight Japanese Banks:  Ill Winds we noted that YoY loan growth for the major Japanese banks in June 2020 hit an all-time record high of +9.4%.  That's the good news.  The bad news is that average deposits at the major banks rose +10.3% YoY in May and then a record +12.0% YoY in June, according to the Japanese Bankers Association (JBA).  Major corporates drew down on their credit lines as a precaution against a prolonged economic downturn and then parked the additional cash with their bankers for safe-keeping until needed.  The megabankers are drowning in cash: their loan to deposit ratios (LDR)  –  an important measure of overall efficiency  –  have collapsed to just 52%, whereas back in 2001 they were close to 98%.  In the meantime, margins remain under pressure amidst this hyper-liquidity, banks are struggling to make any profit on their domestic book, unrealised securities gains have been whittled away, and credit costs are rising exponentially.
While many Japanese bank stocks have risen by double-digits over the last three months, rising on a gentle tide of cautious investor optimism over the outlook for recovery in Japan's manufacturing sector post-COVID-19, it remains a fact that Japanese banks have underperformed Topix virtually unchecked since 2015.  We expect this trend to continue.  "Caveat Emptor!" (May the Buyer Beware) remains our advice to would-be investors in Japanese bank stocks for FY3/2021 and beyond.
You are currently reading Executive Summaries of Smartkarma Insights.
Want to read on? Explore our tailored Smartkarma Solutions.