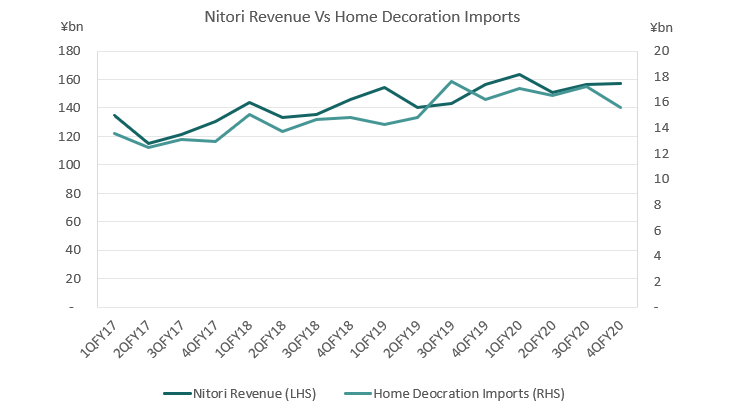 In this briefing:
---
This is the second of a three-part series on Nitori Holdings (9843 JP), Japan's largest furniture and home accessories retailer. In this Insight, we look at the Ministry of Finance import data to analyse the profitability and medium-term trends for Nitori's two main business segments.
Lucror Analytics Morning Views comprise our fundamental credit analysis, opinions and trade recommendations on high yield issuers in the region, based on key company-specific developments in the past 24 hours. Our Morning Views include a section with a brief market commentary, key market indicators and a macroeconomic and corporate event calendar.
eRESULTS & REVISIONS UPDATE SERIES – After a month's gap, we shall now resume daily coverage of Japan's results, forecasts and revisions announcements as the 420 companies with February, May, August and November year-ends start to report. Initially, we shall cover all companies irrespective of market capitalisation, to highlight the financial impact of COVID-19  on specific Sectors and Peer Groups.
LEADING INDICATOR LEADS – The Cabinet Office's Leading Indicator of Business Conditions is suggesting that earnings and revisions (as represented above by our Results Score and Forecast/Revision Score) have some significant downside, perhaps closer to the low of 2009. The degree to which the market has already discounted the recovery of 2021 is moot; however, the current level of confidence is about to be put to the test, as was evident from Friday's announcements.
FAR FROM NORMAL – As a reminder that Tokyo's levels of social activity have yet to recover -passenger numbers on Toei subway lines are still 30% below January levels at peak office-worker commuting times.
GRAPHIC DETAIL – In an attempt to highlight absolute and relative company-specific trends, we have added some additional graphic material in the DETAIL section below. As always, comments and feedback are welcome.
---
DAILY STATS
14 Quarterly Results
Results Score: 12 Negative / 2 Positive
Average Results Score Change:-5.0
Average % Change in Revenue: -16% Quarter YoY / -5% Rolling TTM YoY
Average Operating Profit Margin Change: -2.2ppt
---
7 Annual 6 Interim Forecasts Revisions
Forecast Revision Score: 6 Positive / 7 Negative
Average Forecast/Revision Score Change: -2.7
The worst and the best of 2020 may already be over for the financial markets  
Global Liquidity remains buoyant, but growth is peaking
US broad liquidity expansion slowed markedly in June 2020
Still on-track for V-shaped economic rebound
Slower liquidity growth and large upcoming coupon issuance points to at best range bound Wall Street
You are currently reading Executive Summaries of Smartkarma Insights.
Want to read on? Explore our tailored Smartkarma Solutions.