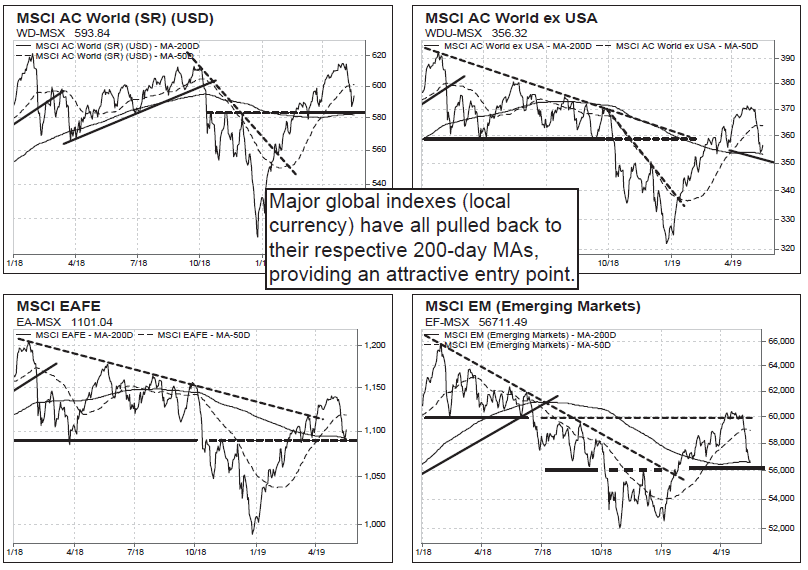 In this briefing:
---
As global equity markets pull back amid the U.S./China tariff saga we continue to believe this is an attractive time to add exposure. This view is supported technically with all major global indexes (MSCI ACWI, ACWI ex-U.S., EAFE, and EM) pulling back to their respective 200-day moving averages. In this report we highlight important technical levels across global markets and highlight actionable opportunities from a bottoms-up perspective within Europe (attractive pullback opportunity on the STOXX Europe 600 index) and Japan, including stocks within Financials, Communications, Consumer Discretionary, and Manufacturing.
There is an increasing probability of a major partnership between Tesla Motors (TSLA US) and Samsung Sdi (006400 KS) for a potential long-term contract to supply lithium ion batteries for EVs. Although such speculation has been brewing in the past six years, we believe this probability is increasing due to the following main reasons: 
More confrontational trade war between the US and China 
Elon Musk's public dispute with Panasonic
End of subsidies for EVs by the Chinese government & the potential for "several" suppliers of lithium ion cells by Tesla's Gigafactory in Shanghai

With the end of subsidies on the Chinese EV sector by the end of 2020, there will likely be a HUGE AMOUNT OF INDUSTRY CONSOLIDATION AND JOB LOSSES ON THE EV RELATED SUPPLY CHAIN IN CHINA IN LATE 2020 TO 2021.  
The Chinese government provided these subsidies for too long as well as to too many uncompetitive companies such as Optimum Nano who relied too much on generous subsidies, rather than trying to make a really competitive products. Time has come for even the Chinese government to say enough is enough on wasting too much money through subsidies on the EV sector and there is only about one and half years before the subsidies completely disappears. 
Once the competition is based on more equal footing (without any subsidies) in China, there is a good chance of leading Korean companies including Samsung SDI and LG Chem to start to increase their sales of lithium ion batteries sales in China starting 2021. 
Recruit Holdings (6098 JP) (Recruit) reported its full-year financial results for FY03/19 on Tuesday (14th May 2019). The company reported revenue of ¥2,311bn (+6.3% YoY) and EBITDA of ¥293bn (+13.5% YoY) for FY03/19. Both revenue and EBITDA were broadly on par with consensus and our estimates.
Recruit's revenue growth declined to 6.3% YoY in FY03/19 from 11.3% YoY in FY03/18. This was mostly due to the slowdown in overseas staffing activity owing to current political and economic headwinds in the global market. However, domestic recruitment activity continued to remain strong during the year. Recruit's revenue exposure to overseas labour markets was around 48% of consolidated revenue (in FY03/19), while its exposure to the domestic labour market was around 36% of consolidated revenue.
We expect Recruit's consolidated revenue to increase 6.8% YoY to reach ¥2,468bn in FY03/20E, underpinned by the acceleration of domestic recruitment activity despite the slowdown in overseas labour markets. Our consolidated EBITDA estimate for FY03/20E is ¥319bn, which is at around the mid-point of the guidance range of ¥310-330bn.
At a FY1 (FY03/20E) EV/EBITDA multiple of 16.1x, Recruit looks expensive to us compared to both its employment and internet advertising business peers. Persol Holdings (2181 JP), the second largest staffing company in Japan after Recruit, is trading at a FY1 EV/EBITDA of 7.4x. Yahoo Japan (4689 JP), which earns around 70% of its EBITDA from advertising related businesses, is trading at a FY1 EV/EBITDA of 6.5x.
On 7 May 2019 as Japan was coming back from its long Golden Week holidays, a pair of entities called East Investments (it's a longer name in Japan but this will do in English) and West LP jointly announced a Tender Offer on smallcap Nagoya-based Japanese fertilizer company (H1 revenues are about 68+% fertilizers, 22.4% trading of chemicals, etc, and 8.4% real estate; but about one-third of profits are in real estate). 
The existing owner/CEO Watanabe Kaname and his relatives and associated companies own 32.86% and they have agreed to tender their shares. 
The minimum threshold for success of this Tender Offer is 66.67% so that minorities may be forced out in case of success. This delivers – mostly coincidentally – the requirement that a majority of the minority tender their shares to make this deal successful.
Announced at a 37.6% premium to last price, the deal "looks" like a decent deal for shareholders. It comes at the highest share price since listing. It also comes at just under 0.75x book, where 60% of book consists of net cash, net accounts receivable vs payable, significant real estate inventories, and non-operating long-term investments less all other liabilities in the firm. If we assume they are worth 100 cents on the dollar (and they should be with perennial OPMs in the high single digits to low teens), those assets are worth ~¥990/share. The other ¥630+/share in Property, Plant, & Equipment which creates the EBIT is being bought for ¥210/share. 
A buyout firm which has done a dozen and a half "rehab" investments has done the math and knows what can be liquidated (like a big cash pile) and what is fund-able through debt. Given EBIT is just over half where it was 5yrs ago, revenues are down 6%, SG&A is up 10%, and inventories are at a record, the balance sheet and income statement of this firm look like they may be situated for such an "opportunistic investment" by the buyer. 
Butwhatchagonnado?
---
For other insights on Japanese M&A please check the list of Japan-related Event-Driven insights here. As a reference to Japan M&A rules and practices, please see the Quiddity Japan M&A Guide 2019. 
This week in StubWorld …
Preceding my comments on Great Eagle and other stubs are the weekly setup/unwind tables for Asia-Pacific Holdcos.
These relationships trade with a minimum liquidity threshold of US$1mn on a 90-day moving average, and a % market capitalisation threshold – the $ value of the holding/opco held, over the parent's market capitalisation, expressed in percent – of at least 20%.
Get Straight to the Source on Smartkarma
Smartkarma supports the world's leading investors with high-quality, timely, and actionable Insights. Subscribe now for unlimited access, or request a demo below.