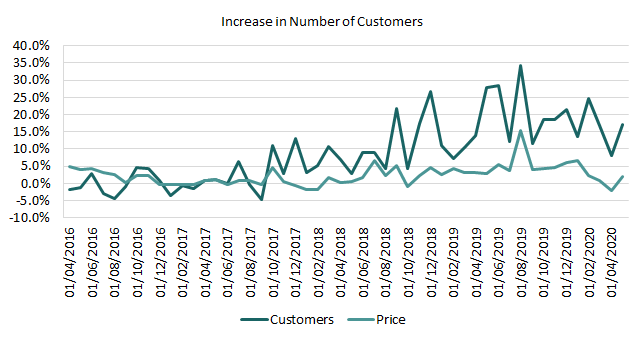 In this briefing:
---
Speciality retailer Workman (7564 JP) has doubled revenues over the last five years as the company broadened its range of customers by expanding into Private Brand (PB) products.
The introduction of Workman Plus (which specialises in high-performance outdoor, sports and rain-wear products) has accelerated revenue growth reaching 36% in the most recent and seasonally strong third quarter.
Workman's share price increased by 420% from January 2018-December 2019. After a 49% decline in the first quarter of the year, the shares have rebounded by 69% and are 17% below the December high of ¥10,570.
We forecast that Workman's revenue growth will be higher than consensus and see further upside to Workman shares. We remain optimistic about the company's long-term prospects despite the potential for increased competition and recommend buying Workman shares despite its recent rally.
TWO-THIRDS AND AVERAGE– By Friday's close, the TOPIX Index had recovered 64% of its decline from the pre-COVID-19 peak of which one-third occurred in the last seven trading days. The balance of listed Japan has improved to a similar degree, but the percentages are more significant in both directions. Both values are now at their five-year average level.
FAR FROM AVERAGE – With only Toshiba (6502 JP) left to report amongst the 'mega-caps', aggregate trailing-twelve-month (TTM) earnings of listed non-REITs are at five-year 'lows'. Net-Income-based TTM and forward multiples are above 20 times for the first time since 2015. With only 58% of listed companies making forecasts for the current year, forward multiples are less reliable than usual. However, assuming that two months of annual revenue has been 'lost' and fixed costs are held static, trailing Net Income could decline to ¥20 trillion by December. At the current market cap, the earnings multiple would reach an Abe era high of 31 times.
VTR & DOWN VOLUME – Friday saw a two-month peak in the Value Traded Ratio and the highest Down Volume day since the COVID-19 low.
TORAKU, RSI & McCLELLAN SUMMATION – Both these short-term indicators are at the top of their historic range, while the longer-term McClellan Summation has reached pre-COVID-19 levels. All of these indicators are flagging caution.
The Asia Short Interest weekly looks at moves in market wide short interest and highlights movements in stock specific short interest across Hong Kong, Japan, Korea and Taiwan using the last available data published by the relevant authorities.
Shorts in Korea increased led by Technology Hardware and Consumer Durables.
Shorts rose in Taiwan led by Semiconductors, Technology Hardware, and Materials while shorts covered small size in Capital Goods and Banks.
You are currently reading Executive Summaries of Smartkarma Insights.
Want to read on? Explore our tailored Smartkarma Solutions.