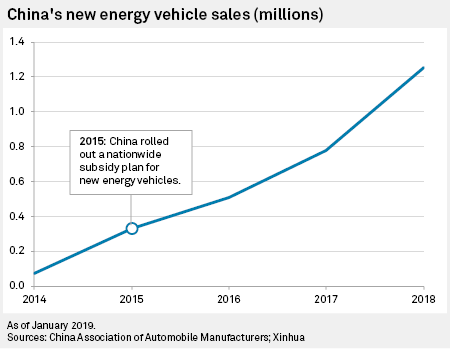 In this briefing:
---
The highlights for December are as follows:
The labour shortage at the Nevada plant is said to be under control. Thus, delays in supply do not seem to be a concern.
A partnership with Tropos should strengthen the software side of Panasonic's business. Motors. Panasonic's software platform, OneConnect, to be used in Tropos manufactured EVs designed for use in last-mile applications and emergency.
Efforts by the company to improve its battery business and adopt CASE related technologies (as highlighted in our previous monthlies) are likely to bring in growth only over the medium term. For the upcoming quarter, consensus and our estimates are for a decline in revenue and OP given the unfavourable market conditions and struggle in battery business through last year.
There will be no further cut in subsidy in China for NEVs. With the subsidy staying intact, demand for NEVs is likely to improve (or at least not decline further) suggesting better market conditions for battery players globally (who invested in China despite the country's slowdown last year).
CATL was quiet last month, although there was news about the company being a possible buyer of the US luxury car brand-Aston Martin. This seems more likely to be merely a rumour and we feel that CATL does not seem to have strong synergies to do so.
South Korean players had no major battery highlights last month.
CATL's share price continued to rise last month, followed by Panasonic, both outperforming the market. The Korean players and BYD continued to see relatively weak performance during the month.
Shin Kyuk-ho, the founder of Lotte Group, passed away yesterday. The total value of his wealth is a little more than ₩1tril. The local news outlets report that he hasn't left any will. So, the inheritance goes to the direct family members at a 1.5:1:1:1:1 ratio, 1.5 for his wife and 1 for each of the four children, including Shin Dong-bin.
Samsung Elec has made a great run lately, and so did Hynix. Then, we have to ask ourselves this question. Was it a part of a rerating on entire Korea? Well, it doesn't seem that it was the case. During the same period, KOSPI 200 has gone up only 2.71%, whereas Samsung has climbed nearly 10%.
So, it should have been more of a decoupling situation for Korea's memory chip stocks. Well, it isn't the first time that we see this kind of decoupling. Entire Korea is more correlated with China than the US; however, Samsung and Hynix are still going more in line with NASDAQ, specifically PHLX SS. The latest liquidity-fueled frenzy in the US has primarily pushed up the US tech stocks. Samsung and Hynix must have also benefited from it as well. Then, this dynamic has invited arb traders who wanted to capitalize on this specific hedge position: long Samsung/Hynix and short KOSPI 200. This approach is reasonable as there is no reason to believe entire Korea is moving up on a rerating.
Well, the strategy seems to have paid off nicely. The gain of each entry point since December 20 until January 7, if holding until January 17, is still sitting at least above 3%. It peaks as high as 5% if you entered the position on December 24. If you took higher leverage as Samsung and Hynix carry one of the few sufficiently liquid futures, your gain would have been in a much more pleasant area. 
On January 19th, the founder of Lotte Group Shin Kyuk-Ho passed away. He was 99 years old. Lotte Group is the fifth largest chaebol in Korea and there will be numerous Lotte related companies that will be affected post his death. Korea imposes one of the highest inheritance tax rates among the OECD countries (as high as 50-65%) and Shin Kyuk-Ho passing away will act as a key catalyst in many Lotte related shares.
One of the arguments of why there tend to be a big interest on these chaebol related shares after the founder/Chairman passes away is that sometimes there is some perception that these chaebol related companies "purposely" try to keep their share prices low around these periods in order to pay lower inheritance taxes. Plus, in order to pay for the inheritance taxes, there may be some need to divest non-core businesses and other assets.
Among the Lotte related companies, Lotte Corporation (004990 KS), Lotte Corp (Pref), Lotte Shopping Co (023530 KS), Lotte Confectionery (280360 KS), and Lotte Chilsung (Pref) are likely to have some positive momentum post the passing away of the founder Shin Kyuk-Ho who has ownership stakes in many of these companies.
You are currently reading Executive Summaries of Smartkarma Insights.
Want to read on? Explore our tailored Smartkarma Solutions.