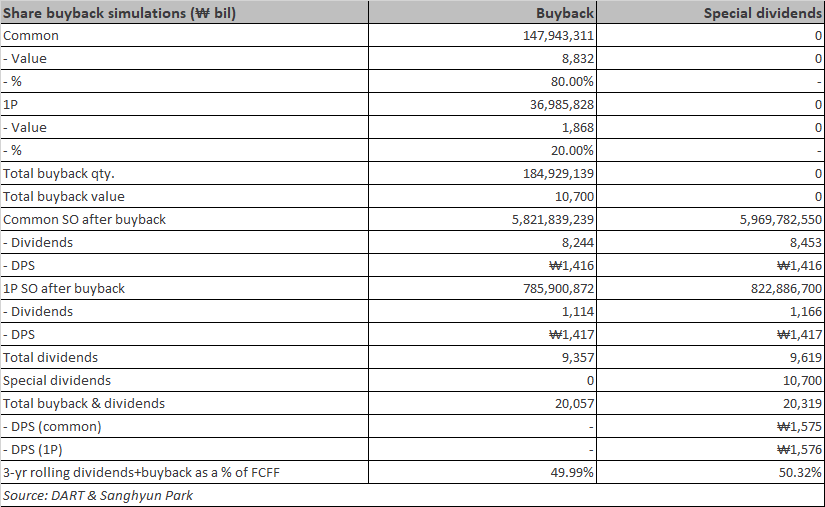 In this briefing:
---
Samsung needs to meet the 50% target of the 3-yr rolling FCF. This year's projected FCF? It may be too early to tell, but the local street estimates it at around ₩30~33tril. Now, at an assumed ₩32.6tril (projected by Kiwoom), it will be 36.7%. So, Samsung will need to come up with something to bring it up to 50%, which requires about ₩10.7tril.
How? It will be either share buyback or more dividends (special dividends). Then, which is more likely? At the current price level, a buyback wouldn't be as cost-effective as previously. At an 80%:20% ratio, buyback price for each common share will be ₩57,740, a 33.5% increase from the last buyback. So, we should also consider special dividends as a real possibility as well. To hit the 50% target, Samsung needs to give out a ₩1,575 additional bonus for each common share.
On February 18th, Doosan Heavy Industries (034020 KS) announced a massive restructuring plan, one of its biggest ever in its 58 years of history. As of the end of September 2019, the company had 6,784 employees, of which about 2,600 are 45 years old or more. This restructuring plan includes a voluntary ERP (early retirement program) for these 2,600 employees.
It has been estimated that nearly 1,000 employees could seek this ERP program, which would represent nearly 15% of its total workforce. Although this massive restructuring program is not good news for the employees of Doosan Heavy Industries, this should act as a positive factor on the stock price of the company since it should be able to boost its operating profit starting 2021.
The United Future Party is pro-nuclear power and if they are able to win the General National Assembly election, it would certainly have a major positive impact on Doosan Heavy Industries (034020 KS). Nonetheless, there are still nearly two months left until the election and in Korea, that is like a lifetime in political ages and so much could change during this period.
The Korea Exchange (KRX) publishes outstanding short position data daily with a two day lag. The data below is of the close of 14 February 2020.
One of the big winning sectors in the Korean stock market this year has been the rechargeable batteries related stocks including Samsung Sdi (006400 KS) and LG Chem Ltd (051910 KS). In the past few days, there has been some increasing news flow in the local media regarding a potential transfer of the rechargeable batteries modules and packs business from LG Electronics (066570 KS) to LG Chem.
On a relative basis, this transfer would likely to have a GREATER POSITIVE impact on LG Electronics since the battery modules and packs business has been losing money in the past several years and this transfer would allow LG Electronics to reduce the operating losses from this business unit (Vehicle Component Solutions).
For now, nothing has been decided regarding the potential transfer of the rechargeable battery modules and packs business from LG Electronics to LG Chem. This is just in the discussion stage right now. However, this business transfer seems to make a lot of sense and one could wonder why they did not complete this move earlier (especially from the point of view of LG Electronics shareholders). 
Our base case valuation of Metanet Mplatform is EV of 296 billion won, a market cap of 360 billion won, and an implied price of 17,215 won, which is 25% higher than the mid-point of the bankers' IPO price range of 12,500 won to 15,000 won. As such, we have a positive view of the Metanet Mplatform IPO. 
The company's core business is in the customer/contact centers. Driven by technology innovation, customer/contact centers are becoming increasingly automated, which will likely provide an attractive opportunity for the company to capitalize on its know-how of this business to further improve upon its economies of scale and reduce costs.
Lemon has received the highest interest level (measured in terms of platform views per report) among the four Korean IPOs that we have written about. So if the level of interest in Lemon is 100, JNTC is 90 and Metanet Mplatform is much lower at 50. Overall, among these four companies, Lemon is likely to receive the highest institutional investors' interest, followed by JNTC, Metanet Mplatform, and NPD.  Now, the more difficult part (this is where the art of investing really comes into play) is to perceive and understand how much of this investors' interest will have factored in the IPO demand and their share prices. 
You are currently reading Executive Summaries of Smartkarma Insights.
Want to read on? Explore our tailored Smartkarma Solutions.